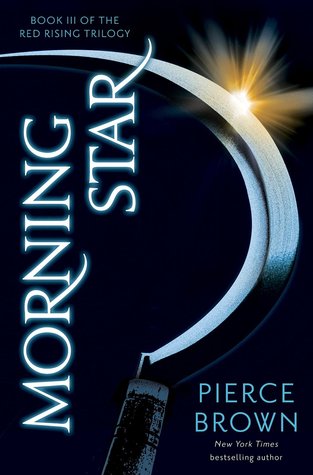 Morning Star

by Pierce Brown
Published by Del Rey on February 9th 2016
Genres: Action & Adventure, Epic, Science Fiction
Pages: 518
Format: Hardcover
Goodreads


Darrow would have lived in peace, but his enemies brought him war. The Gold overlords demanded his obedience, hanged his wife, and enslaved his people. But Darrow is determined to fight back. Risking everything to transform himself and breach Gold society, Darrow has battled to survive the cutthroat rivalries that breed Society's mightiest warriors, climbed the ranks, and waited patiently to unleash the revolution that will tear the hierarchy apart from within.

Finally, the time has come.

But devotion to honor and hunger for vengeance run deep on both sides. Darrow and his comrades-in-arms face powerful enemies without scruple or mercy. Among them are some Darrow once considered friends. To win, Darrow will need to inspire those shackled in darkness to break their chains, unmake the world their cruel masters have built, and claim a destiny too long denied - and too glorious to surrender.
I have tried and I can't actually write a proper review for Morning Star. I have TOO MANY FEELINGS. Instead, I'm going to do it in the form of an open letter to Pierce Brown. You will NOT find any spoilers in the following.
Dear Pierce Brown,
Greetings, my goodman. Upon finishing the epic conclusion to your fantastic series, I am emotionally spent. I am utterly verklempt. You have alternately broken my heart, made me shed tears of joy and sadness, and made me laugh out loud. It was a whirlwind of emotions and I am sure my heart rate reached dangerous levels. (I almost had to call a Yellow for medical attention.) I want to say thank you for such a great space opera that has swept me up in its rising tide.
From the beginning, I became invested in Darrow's cause and his drive to fulfill Eo's last wish. The Colors and the Society fascinated me and I loved the nods to Greek mythology and Roman history. The dissection of the nature of humans and society and history was really interesting because these ideas are universal — spanning time, worlds, space. I couldn't get enough.
And then the friendships. They captured my heart! (And of course you proceeded to break my heart, numerous times in fact, during your series — no big deal, it should heal, one day, right? *slaps resFlesh over the seeping wound*) You managed to flesh out these incredible characters and relationships with so much depth that I can't handle saying goodbye now that the book is over. The threads of their friendships not only tied them together but tied my heart to theirs and it is an understatement to say that I was emotional throughout this latest installment to their epic story. (More like going out of my slagging mind and alternately crying and laughing and swearing.) I have so much love for just about every single character you've penned! From eccentric but lovable Sevro, to confident Victra to Mustang, who fits Darrow so bloodydamn well, to the loud and big Telamanthuses, to good Lorn, to… well, Sophocles. I really loved Sophocles. You also developed the characters with so many layers and complexities! I couldn't even hate all the villains because you've developed such realistic flawed people. There is betrayal, there is redemption, there is heartache but most of all, even among this brutal war, there is love. It was prime!
I was fascinated with the weaponry and the seriously awesome battles. It was straight up my sci-fi loving alley and bloodydamn, I love good pre-battle speeches. I got goosebumps! I was ready to join Darrow in an Iron Rain if the need arose! I am also in awe at the battle strategies and all the paradigm shifting Darrow does throughout these books. The twists and turns just blew my mind! I would bow to your creative genius but… Howler rule number one. Never bow. 😉  Thanks for not pulling any punches in this story and showing it like it is. War is brutal. People die. Really terrible things happen. And as much as it hurt me, you portrayed it so bloodydamn well.
I honestly feel like I can't properly express how much I loved this series and this epic conclusion. I just have so many bursting emotions and so many thoughts. If only I had Roque's way with words!
In short, this series and Morning Star was bloodydamn brilliant. I couldn't be more excited that you're writing a new trilogy in this same world! I would've been distraught if it was truly over. I can't wait to see what new heartache and epic stories you have in store. Per aspera, ad astera.
Howler, out.
Related Posts