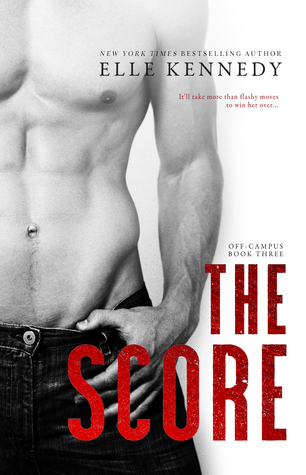 The Score

by Elle Kennedy
Series: Off Campus #3
Published by CreateSpace Independent Publishing Platform on January 11th 2016
Genres: Contemporary, Dating & Sex, Love & Romance, New Adult, Sports
Pages: 360
Format: eBook
Source: Bought
Buy on Amazon
Goodreads


He knows how to score, on and off the ice

Allie Hayes is in crisis mode. With graduation looming, she still doesn't have the first clue about what she's going to do after college. To make matters worse, she's nursing a broken heart thanks to the end of her longtime relationship. Wild rebound sex is definitely not the solution to her problems, but gorgeous hockey star Dean Di Laurentis is impossible to resist. Just once, though, because even if her future is uncertain, it sure as heck won't include the king of one-night stands.

It'll take more than flashy moves to win her over

Dean always gets what he wants. Girls, grades, girls, recognition, girls...he's a ladies man, all right, and he's yet to meet a woman who's immune to his charms. Until Allie. For one night, the feisty blonde rocked his entire world-and now she wants to be friends? Nope. It's not over until he says it's over. Dean is in full-on pursuit, but when life-rocking changes strike, he starts to wonder if maybe it's time to stop focusing on scoring...and shoot for love.
Why Did I Read?
It's the next Off Campus book! I've only been looking forward to it since forever!
My Thoughts:
This series has got to be one of my all time favorite new adult series. They're funny, sporty, sexy and feature such great main characters! And I had been dying for The Score to come out. Ever since we found out this one would be featuring Dean. Dean Heward Di-Laurentis, the one who completely embraces his player status unabashedly and enjoys it. I was so curious what his story would be like and how I could come to like him. And Elle Kennedy did NOT let me down.
I absolutely loved finding out Dean's story and what makes him tick. This guy is hilarious and just so… blatantly honest about everything. I really enjoyed his character arc and thought it was just perfect. I have to admit, I was surprised at first the couple was going to be him and Allie but I needn't have doubted. They were such a great pair. Allie was just what Dean needed and vice versa. She takes zero crap from him and puts him in his place when he needs it.
One thing that I especially love about this series is that "break up" moment. You know the one I'm talking about. It's in all romances. I actually had a great conversation with my author friend about it and she sent me an article talking about the "black moment" and how it's necessary for character development, etc. I get it and it makes a lot of sense but I realized that there is a certain TYPE of these moments that I dislike and that is when it seems unnecessary or overly dramatic. When that happens, the break up moment will just make me roll my eyes and get frustrated that it's there JUST TO BE THERE. But in the Off Campus series, these moments work so well into the overall plot of the story! I really feel like they add so much to the growth of these characters both individually and as a couple and moves the plot forward. In short, they're perfect.
Another aspect of this series that I completely adore is the whole college setting. It makes me feel like I'm going to college there and it makes me nostalgic for my undergrad days! It makes me wish desperately that my university had a hockey team and I got to hung out with these guys because let's be real, who wouldn't?! I love the group of friends and their interactions. I've never wanted to be a part of a fictional group of friends and attended their fictional college more!
In Short…
This series is one of the best new adult ones out there. Plus, HOCKEY. (hint: hot hockey players are involved) There's the best laugh out loud humor and great character arcs. I just love it all so much and definitely urge you to read this series! I'm already anxiously waiting for September to roll around because I can't WAIT for Tuck's story!
My Rating: 
Have you read this series yet? If so, which one is your favorite? What other sporty NAs should I check out?
Related Posts