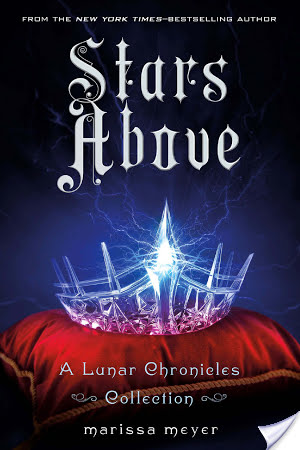 Stars Above

by Marissa Meyer
Series: The Lunar Chronicles
Published by Macmillan on February 2nd 2016
Genres: Young Adult, Fairy Tales & Folklore, General, Science Fiction
Pages: 308
Format: Hardcover
Source: Bought
Buy on Amazon
Goodreads


The #1 New York Times Bestselling Series!
The enchantment continues. . . . The universe of the Lunar Chronicles holds stories - and secrets - that are wondrous, vicious, and romantic. How did Cinder first arrive in New Beijing? How did the brooding soldier Wolf transform from young man to killer? When did Princess Winter and the palace guard Jacin realize their destinies?With six stories - two of which have never before been published - and an exclusive never-before-seen excerpt from Marissa Meyer's novel, Heartless, about the Queen of Hearts from Alice in Wonderland, Stars Above is essential for fans of the bestselling and beloved Lunar Chronicles.
Why Did I Read?
I have been so excited for this collection of short stories! Ever since I finished Winter and fell into such a bad book hangover, I have been anticipating Stars Above!
My Thoughts:
Marissa Meyer is the queen of writing the most magnetic characters and the best friendships and relationships. I have missed these characters so so much and reading the short stories was so much fun! I read them in order and did NOT peek at the epilogue. When I met Marissa, I told her that, and she said that she did put them in that order for a reason. I stand by my stance of reading these in order! It was really cool to read more of the characters pasts and it just made me smile.
Some of these I had read previously because they were in the back of the paperbacks but it really was nice to read them in the intended order combined with the new ones! Besides the epilogue, my favorite was Thorne's story. Is that any surprise? It was so adorable to see little Thorne and to see him obsessed with Rampions already and how charismatic he already was as a kid. I laughed so much and the whole thing just made me so happy.
There was also a Little Mermaid retelling short story in there that I liked! I have loved seeing the parallels between the original fairy tale with Marissa's retelling in this series because she just does such a good, seamless job so it was fun to get another retelling in there! Another favorite was Winter and Jacin's story because I felt like I didn't get as much Jacin in Winter and it was awesome to learn more about him and I came to love him so much more than before. <3
The epilogue…. *high pitched squeeing* So, I originally guessed the couple correctly!!! Then I got swayed by other people. But I LIKE to think I had it right. It was seriously perfection. Everything was amazing and I loved seeing everyone and all of them TOGETHER and talking and like, I was just a puddle of emotions on the floor. And then I finished and got really sad because yet again, it was over. The consoling thought during my Winter hangover was that "at least there is Stars Above"! I just love these characters SO much, I just don't want to say goodbye. I have already planned an audio reread of the series later this year though. And there is the graphic novel coming out next year from Iko's point of view so at least it's not completely over.
In Short…
Amazing short stories from my favorite characters! Plus the best, most perfect epilogue ever. Loved, loved, loved. I know I keep saying this, but this serious just has the best ships and best characters and friendships. I have so much love for them. It was great to see little pieces of their back story!
My Rating: 
Have you read this compilation of short stories yet? What did you think? Which one was your favorite?
Related Posts