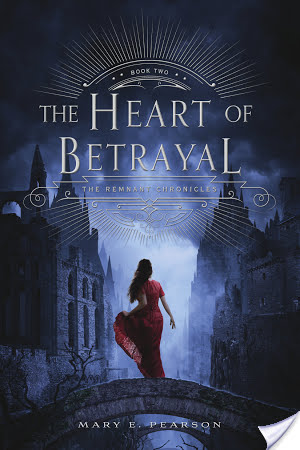 The Heart of Betrayal

by Mary E. Pearson
Published by Macmillan on July 7th 2015
Genres: Young Adult, Love & Romance, Fantasy & Magic, Dystopian
Pages: 480
Format: Audiobook
Length: 13 hours and 45 minutes
Source: Library
Buy on Amazon
Goodreads


Held captive in the barbarian kingdom of Venda, Lia and Rafe have little chance of escape . . . and even less of being together.
Desperate to save her life, Lia's erstwhile assassin, Kaden, has told the Vendan Komisar that she has a magical gift, and the Komisar's interest in Lia is greater than either Kaden or Lia foresaw.
Meanwhile, the foundations of Lia's deeply-held beliefs are crumbling beneath her. Nothing is straightforward: there's Rafe, who lied to her, but has sacrificed his freedom to protect her; Kaden, who meant to assassinate her but has now saved her life; and the Vendans, whom she always believed to be barbarians but whom she now realizes are people who have been terribly brutalized by the kingdoms of Dalbreck and Morrighan. Wrestling with her upbringing, her gift, and her very sense of self, Lia will have to make powerful choices that affect her country, her people . . . and her own destiny.
When I merely liked The Kiss of Deception and was very meh about it, I wasn't sure what to expect from Heart of Betrayal. I already felt like a black sheep for not falling in LOVE with The Kiss of Deception but everyone assured me that Heart of Betrayal was so epic and amazing. Well. Just shun me now because I disliked Heart of Betrayal more than its predecessor. 🙁
I still feel like this series is so fantasy light. I kept expecting more. This book is also really long and the majority of it seriously dragged. I felt like nothing was happening. There was character development of Lia, I suppose, but it was just so slooow. Which was exactly how I felt about the first book. And it seemed to follow the same formula where in the last 100 or so pages (yes, I got tired of plodding through the audiobook so I read the latter half so it'd go quicker) all the stuff happened. It's like the plot was plateauing the whole time until the end. I thought the end was really good! But a good ending can't make me forget the slowness of the first 400 pages.
So I am the ultimate black sheep here and everyone else I know loves the series so don't take my word for it! I just won't be reading the last book because… I just don't care enough to. 🙁
My Rating: 1/2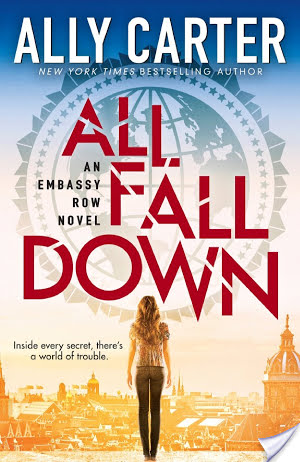 All Fall Down

by Ally Carter
Published by Scholastic Inc. on January 20th 2015
Genres: Young Adult, General, Action & Adventure
Pages: 320
Format: Audiobook
Length: 8 hours and 32 minutes
Source: Library
Buy on Amazon
Goodreads


A new series of global proportions -- from master of intrigue, NEW YORK TIMES bestselling author Ally Carter. Grace Blakely is absolutely certain of three things: 1. She is not crazy. 2. Her mother was murdered. 3. Someday she is going to find the killer and make him pay. As certain as Grace is about these facts, nobody else believes her -- so there's no one she can completely trust. Not her grandfather, a powerful ambassador. Not her new friends, who all live on Embassy Row. Not Alexei, the Russian boy next door, who is keeping his eye on Grace for reasons she neither likes nor understands. Everybody wants Grace to put on a pretty dress and a pretty smile, blocking out all her unpretty thoughts. But they can't control Grace -- no more than Grace can control what she knows or what she needs to do. Her past has come back to hunt her . . . and if she doesn't stop it, Grace isn't the only one who will get hurt. Because on Embassy Row, the countries of the world stand like dominoes, and one wrong move can make them all fall down.
I've never read an Aly Carter book before and I really need to read more things by her! This one was super interesting and was such a fun setting to read about. It takes place on Embassy Row and Grace is living there now with her grandfather, the US ambassador. There was so much interesting political intrigue and secrets and mystery and I was on the edge of my seat the whole time!
Basically, Grace keeps seeing the person who murdered her mother around but no one but her thinks her mother was murdered. So what's the truth? Grace pursues it with the help of her friends and I love twisty things like this. I was not expecting the ending and love when I am surprised by the twist. I think the only thing that brought this one down for me was the whole believe Grace or not believe Grace storyline between her and her friends. It seemed like it was on a repeat cycle and I didn't like that.
I can't wait to read the next because I really want to know more because it just ended! Can't wait for more intrigue.
My Rating: 1/2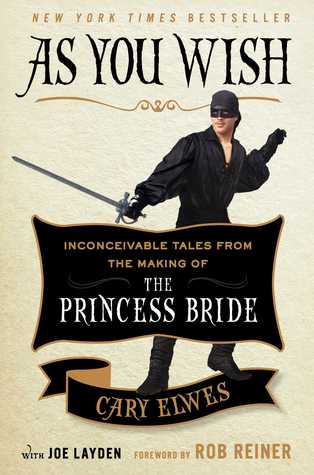 As You Wish

Published by Simon and Schuster on October 14th 2014
Genres: Biography & Autobiography, Entertainment & Performing Arts, Performing Arts, Film & Video, History & Criticism, Social Science, Popular Culture, General
Pages: 272
Format: Audiobook
Length: 7 hours and 1 minute
Source: Library
Buy on Amazon
Goodreads


NEW YORK TIMES BESTSELLER
From actor Cary Elwes, who played the iconic role of Westley in The Princess Bride, comes a first-person account and behind-the-scenes look at the making of the cult classic film filled with never-before-told stories, exclusive photographs, and interviews with costars Robin Wright, Wallace Shawn, Billy Crystal, Christopher Guest, and Mandy Patinkin, as well as author and screenwriter William Goldman, producer Norman Lear, and director Rob Reiner.
The Princess Bride has been a family favorite for close to three decades. Ranked by the American Film Institute as one of the top 100 Greatest Love Stories and by the Writers Guild of America as one of the top 100 screenplays of all time, The Princess Bride will continue to resonate with audiences for years to come.
Cary Elwes was inspired to share his memories and give fans an unprecedented look into the creation of the film while participating in the twenty-fifth anniversary cast reunion. In As You Wish he has created an enchanting experience; in addition to never-before seen photos and interviews with his fellow cast mates, there are plenty of set secrets and backstage stories.
With a foreword by Rob Reiner and a limited edition original poster by acclaimed artist Shepard Fairey, As You Wish is a must-have for all fans of this beloved film.
If you love The Princess Bride, this is a MUST READ. And Cary Elwes narrates the audiobook so I highly recommend you listen to it (I mean, really, I could listen to his voice All. Day. Long.) I absolutely loved this behind the scenes look at the making of The Princess Bride! It was so interesting to hear how it came to be a movie and what was involved to make it happen. There are snippets from the other actors as well and it was so much fun to listen to.
I think my favorite part was learning all this cool information about the movie that I never knew before and it just makes the whole experience that much more awesome. I rewatched it after finishing the audiobook and it was amazing. It was so fun because as I watched I'd be like, oh, yes, Cary mentioned how they did the scene, or this funny anecdote about what happened during filming! Plus, the Princess Bride is such a timeless movie and book that if you love it, you just absolutely need to listen to this audiobook. Trust me!
My Rating: 
Have you read any of these? What did you think? Is anyone else out there a black sheep for Heart of Betrayal? (Tell me I'm not the only one!) And let's talk about how much we love Wesley and Princess Bride! <3
Related Posts