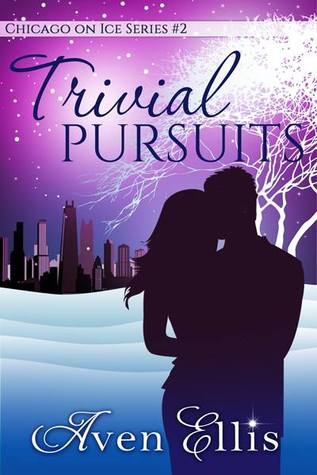 Trivial Pursuits

by Aven Ellis
Series: Chicago On Ice #2
Published by Soul Mate Publishing on April 20, 2016
Genres: Contemporary, Love & Romance, Romance, Sports
Format: eARC
Source: Author
Buy on Amazon
Goodreads


Landon Holder is exactly the kind of man Livy Adams should stay far away from.

The flashy, flirty star defenseman for the Chicago Buffaloes is known for hooking up with women all over Chicago. Livy finds herself attracted to Landy, but his sexy good looks and charm are irrelevant. She had her heart shattered by a cheating athlete in college, and Livy vows she will never let her judgment lapse like that ever again.

Yet Livy knows she can't spend the rest of her life focusing on building her jewelry line during the day and her evenings playing TriviaPlayOrPass! on her phone, either. Even though she does have fabulous conversations with a player named Scott, it's time to get back in the game—in real life. While Livy tries to figure out her career path in jewelry design, she knows it's time to take a chance on romance again, too.

But in a strange twist of fate, Livy finds herself getting to know Landy on a much deeper level. Sometimes people aren't always as they appear to be. Just like a diamond, you have to look closely to see true clarity.

As Livy unwraps the layers around Landy to see the man behind the image, will she have a change of heart? Can she leave her past behind for a future with Landy? Or is it all a game of trivial pursuits?
I received this book for free in exchange for an honest review. This does not affect my opinion of the book or the content of my review.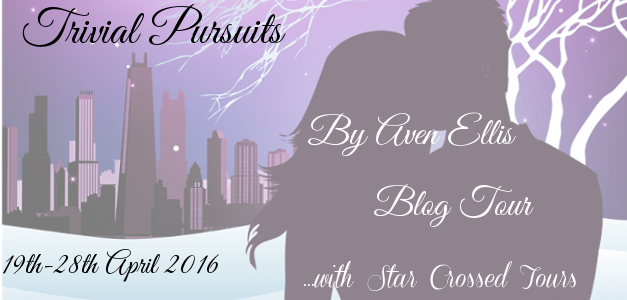 My Thoughts:
If you haven't read any Aven Ellis before, you need to remedy that! Aven Ellis is my go-to for a sweet, funny, feel good romance. She writes the best stories and I especially do love the banter!
Meet Livy. She's an aspiring artist and is not looking for love due to a bad break up in college. She has her art, her best friend, and TriviaPlayorPass, a super addicting trivia phone game. She's been playing with an opponent that could be a nerdy teenager, a creepy old man, or anyone really — but that anyone just ends up being swoony hockey player Landon Holder. *insert heart eyes emoji* Landon is a star and yet under his shiny, party facade, he is someone much different — funny, witty and basically someone Livy could totally fall for.
Cue cutest couple ever montage!
But seriously, I loved their interactions. Once again, I loved the unique little chapter headers with the Trivia questions that tied into the story. They're just so fun! The whole book had the classic rom-com feel, with the meet cute and complete with you dissolving into a swoony puddle of happiness.
Also, if you're into sporty stories, the hockey aspect is spot on. Aven knows her hockey so it's just awesome to see accurate hockey plot lines in the story and let's be real, who doesn't want to fall in love with a hot hockey player?
The only thing that bugged me was the quintessential "break up". Yes, it's in 99.9% of romances and yes, I completely know it catalyzes character development and plot progression and most of the time, it helps the story to get to that final point. However, I think I just have a thing against miscommunication type things. That's just me. Given all of that though, I will say that nothing is dragged out and it was not overdone. I guess what I'm trying to say is, given the situation, it was handled well!
In Short…
If you need a fun, sporty, romance with lots of laughs, banter and rom-com feels, this book (and ALL Aven Ellis books) are for you! This book will definitely put a smile on your face and a swoony hockey player in your heart. <3
My Rating: 
Related Posts