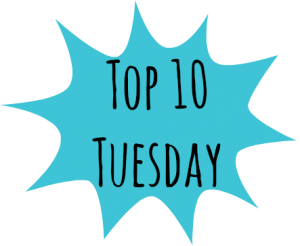 Top Ten Tuesday is a weekly bookish meme hosted by The Broke and the Bookish!
This week we are talking about Top Bookworm Delights! The bookish things that make me SUPER happy!
1. Opening a new book
It's opening the cover, lifting the flap up and seeing what the naked cover looks like, then turning those first few crisp pages! I love it. And the fact that you have a whole new story and new adventure to embark on there in your hands!
2. Browsing bookstores
It's calming. If I've had a stressful day, I like browsing a bookstore. Even if I don't buy anything (but hey, nothing better than retail therapy, right? Haha) I love looking through the shelves, seeing the new releases or just seeing favorites on the shelves — I'm not sure exactly what it is, but it de-stresses me. Not gonna lie, touching the books on the shelves is rather satisfying too. Please tell me you do this too so I'm not completely weird.
3. Staring at my shelves
Sometimes I just like staring at my pretty shelves of books! Haha. I've decided that I really only want to own books that I loved or want to reread and that's really helped curb random book buying! I utilize my library more which is great. Anyway, so I looove gazing at my shelves full of favorites (and okay yes, I still own many many books I haven't read yet eeek!)
4. Going to a favorite author's event
There's nothing more fun and exciting than to get to go to an author whose books you loved! I love getting to hear them talk about their book(s), how they got the idea, what their favorite parts are, etc. And then getting to meet them! Cue fangirling and excitement! I'm fortunate that I live in an area that gets quite a lot of author events — SO thankful to have gotten to meet so many faves.
5. The general smell of books
My blog name is Book Scents for a reason! I love the smell of books!! I always have, ever since I was a little kid. I love the new book smell, old book smell, smell of bookstores, libraries, sticking my face in my current read… you get the picture. 🙂
6. Curling up with a blanket, hot drink and a book
There is nothing better than to have an afternoon to relax, curl up with a blanket and hot drink and settle in with a book! Honestly, please, someone give me an afternoon to do this!
6. Finding another book lover that LOVED a favorite book of mine
It's so awesome when someone else loved a book you loved just as much as you! Then you get to have nonstop flailing and screeching and general mayhem! You can talk about all the things you loved and it's amazing.
7. Book deals!
Those kindle daily deals are the reason why my kindle is a black hole of books. Also, sometimes YA hardcovers have such great deals for preorders! Good deals make me so excited! 🙂
8. When you read a favorite book for the first time
It is the best thing ever when I'm reading a book for the first time and then I feel it. The feeling that THIS IS IT, THIS BOOK IS BRILLIANT AND I LOVE IT. It's such a wonderful feeling and I love finding a new favorite book <3
9. Book merchandise
As I talk about in my steps to falling into a book obsession post, there is a point in my love for a book or series where I become so obsessed I need bookish merchandise to pronounce my love! I love showing off bookish prints or being able to wear a bookish shirt! It just makes me so happy
10. When someone reads a book you recommend — and love it!
There is no better feeling than when someone actually listens to you and picks up a book. Oh wait, there IS a better feeling and that's when they pick it up — AND LOVE IT. It makes me so happy and ecstatic when that happens and ahh it just brings me such joy.
Okay, your turn! Tell me what bookworm delights you have! Do we have any in common?
Related Posts