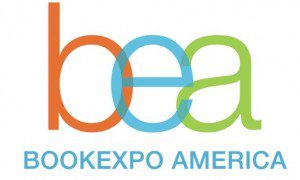 The BEA adventures continue! Part one can be found here.
Thursday: BEA Day Two
So I was really exhausted due to little sleep the night before but we grabbed some coffee at Starbucks and rallied and we were GOOD TO GO (aka maybe slightly delirious and over caffeinated).
The first order of business Thursday was to make a beeline toward the Macmillan booth for tickets to Kristen Simmons' Metaltown signing — snagged the tickets and we were good to go! Then we wandered a bit and found that the lovely people at Hachette had DONUTS at their booth, so obviously we grabbed one and it was delicious. We meandered back for the Metaltown signing and hung out in line.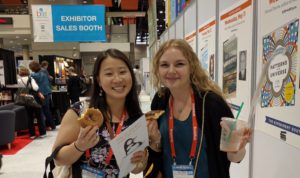 So, as many of you know, I am sliiightly obsessed with football. I am also in a fantasy football league with a group of AMAZING bookish girls and we chat every single day and I don't know what my life was like before them. Anyway, roughly half of us would be at BEA so Mary made the most awesome signs of each of our fantasy team names along with our NFL team team logo! She even brought a tiara for our reigning champion Danielle (but watch your back, D, I'm coming for you next year). Basically, I love these girls and I'm beyond happy we got to hang out at BEA!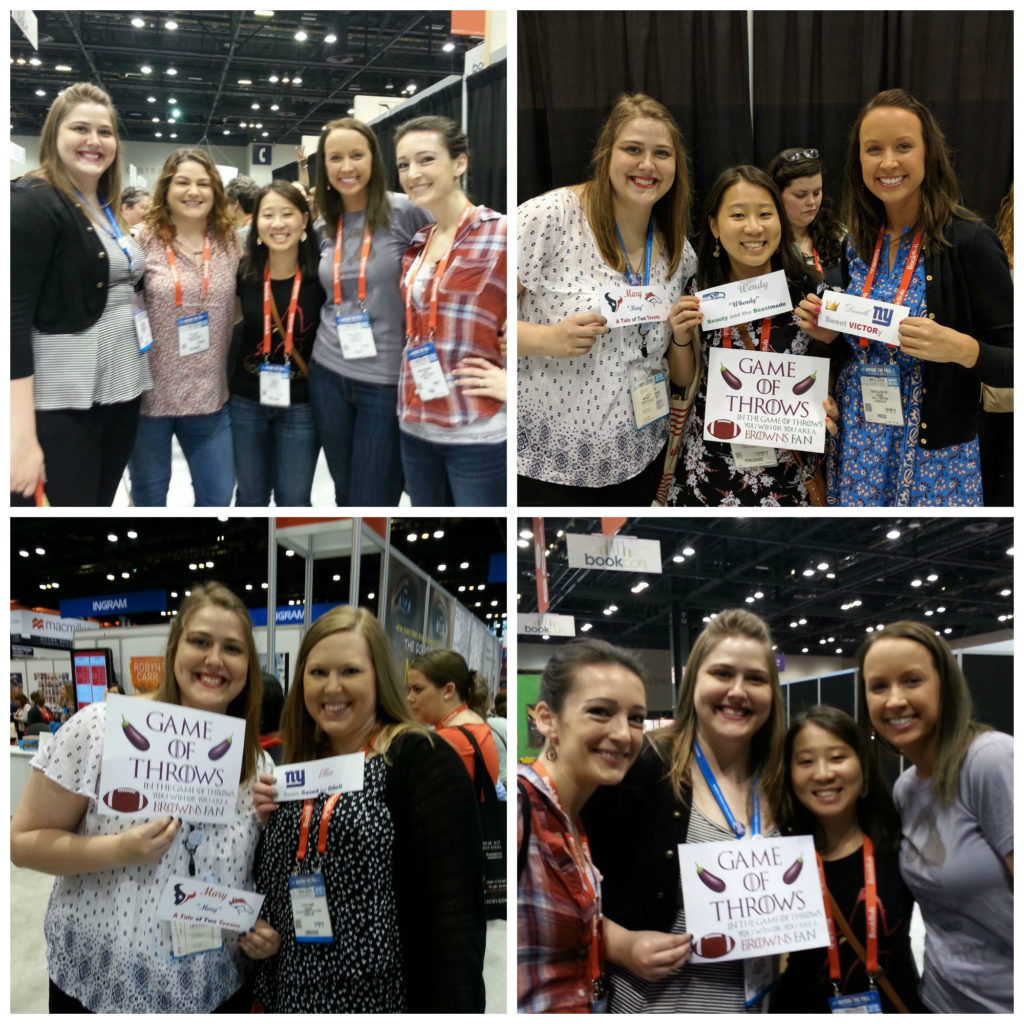 Kristen Simmons was super nice and I can't wait to read Metaltown! It sounds amazing.
Afterward, I attempted to hop in the Of Fire and Stars by Audrey Coulthurst line but they were cutting it off (*sobs*). I think that was the only book I REALLY wanted at BEA that I didn't get. At this point, I somehow found myself wandering by myself and stopped by a booth that caught my eye. Turns out to be the Neoglyphic booth promoting Sunborn Rising by Aaron Safronoff. I went up to talk to them completely randomly and became fascinated with this book! They had a video game and also music associated with it and it was just really cool. The book itself has BEAUTIFUL and I mean, BEAUTIFUL illustrations, and the nice publicist (I completely forget his name) also asked me to try their Oculus game. It's funny because I actually know all about Oculus and was really excited to get to try it! It was pretty fun!
We went to a Bloomsbury drop for Stealing Snow by Danielle Paige and The Edge of Everything by Jeff Giles and then since I had been talking about hot dogs ALL DAY, we found me a hot dog. Basically, there was a hot dog stand right next to the stairs to the bathroom that kept wafting these delicious smells every time I walked by but they were just so expensive. And THEN, Penguin had these awesome signs with funny sayings relating to BEA ("why is this line so long", etc) and had one that said "I'm so hungry but the hot dogs here are so expensive". It just couldn't have been MORE PERFECT! So when we found a hot dog stand right outside the exhibit hall that was $3 cheaper, I was like hell yes! The people there thought our sign was hilarious and the lady convinced me to try a "Chicago dog" with all the fixings and I very bravely tried it and ate it EVEN THOUGH IT HAD MUSTARD ON IT. (I'm not picky. I will eat pretty much anything except mustard and pickles) so 1) I was really hungry or 2) it was just that good because I ate it all and considered getting a 2nd one!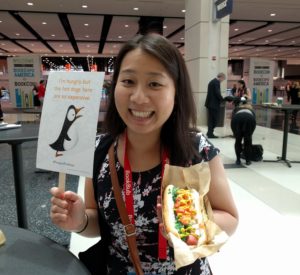 But we had to go line up for the Macmillan ticket drop for the afternoon in booth signings. This event will hereafter be known as "The Macmillan Stampede of BEA16" aka the stampede where we almost DIED. I'm not even joking. Basically, there were four in booth signings that afternoon and they were dropping tickets to all of them at 1 pm. They wouldn't let us form a line. There wasn't even an "unofficial" line so basically there was a legit MOB of people surrounding their booth. I went up to talk to them and was like umm maybe we can try to form something because this situation can get scary and they told me "we hope a single file line will form at 1." HAHA, OKAY.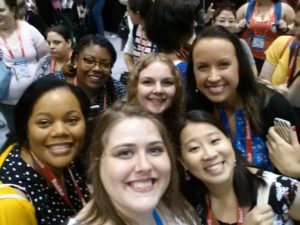 (smiles still on despite the mob)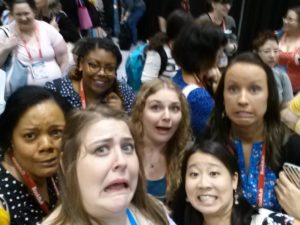 (then we got scared)
At about 10 min to 1 pm, they decided they'd form that line and EVERYONE rushed forward, like I wasn't even moving on my own accord, it was the wave of people moving that pushed me forward. I'm short and small and so is Becca and we basically linked arms and went omg omg omg. I like to tell people that I was Simba in the stampede and Mary was Mufasa because she's so tall she saved me from being trampled. THANKS, MARG! <3
Anyway, even though we'd been waiting for an hour, we became pretty far back in line and they ran out of Heartless tickets literally ~10 people or so after us so… WHEW.
So yes, I survived the stampede for Heartless by Marissa Meyer (YAY) which came in a gorgeous box and I got to flail with Marissa about Iko and Kinney. Also, I got to meet Sarah Porter who signed Vassa in the Night, another highly anticipated book of mine! (Sarah is so super cute and had fabulous nails and I'm so happy I got to meet her!) From there, Rebecca and I hopped in line for Eoin Colfer's Iron Man!
Let me just say, I really wanted this book because 1) Marvel, 2) #teamironman but my hopes for it weren't sky high UNTIL I met Eoin Colfer. Oh my gosh, he is hilarious. It totally caught me off guard, I just didn't expect him to be so funny and he had the exact same sense of humor I feel like Tony Stark would have so I'm super excited to read this one now! He told us that he'd know we hated it if he never saw us again, we bonded over being #teamironman and when we mourned the fact that they were all out of the mocktails Disney had, he goes: "oh yeah.. these are so strong, it's getting crazy over here! I'm getting a brain freeze!" He was great.
After a last Harper drop (The Thousandth Floor by Katharine McGee), we were ready to head back! We dropped all our stuff off and then Becca and I got dinner at the hotel because we were just too tired to go out anywhere. (Our roomies went off to Bloomsbury and Fierce Reads parties.) We still had a great time at the hotel though — we got to hang out with Morgan (@morganameridius) and Laura (@LECrockett) and then later, ALL THE PEOPLE gathered with wine and beer and Cards Against Humanity. We had so much fun! I think that's one thing I so loved about all of us being at the same hotel — SO easy to meet up and hang out!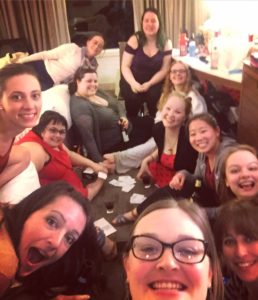 (picture courtesy of Jessie!)
And thus ended Day Two! Final Day Two haul: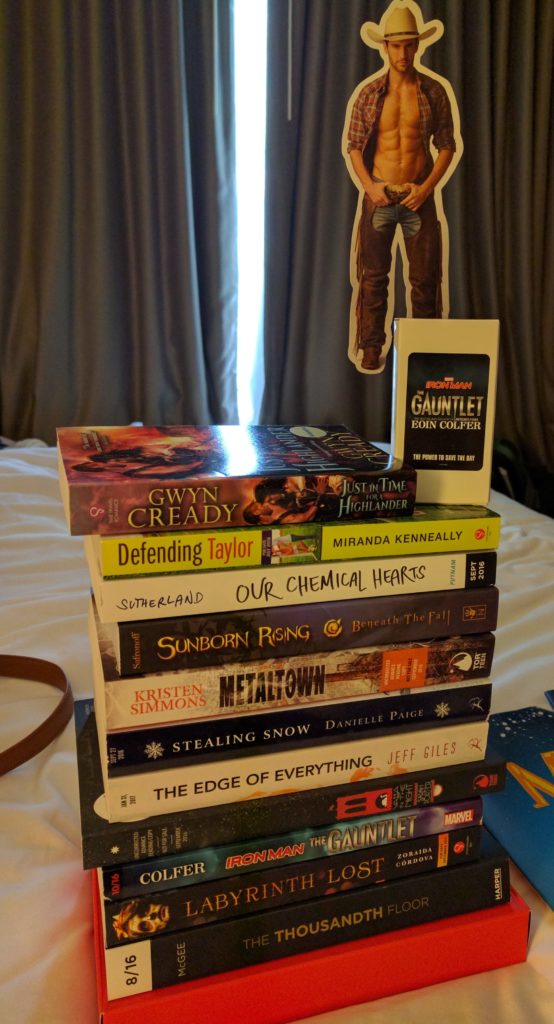 That was it for BEA Day Two! Tell me, were you part of the Macmillan Stampede of BEA 2016? Stay tuned for more BEA adventures in Part Three, coming tomorrow!
Related Posts