If you missed it, here are my recaps of BEA Part One and BEA Part Two!
Friday BEA Day Three: A Very Epic Day
First stop: Coffee! I peered creepily at a girl's badge while waiting for my coffee and discovered it was Nori (@ReadWriteLove28)!! I was so happy I got to meet her and Mish (@chasingfaes)!
Once we were on the exhibit floor, the Macmillan booth was the first stop again for a ticket for Caraval by Stephanie Garber signing! It was one of my TOP books I wanted. Stephanie is SO SWEET! I can't wait to read her book. We hopped in line for the Harlequin Teen signing right afterward and they actually started that early since they ran out of tickets for people in the line. Really excited for The Continent by Keira Drake and The Problem With Forever by Jennifer Armentrout and it was so nice to see JLA again!
Also, I just have to take a quick second to say that I know lots of people talk about BEA like it's cutthroat and crazy and there's pushing and shoving and whatever but honestly, minus the stampede fiasco which was just bad planning, everyone was really really nice. While we were in the Harlequin line, two girls ahead of us went to the bathroom and right after they left, tickets were being handed out and like 6 of us begged the publicist to save them tickets and none of us knew those girls. All I saw was good behavior and people being nice. I can't speak for BookCon but at BEA, people were fantastic!
Speaking of the bathroom and tickets… I then went to wait for Sabaa Tahir's signing of A Torch Against the Night. It was a pretty long line and we were in it for quite awhile. I ran off to pee and then got an influx of texts to come back because they were passing out tickets. Great timing. The hilarious part was, when I got back and went up to the publicist for a ticket and told her I had been in the bathroom, she goes "oh yes, I heard!" Haha 😀
So. While I was in the line for Torch, some other friends had started a line for Gemina (aka everyone's MOST anticipated book, at least it was mine) and Becca (@unboundpages) was there. Quick rewind. Becca and I are sliiiightly obsessed with Pierce Brown's Red Rising series. We wore our matching Howlers shirts Friday like the badass Howlers we are (wolf cloaks left at home, too hard to bring through TSA). We also MAY be sliiightly obsessed with Pierce Brown and were really sad that he would be at BookCon but not BEA — so of course the smart thing to do was figure out that yeah, he'd most likely be flying into Chicago Friday and yeah, we should most definitely tweet him that he should join us at Howl at the Moon (a dueling piano bar) (seriously how perfect is the name of that bar) for a drink. HE TWEETED HER BACK. She texted me this while I was close to the front of getting Torch and I flipped out (duh), yelled "OH MY GOD", freaked out everyone around me and flung my arm out in excitement and hit it against the Penguin booth sign. The Penguin rep was all ooook crazy girl and handed me Torch and I was just like "I get really excited about books!"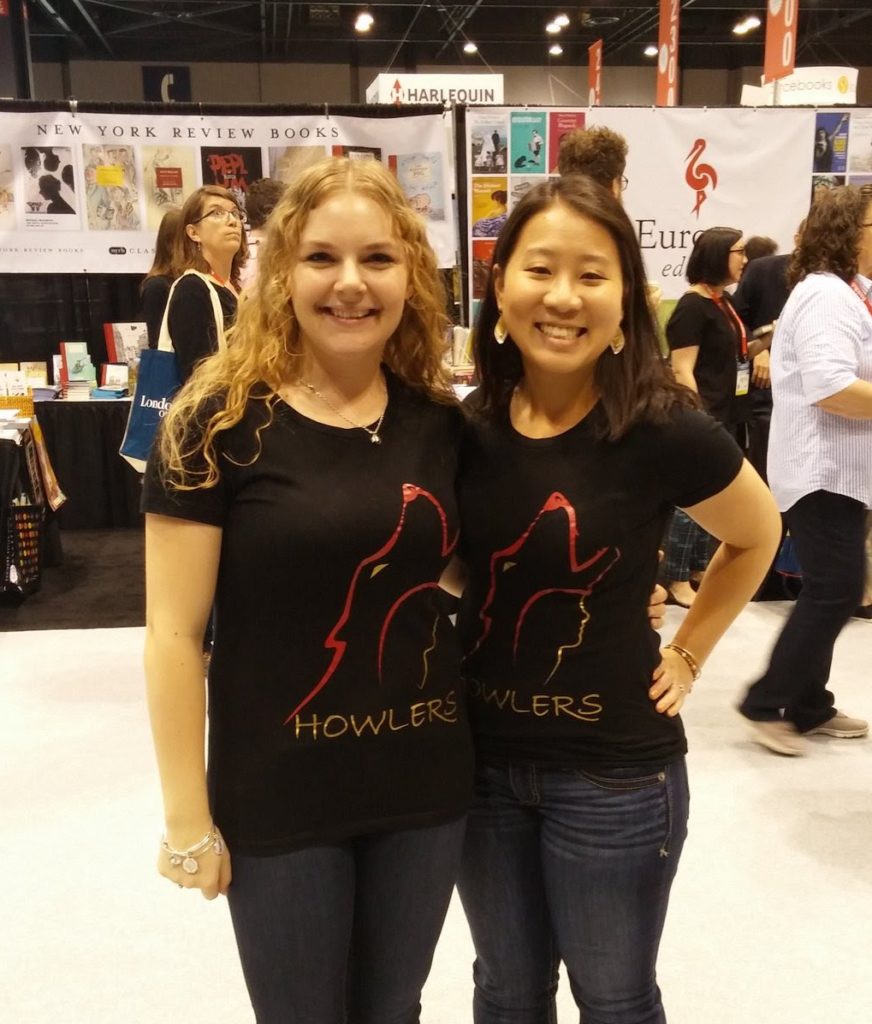 How cute are we?!
Then I met Sabaa Tahir who is super awesome, we chatted about Steve West and his glorious voice and then clutching Torch, I ran off to find Becca and literally ran toward her screeching OH MY GODDD. I am sorry for all the people around us in that Gemina line who thought we were actually crazy. We tweeted him back saying 10 pm ish and then re-commenced shaking and freaking out. (Spoiler alert: he later tweeted us back saying he'd be busy with college friends and it broke our hearts, no big dealll, but really, I'm just super touched and impressed he actually followed up with us. Thanks Pierce!  <3)
And THEN as if things weren't epic enough, Jay Kristoff approaches to say hi to the epically long line forming for his book. Of course Becca and I had to get a picture with him and yes, he is tall and yes, we look like small children next to him. But look how well we coordinate! Black shirts with red. We're awesome. After he heard the line started about 2+ hours before the drop he says "well shit, I really hope you guys don't hate it". Don't worry, Jay, I know I'll love it!
And THEN, because epic things occur in threes (three is a good number), Nikki texted to tell me Maggie Stiefvater was hanging out in the Scholastic booth. I had been SO SAD I wasn't able to meet her because I couldn't get up early enough to get a ticket for her signing so I literally dumped all my stuff with Becca and scurried over to Scholastic. There, I found Morgan and we both lurked in the booth for a good while because eeek we just didn't want to interrupt her and her tarot reading! Finally, we approached and she apologized that we had to wait! Whaaat no, Maggie, no apologies needed! I was so freaking excited to meet her and I told her that I was halfway through The Raven King to which she smiled and said "oh it all goes downhill from there" (insert scared ghost-y face emoji here). I told her I made November cakes and I loved her and honestly, it's all a blur.
Then I stood to the side and breaaathed because ohmygosh I was shaking from all the serious epic things that just happened back to back to back.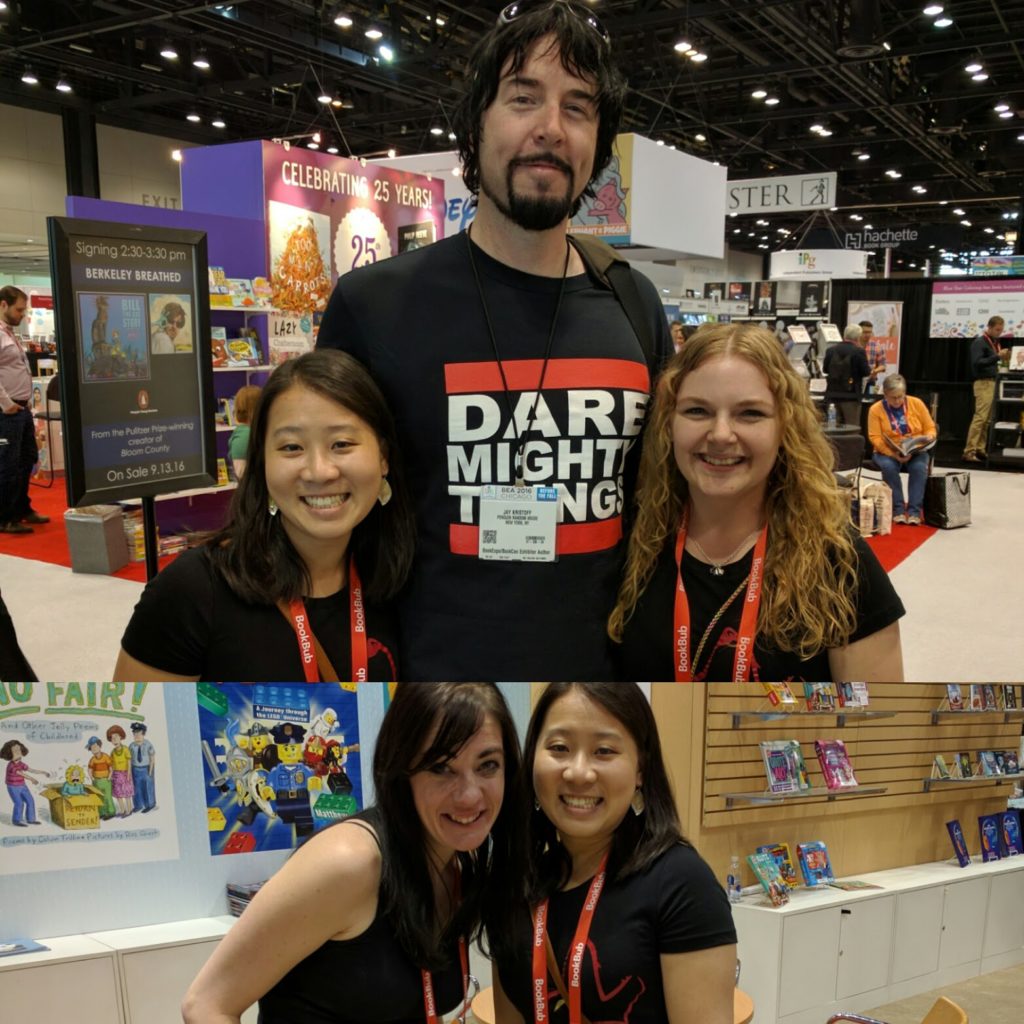 To wrap it up, we hung out in the Gemina line and had generally a fantastic time with all the people I love. Then it was time and as the publicist handed me Gemina, it fell and hit the ground and the entire line GASPED which was kind of awesome and hilarious.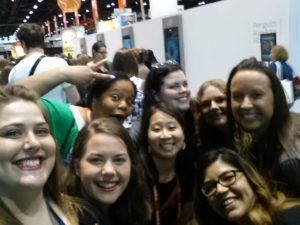 (Gemina line fun!)
From there we hugged people for goodbyes and didn't hug others because we were like we will see you at Howl at the Moon tonight, this is not goodbye but due to other circumstances some people didn't end up making it and I'm still mourning the fact I never got to give Mary and Katie hugs goodbye! 🙁
And that was the end of BEA — but not the end of Chicago shenanigans.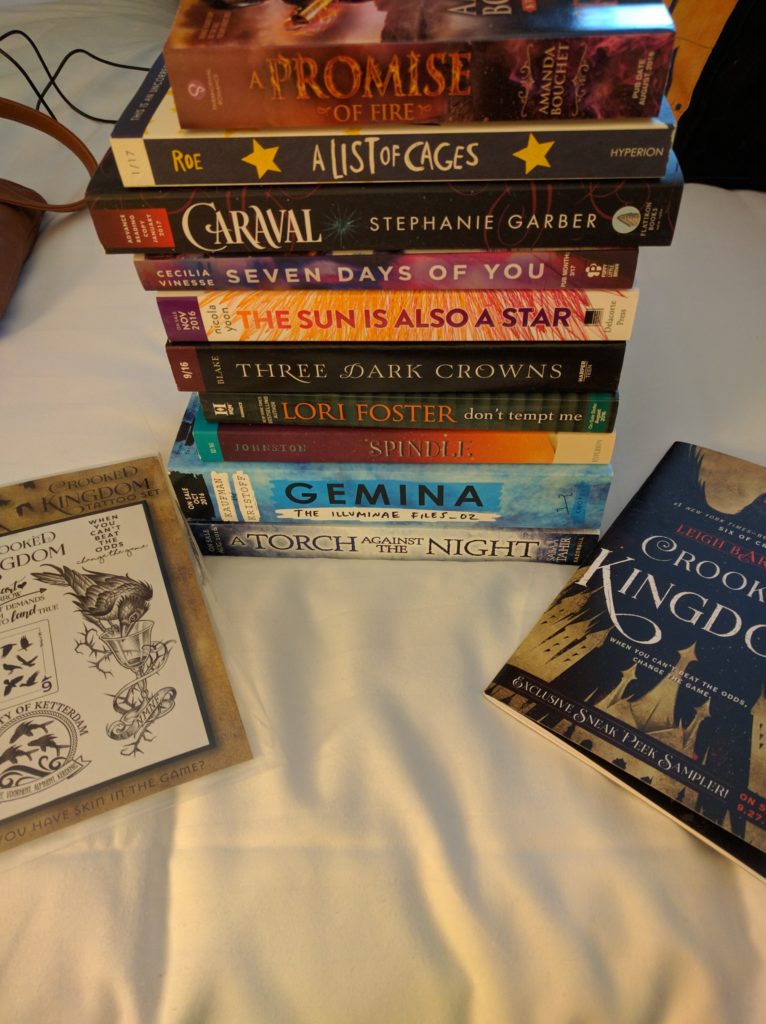 (Day Three haul!)
We went out to Giordano's for more deep dish pizza and I actually LOVED it more than Lou Malnati's! The cheese!! YUM. I want that pizza again, right now! Afterward we had a fun and crazy night at Howl at the Moon and I miss these girls more than words can say.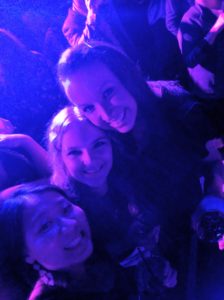 And thus ends the recap of my Chicago BEA16 adventures! If you were at BEA, tell me your most anticipated reads and if you've already read any from BEA! Tell me what your favorite part of BEA was!
Related Posts