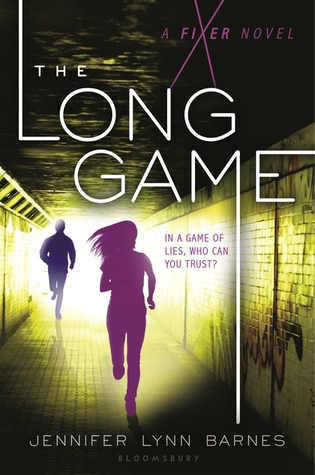 The Long Game

by Jennifer Lynn Barnes
Published by Bloomsbury Publishing USA on June 7th 2016
Genres: Young Adult, Mysteries & Detective Stories, Law & Crime, Family, Siblings, General
Pages: 368
Format: eARC
Source: Netgalley
Buy on Amazon
Goodreads


The Kendricks help make the problems of the Washington elite disappear. . . . but some secrets won't stay buried.
For Tess Kendrick, a junior at the elite Hardwicke School in Washington D.C., fixing runs in the family. But Tess has another legacy, too, one that involves power and the making of political dynasties. When Tess is asked to run a classmate's campaign for student council, she agrees. But when the candidates are children of politicians, even a high school election can involve life-shattering secrets.
Meanwhile, Tess's guardian has also taken on an impossible case, as a terrorist attack calls into doubt who can ? and cannot ? be trusted on Capitol Hill. Tess knows better than most that power is currency in Washington, but she's about to discover firsthand that power always comes with a price.
I received this book for free in exchange for an honest review. This does not affect my opinion of the book or the content of my review.
Why Did I Read?
I have been anticipating this since I read The Fixer last year! There were questions that needed to be answered!
My Thoughts:
(There will be no spoilers for The Long Game but may be a SLIGHT–very very slight– spoiler for The Fixer in my review!)
I really enjoyed The Fixer, I thought it was a great political intrigue thriller and kept me glued to the pages. However, its sequel just plain blew it out of the water! I'm not sure what I was expecting but I really didn't plan on reading it in ONE sitting when I first turned to the first page! I just could NOT put it down.
We pick up where we left off at the end of The Fixer and see Tess' relationship with Ivy and her newfound grandfather develop. I absolutely enjoyed the familial aspect, of what the bonds of family means for different people and what people will do for family.
Another aspect I enjoyed was her friends! We get to know Asher and Emilia, Vivvie and Henry in much greater depth and I formed deep connections with each of them that I hadn't in The Fixer. There is just a lot of detail and feelings involved and I commend Jennifer Lynn Barnes for creating such realistic and magnetizing friendships. I really, really love Asher in particular, with his crazy antics and joke telling, even in dire situations. His humor is his way of coping and oh gosh, Asher is just my absolute favorite. Their school Hardwicke is truly a microcosm of the political picture of Washington DC so it's super interesting navigating the high school social aspect with the overlay of politics over it all.
So yes, The Long Game had great familial relationships and friendships but what it also had? Nonstop, edge of my seat, can't put the book down, action and intrigue. There were things you don't know, things you suspect and yet, you will still be shocked as the book leads you through twists and turns and crazy reveals. I loved that it kept surprising me at every turn. There are just so many players, so many motives and so many end games! It kind of made me want to yell "in the game of thrones, you win or you die!" Because essentially, everyone, in some way, wants power, information, control. It's fascinating to navigate and ohmygosh this book! I just want everyone to read this series and experience the intrigue for themselves!
In Short…
The Long Game stepped it up and was a downright amazing sequel to The Fixer! It is honestly one of the best YA political thriller books I've read and I highly recommend/will forcibly push this series on everyone! It will keep you glued to the pages with its nonstop action and mind blowing reveals — you will not be able to stop reading until you're done!
My Rating: 
What did you think if you've read? Please feel free to find me on twitter to discuss! If you haven't started the series yet, get on that asap! If you have, you will love this sequel and please go preorder it right this second because I'm telling you, we need that third book!
Related Posts