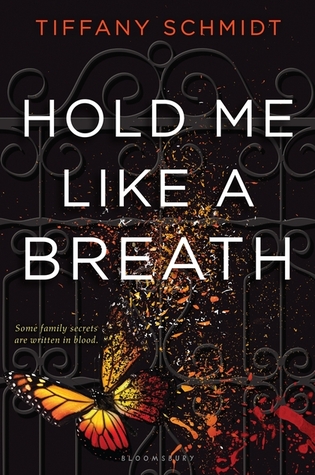 Hold Me Like a Breath

by Tiffany Schmidt
Published by Bloomsbury Publishing USA on May 19th 2015
Genres: Young Adult, Law & Crime, Fairy Tales & Folklore, Adaptations, Love & Romance, Mysteries & Detective Stories, General
Pages: 400
Format: eARC
Source: Netgalley
Buy on Amazon
Goodreads


In Penelope Landlow's world, almost anything can be bought or sold. She's the daughter of one of the three crime families controlling the black market for organ transplants. Because of an autoimmune disorder that causes her to bruise easily, Penny is considered too "delicate" to handle the family business, or even to step foot outside their estate.
All Penelope has ever wanted is independence--until she's suddenly thrust into the dangerous world all alone, forced to stay one step ahead of her family's enemies. As she struggles to survive the power plays of rival crime families, she learns dreams come with casualties, betrayal hurts worse than bruises, and there's nothing she won't risk for the people she loves.
Perfect for fans of Holly Black and Kimberly Derting, this first book in the stunning new Once Upon a Crime Family series from acclaimed author Tiffany Schmidt will leave readers breathless.
I received this book for free in exchange for an honest review. This does not affect my opinion of the book or the content of my review.
My Thoughts:
I'm not going to lie, I was a little wary heading into this one. The majority of my friends on GR had rated this pretty low and I was skeptical. However, I think I enjoyed it more than most!
The premise really drew me in — crime families dealing in illegal organ transplants and organ trafficking? I'm in! I thought the set up was really interesting because while these crime families are making a lot of money, they are still getting organs to people who otherwise would not have made it. It really makes you think because there are so many people in need of transplants that get denied or they wait too long and don't get one before they pass away. It happens every day. That's where these Families come in. They have clinics set up and if you're able to pay, you can get what you need.
I was pretty fascinated by the first half of the book, just seeing how the business runs and seeing how things could change with an Organ Act on the horizon and other things at play — I was really enjoying it actually. Not to mention our MC is pretty interesting — she has a disease that basically renders her fragile in the sense that her body destroys her platelets and she can't clot blood if she gets cut and a bump that would leave healthy people fine bruises her badly. It definitely put a twist on the story.
Anyway, about halfway through, a big… THING happens and the tone of the book shifts. I expected more action and intrigue at this point and instead… got a really weird romance. I just wasn't a fan of the romantic development in the second half of the book. It just came off as really sudden, fast, instalove-y and it just felt… odd to me. Plus, it seemed like there were all these other large events at play and the focus on the romance made me antsy because I didn't want lovey-dovey, I wanted action.
I did enjoy the end and I am still very interested to what the sequel will have to offer!
In Short…
Hold Me Like A Breath had a really unique and fascinating premise of crime families dealing in illegal organ operations that had me riveted to the book! The intrigue captured me interest and had me flipping the pages to find out what happens next. However, I was not a fan of the romantic aspect in the latter part of the story and felt that part dragged. However, I am eager for the next book and am especially interested since it is from a new POV of a character I really liked in this one!
My Rating: 
What did you think about this one? Let me know your thoughts!
Related Posts