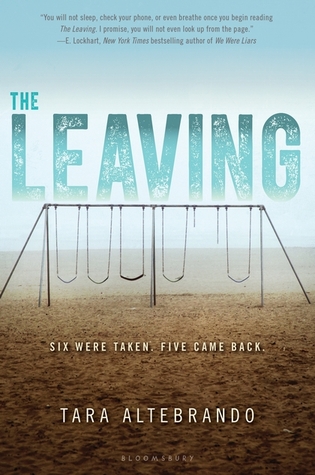 The Leaving

by Tara Altebrando
Published by Bloomsbury Publishing USA on June 7th 2016
Genres: Young Adult, Mysteries & Detective Stories, Social Themes, Strangers, Love & Romance
Pages: 432
Format: eARC
Source: Netgalley
Buy on Amazon
Goodreads


Eleven years ago, six kindergartners went missing without a trace. After all that time, the people left behind moved on, or tried to.
Until today. Today five of those kids return. They're sixteen, and they are . . . fine. Scarlett comes home and finds a mom she barely recognizes, and doesn't really recognize the person she's supposed to be, either. But she thinks she remembers Lucas. Lucas remembers Scarlett, too, except they're entirely unable to recall where they've been or what happened to them. Neither of them remember the sixth victim, Max--the only one who hasn't come back. Which leaves Max's sister, Avery, wanting answers. She wants to find her brother--dead or alive--and isn't buying this whole memory-loss story. But as details of the disappearance begin to unfold, no one is prepared for the truth.
This unforgettable novel--with its rich characters, high stakes, and plot twists--will leave readers breathless.
I received this book for free in exchange for an honest review. This does not affect my opinion of the book or the content of my review.
Why Did I Read?
I'm all for thrillers. I like the suspense and this sounded super intriguing: I mean, missing kids, missing memories… I was excited to read this!
My Thoughts:
This story is told in different POVs, some in the POV of some of the returned missing kids and one from the sister of the kid that didn't return. I thought it was a really interesting concept. However… this one didn't really work for me. What I really need in a thriller is to be drawn in and not want to put down the book because I want to know what happened. Sadly, I quickly became disenchanted.
I really disliked the POV of the sister of the kid that didn't return. She drove me up a wall so every time we had to be in her POV, I mentally groaned. The other two I was fine with! However since they are missing their memories, it was hard to become attached or care for these characters because there's not much to get invested in.
There is kind of a romance. I wasn't a fan. It was weird! Like… ALL aspects of any romance in this book felt so off that I was just like "what?" the whole time. I'm not going into details because, well, spoilers, but trust me, it was odd.
But still, I pressed on because I was curious about WHY did those kids go missing, who did it, why? And the ending felt really anticlimactic. I will say that it was interesting but at the same time, okay, that's it? I was just overall not impressed and I think because of the length of this book, by that time, I had gotten sort of bored.
I feel like it had the potential to be better. It definitely had some very interesting elements in the story. I think how it was executed just missed the mark for me, unfortunately.
In Short…
If you are a fan of thrillers or stories involving missing memories, this could be for you! I personally didn't end up enjoying it due to disconnect with characters and didn't like the romance elements.
My Rating: 
Tell me what you thought about this one! I was sad I was underwhelmed! Any YA thriller recs for me?
Related Posts