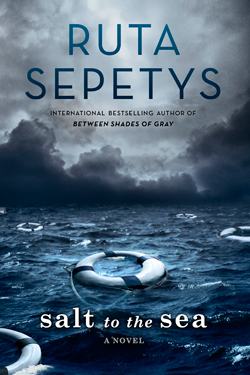 Salt to the Sea

by Ruta Sepetys
Published by Penguin on February 2nd 2016
Genres: Young Adult Fiction, Historical, Europe, Military & Wars, Action & Adventure, Survival Stories
Pages: 400
Format: Audiobook
Length: 8 hours and 50 minutes
Source: Library
Buy on Amazon
Goodreads


New York Times Bestseller! "Masterly crafted"—The Wall Street Journal
For readers of Between Shades of Gray and All the Light We Cannot See, bestselling author Ruta Sepetys returns to WWII in this epic novel that shines a light on one of the war's most devastating—yet unknown—tragedies.World War II is drawing to a close in East Prussia and thousands of refugees are on a desperate trek toward freedom, many with something to hide. Among them are Joana, Emilia, and Florian, whose paths converge en route to the ship that promises salvation, the Wilhelm Gustloff. Forced by circumstance to unite, the three find their strength, courage, and trust in each other tested with each step closer to safety.
Just when it seems freedom is within their grasp, tragedy strikes. Not country, nor culture, nor status matter as all ten thousand people—adults and children alike—aboard must fight for the same thing: survival.
Told in alternating points of view and perfect for fans of Anthony Doerr's Pulitzer Prize-winning All the Light We Cannot See, Erik Larson's Dead Wake, and Elizabeth Wein's Printz Honor Book Code Name Verity, this masterful work of historical fiction is inspired by the real-life tragedy that was the sinking of the Wilhelm Gustloff—the greatest maritime disaster in history. As she did in Between Shades of Gray, Ruta Sepetys unearths a shockingly little-known casualty of a gruesome war, and proves that humanity and love can prevail, even in the darkest of hours.
Salt to the Sea was such a beautiful historical fiction story! I absolutely loved it and as this was my first book of Ruta Sepetys, I am definitely eager to read her previous books!
It was told in four different POVs and it never once seemed like too many POVs. I loved hearing from each character, each voice was distinct and provided that unique aspect of seeing the story from that particular character's position. I thought the audio was spectacular and the narrators were phenomenal! I definitely think that my reading experience was greatly enhanced by listening to this on audio.
I loved how this was a historical event I never actually even KNEW about. I knew nothing about it at all and I couldn't believe that I didn't afterward. It's great that Ruta sheds some light on this event but more importantly, the way she does it with this story is just… amazing. She really pulls you into these characters lives and with the quick pacing of the short chapters, I didn't want to stop listening.
This story is emotional (I finished sitting on the ground, crying, just fyi) but also just so good. I highly recommend for any historical fiction fans and also anyone who loves a great character driven story.
My Rating: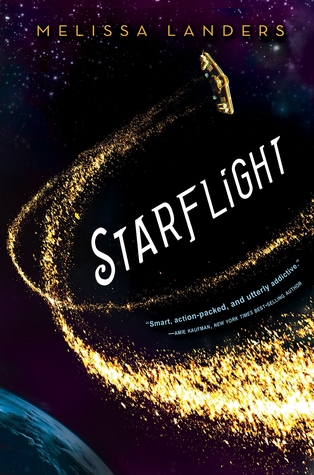 Starflight

by Melissa Landers
Series: Starflight #1
Published by Disney Electronic Content on February 2nd 2016
Genres: Young Adult, Love & Romance, Action & Adventure, General, Fantasy & Magic
Pages: 309
Format: Audiobook
Length: 9 hours and 44 minutes
Source: Library
Buy on Amazon
Goodreads


Solara Brooks needs a fresh start, someplace where nobody cares about the engine grease beneath her fingernails or the felony tattoos across her knuckles. The outer realm may be lawless, but it's not like the law has ever been on her side. Still, off-world travel doesn't come cheap; Solara is left with no choice but to indenture herself in exchange for passage to the outer realm. She just wishes it could have been to anyone besides Doran Spaulding, the rich, pretty-boy quarterback who made her life miserable in school. The tables suddenly turn when Doran is framed for conspiracy on Earth, and Solara cons him into playing the role of her servant on board the Banshee, a ship manned by an eccentric crew with their own secrets. Given the price on both Doran and Solara's heads, it may just be the safest place in the universe. It's been a long time since Solara has believed in anyone, and Doran is the last person she expected to trust. But when the Banshee's dangerous enemies catch up with them, Solara and Doran must come together to protect the ship that has become their home—and the eccentric crew that feels like family.
I had actually heard mixed things prior to starting this one so I wasn't too sure what to expect. However, I was pleasantly surprised by how much I REALLY enjoyed this one! It's a sci-fi space adventure that reminded me strongly of Firefly because of its action packed, adventurous tone and also because of a fantastic cast of characters that are just so fun, unique and downright awesome.
As one thing leads to another, I found myself swept up in Solara's situation and didn't want to stop because I needed to know what would happen next?? Starflight also features a hate to love relationship and I am always a proponent of that trope! I can see where some people had some issues since Doran really was a jerk at the beginning but I feel like it felt really authentic and showed such a great character arc for both Doran and Solara. I love seeing that sort of growth and change and thought it was really well done.
Basically, I plain loved being on this space adventure and I want more! I'm so happy there is more to this series and just can't wait!
My Rating: 1/2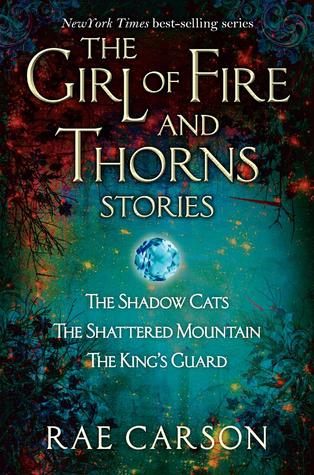 The Girl of Fire and Thorns Stories

by Rae Carson
Published by HarperCollins on August 26th 2014
Genres: Young Adult Fiction, Fantasy, General, Royalty, Girls & Women
Pages: 272
Format: Audiobook
Length: 6 hours and 58 minutes
Source: Library
Buy on Amazon
Goodreads


Three novellas set within the world of Rae Carson's epic New York Times‒bestselling Girl of Fire and Thorns series are available in print for the first time! Originally published digitally, The Shadow Cats, The Shattered Mountain, and The King's Guard each center around a character vital to Elisa, the heroine of The Girl of Fire and Thorns. It's a must-have for every fan of the stunning fantasy trilogy.
Before Hector became commander of the Royal Guard and Elisa's true love, he was a young new recruit. In The King's Guard, he must prove himself—and he discovers a secret that he must keep forever.
In The Shadow Cats, discover how Elisa and her older sister's rivalry looks from Alodia's point of view, and find out why Alodia agrees to marry her sister off to King Alejandro.
In The Shattered Mountain, find out what happened to Mara before she becomes Elisa's best friend and handmaiden. When her village is destroyed, she must lead the few young survivors to the safety of a hidden rebel camp.
I binge read The Girl of Fire and Thorns series last year and LOVED it and bought the stories right afterward with the intent of reading it right away. Somehow… it fell by the wayside because, #TBRproblems… and so recently when I was searching for a new audiobook, this was the perfect option! And oh my gosh, it was all I wanted it to be!
Firstly, it brought me back into the fantasy world that I absolutely loved — Rae Carson has written such a great fantasy world and I could live in it forever. Not only that, the each story features each of these three characters: Alodia, Mara and Hector (aka Lord Commander of my heart! <3) and they provide SUCH AWESOME back stories!!! You find out about stuff you didn't know before or you see stuff and are like ooohhh as things from the series click in your mind. I absolutely loved the back stories! And okay, my favorite? Hector's story is worth everything — not just because I'm in love with him but because it's just such an illuminating backstory about WHO Hector is, the essence of him and his character and like seriously, just give me all the stories of Hector.
After finishing the stories, it made me miss the world so much I started rereading the series on audio! It was a good life decision, I'm so happy I'm rereading them! One of my absolute favorite fantasy series!
My Rating: 1/2
What are your thoughts on these books if you've read them?
Related Posts