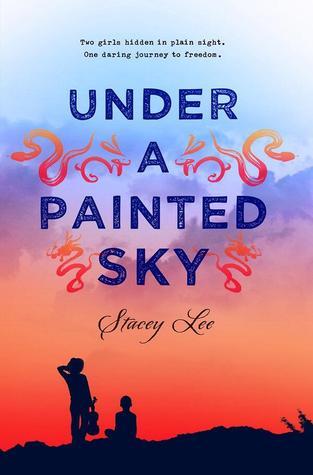 Under a Painted Sky

by Stacey Lee
Published by Penguin on March 17th 2015
Genres: Young Adult Fiction, Historical, United States, 19th Century, People & Places, Asian American, Action & Adventure, General
Pages: 384
Length: 10 hours and 11 minutes
Buy on Amazon
Goodreads


A powerful story of friendship and sacrifice, for fans of Code Name Verity
Missouri, 1849: Samantha dreams of moving back to New York to be a professional musician—not an easy thing if you're a girl, and harder still if you're Chinese. But a tragic accident dashes any hopes of fulfilling her dream, and instead, leaves her fearing for her life. With the help of a runaway slave named Annamae, Samantha flees town for the unknown frontier. But life on the Oregon Trail is unsafe for two girls, so they disguise themselves as Sammy and Andy, two boys headed for the California gold rush. Sammy and Andy forge a powerful bond as they each search for a link to their past, and struggle to avoid any unwanted attention. But when they cross paths with a band of cowboys, the light-hearted troupe turn out to be unexpected allies. With the law closing in on them and new setbacks coming each day, the girls quickly learn that there are not many places to hide on the open trail. This beautifully written debut is an exciting adventure and heart-wrenching survival tale. But above all else, it's a story about perseverance and trust that will restore your faith in the power of friendship.
I hadn't read anything by Stacey Lee before, but right after finishing this, I put her other books on hold at the library! I really enjoyed this one and the audio was very good. To begin with, I am all about YA Westerns. Love it. I can never get enough of it and the Oregon Trail never gets old to me.
I think the very bright shining spot of this book was the amazing friendship between Sam and Andy — these two girls were there for each other when no one else was. I absolutely adore strong female friendships and what better than to see two unlikely girls come together to brave the frontier? I also loved the comraderie between the girls (dressed as boys!) and the cowboys they meet and travel with on the Trail. The romance aspect was only so-so for me, I guess I never saw the connection there quite as much as I wanted to.
I loved how this book addressed race though — having a runaway slave and a runaway Chinese girl as the leads in a story set in the 1800s show how scary and dangerous people can be against people of color. Racism is still a very real and very scary threat hundreds of years later and I think this story does a great job portraying how those strongly imbedded beliefs can be changed. I highly recommend reading this fantastic historical fiction featuring a diverse cast and my personal favorite trope of girls pretending to be boys!
My Rating: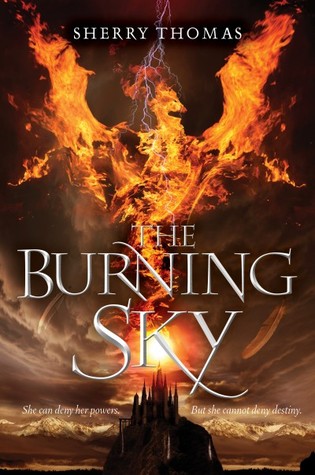 The Burning Sky

by Sherry Thomas
Published by Balzer + Bray on September 17th 2013
Genres: Fantasy, Young Adult
Pages: 449
Format: Audiobook
Length: 11 hours and 40 minutes
Source: Library
Buy on Amazon
Goodreads


It all began with a ruined elixir and a bolt of lightning.
Iolanthe Seabourne is the greatest elemental mage of her generation—or so she's been told. The one prophesied for years to be the savior of The Realm. It is her duty and destiny to face and defeat the Bane, the most powerful tyrant and mage the world has ever known. This would be a suicide task for anyone, let alone a reluctant sixteen-year-old girl with no training.
Guided by his mother's visions and committed to avenging his family, Prince Titus has sworn to protect Iolanthe even as he prepares her for their battle with the Bane. But he makes the terrifying mistake of falling in love with the girl who should have been only a means to an end. Now, with the servants of the tyrant closing in, Titus must choose between his mission—and her life.
The Burning Sky—the first book in the Elemental Trilogy—is an electrifying and unforgettable novel of intrigue and adventure.
I don't know why it took me SO long to read start this series! It has everything I love. This fantasy had wonderful Harry Potter vibes (wands! spells! potions!) as well as a girl masquerading as a boy (ha, recognize my fave trope trend?) and a FANTASTIC ship. At the beginning I did get a bit confused about details at times but I think that may have been more due to the fact I was listening on audio, perhaps?
Anyway, I also had very fairytale vibes from this one and I am all about that. The magic is just really cool and the combination of a fantasy world plus Victorian England really sold me. If you like those things too, you'll probably love this as well. I'm really excited to dive into the rest of this series because Iolanthe and Titus have quickly become favorite characters!
Philip Battley was a great narrator but I couldn't help but wonder if I was missing vital information because of the footnotes. I also own this in physical format so I've seen how there are footnotes in the book but that wasn't in the audio. I kept wondering if there was something I was missing out on!
My Rating: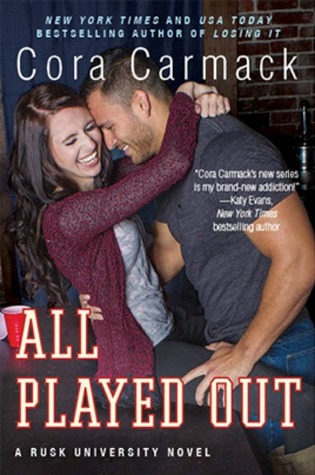 All Played Out

by Cora Carmack
Series: Rusk University #3
Published by Harper Collins on May 12th 2015
Genres: Fiction, Romance, New Adult, Contemporary, Coming of Age
Pages: 336
Format: Audiobook
Length: 8 hours and 15 minutes
Source: Library
Buy on Amazon
Goodreads


In the third book in New York Times and USA Today bestselling author Cora Carmack's Rusk University series, a good girl is about to find out what happens when she creates the ultimate college bucket list and she sets her sights on a jock.
First person in her family to go to college? CHECK.
Straight A's? CHECK.
On track to graduate early? CHECK.
Social life? …..yeah, about that….
With just a few weeks until she graduates, Antonella DeLuca's beginning to worry that maybe she hasn't had the full college experience. (Okay... Scratch that. She knows she hasn't had the full college experience).
So Nell does what a smart, dedicated girl like herself does best. She makes a "to do" list of normal college activities.
Item #1? Hook up with a jock.
Rusk University wide receiver Mateo Torres practically wrote the playbook for normal college living. When he's not on the field, he excels at partying, girls, and more partying. As long as he keeps things light and easy, it's impossible to get hurt... again. But something about the quiet, shy, sexy-as-hell Nell gets under his skin, and when he learns about her list, he makes it his mission to help her complete it.
Torres is the definition of confident (And sexy. And wild), and he opens up a side of Nell that she's never known. But as they begin to check off each crazy, exciting, normal item, Nell finds that her frivolous list leads to something more serious than she bargained for. And while Torres is used to taking risks on the field, he has to decide if he's willing to take the chance when it's more than just a game.
Together they will have to decide if what they have is just part of the experiment or a chance at something real.
I love football and I love Cora's Rusk series! Torres and Nell are such opposites so it was great to see them come together and seeing those sparks fly. Nell is quiet and studious and driven and Torres is the fun, easygoing flirt. I definitely enjoyed seeing them balance each other out and discover how well they mesh together. And of course all of this is set against the background of football which YAY FOOTBALL.
I also enjoyed seeing the characters from the previous books in this story and of course, that just made me want Stella's story that much more. I can't wait until then!
Side note about the audio: the narrators were not my favorite. They weren't terrible, but sometimes the dialogue was hard to distinguish from inner dialogue to what was actually being spoken — more so on the narrator for Nell than for Torres. So I'd recommend reading via physical format!
My Rating: 
Have you guys read these? What did you think? What is a recent audiobook you've listened to and loved?
Related Posts