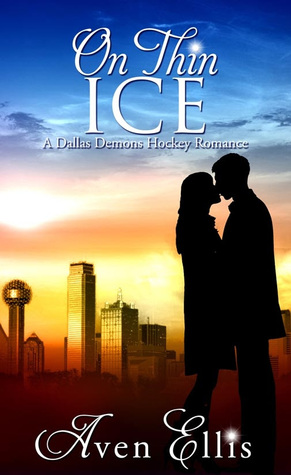 On Thin Ice

by Aven Ellis
Series: Dallas Demons #4
Published by Soul Mate Publishing on November 30, 2016
Genres: Romance, Sports
Format: eARC
Source: Author
Buy on Amazon
Goodreads


Holly Johansson knows some things in her life are certain after college graduation:

1.) It's a long road to become a full-time author. 2.) She'll need to work to pay her bills. 3.) And Dallas Demons superstar Matt Rhinelander will never return her feelings.

Holly knows her unrequited crush on the partying hockey player is ridiculous. There's no way Matt would be attracted to a woman who prefers nights in watching TV or reading books when he's known for his frequent bar hops and fast lifestyle. Obviously he would never see her as anything other than his teammate's little sister.

Yet Holly is drawn to the other side of Matt—the man she knows has always been thoughtful and easy to talk to whenever she's been alone with him. It is this Matt that fueled the crush Holly has on him. And she knows it will always be just that—a secret crush.

Or will it?

Because when Matt helps Holly through a crisis, her heart begins to believe that there might be feelings on his part, too. After a night of hard partying puts Matt in jeopardy with the Dallas Demons, can Holly be the one to save him? And when Matt admits he sees her as more than Nate Johansson's sister, will it put both of them on thin ice?
I received this book for free in exchange for an honest review. This does not affect my opinion of the book or the content of my review.
Why Did I Read?
That shouldn't even be a question at this point! Sweet, swoony reads from Aven = must read!
My Thoughts:
I loved Holly from the previous Dallas Demons book so of course I was eager to see her story! She's Nate's quiet, quirky younger sister and who would've thought she would be with Matt Rhinelander, partier extraordinaire? It's a strange match from a quick glance but opposites attract and there is so much more to Matt underneath the surface!
Firstly, I really liked this one because Holly is so, so relatable, not to mention wow, she's JUST like me. The socks! The Harry Potter love! It's so fun to read someone who's so relatable because there are just so many things that will make you smile. And that's definitely what Aven's books will do — make you smile! Her and Matt's relationship isn't an easy one — there's his celeb status, the disapproving older brother and not to mention, the media. However, along the way, through all their ups and downs, they will make you smile.
Matt is just too cute. He's caring and kind and just needed someone to dig underneath his exterior. It did bug me that his supposed "friend" Nate just didn't seem to want to understand him at all but it was pretty critical to the story. It just made me sad that I was so irritated with Nate because hello, Nate is SWOONY in his book.
In Short…
If you're looking for something that will make you smile and featuring a hot hockey player to boot… look no further! Holly's eccentricities and Matt's sweetness will be just the thing for you!
My Rating: 1/2
Related Posts