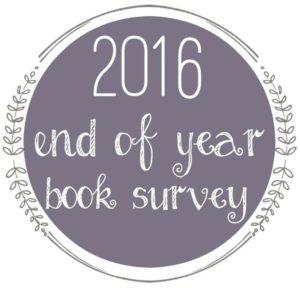 The End of the Year survey is hosted by Jamie at the Perpetual Page Turner! (Graphics courtesy of Jamie.)
I love doing the end of the year survey because I love looking back at my reading stats for the year and seeing how they change from year to year. I copy/paste the whole thing from last year (wait, I am 99% sure the survey hasn't changed from last year… I will feel foolish if it has, haha) so it's especially easy to see the differences. I also just like reflecting on what I've read in the last year!

Number Of Books You Read: 109
Number of Re-Reads: 20
Genre You Read The Most From: Contemporary at 36 and fantasy at 31! They were very close.
1. Best Book You Read In 2016?
Check out my top ten tuesday for my top 10 of the year! (Narrowing it down to one??) Same as last year, I'll name a top three of 2016 releases: Morning Star by Pierce Brown, Salt to the Sea by Ruta Sepetys and The Raven King by Maggie Stiefvater. <3
2. Book You Were Excited About & Thought You Were Going To Love More But Didn't?
Umm I'd have to say Crooked Kingdom — and don't get me wrong here. I DID love it. Love the world, the characters, Leigh's writing. But I rated it a 4.5 when I thought I would OUT OF THIS WORLD LOVE IT. There just felt like a lot of loose ends, like she was setting up for something more but this is the end of the duology. Also a certain something felt forced, like it was done for the sake of doing it and it bugged me. All that being said though, I DID really like it, I just thought I'd LOVE it more than I did.
OH and I thought of another one — The Goal by Elle Kennedy. I WAS SO EXCITED FOR TUCK, YOU GUYS. Like you have no idea. The Off Campus series is one of my favorite new adult series ever. I reread all the prior books and loved every second of it because they're amazing. And I just… didn't like The Goal much at all and I was SO SAD. I mean, I gave it 3 stars but to me, it was missing something. This was probably the biggest disappointment of the year.
3. Most surprising (in a good way or bad way) book you read?
Oh, I'll say The Forgetting by Sharon Cameron! I think I just didn't know what to expect at all when I started this one and I thought it was a certain genre when I started but it ended up being something completely different and I almost think it's spoilery if I say it! I just really appreciated the twists in this one and I loved it — was on my top 10 of the year list!
 4. Book You "Pushed" The Most People To Read (And They Did)?

Hmmm I will say that I pushed the crap out of the Red Rising series but I'm not sure how many people actually did go read it? Haha. I know Lindsay did and she also just recently read Salt to the Sea which she was debating to read at the end of the year and I was all DO IT. Maybe the lesson here is that I should always book push to Lindsay because she'll listen, HA.
 5. Best series you started in 2016? Best Sequel of 2016? Best Series Ender of 2016?

Best series starter: OH, Starflight by Melissa Landers! I seriously loved it! Such a fun, sci fi adventure with really great characters! 
Best sequel: I'm going to say The Vanishing Throne by Elizabeth May — such an amazing sequel and I'm DYING for the finale this year!! 
Best series ender: This is TOUGH because I read quite a few series enders this year that was amazing. I can't stick to one, I just can't. Morning Star by Pierce Brown, The Raven King by Maggie Stiefvater and The Winner's Kiss by Marie Rutkowski. These series are all phenomenal and I strongly urge you to check them out if you haven't already!
 6. Favorite new author you discovered in 2016?
I feel like you all may be able to guess this. I read his books for the first time and then REREAD the whole series again at the end of the year. Yes, that person is Pierce Brown. I just completely fell in love with his storytelling, characters and world. Can you say obsession? Love him! <3
7. Best book from a genre you don't typically read/was out of your comfort zone?

Hmmm I think that will be As You Wish: Inconceivable Tales from the Making of the Princess Bride by Cary Elwes. I don't read autobiographies much at all but knew I had to check this one out. Cary Elwes!! I listened to it on audio and it was fantastic.
 8. Most action-packed/thrilling/unputdownable book of the year?

Gemina by Amie Kaufman and Jay Kristoff! Things kept happening and had to keep going and flipping the pages because I was freaking out and needed to know!!
9. Book You Read In 2016 That You Are Most Likely To Re-Read Next Year?
The Raven Cycle by Maggie Stiefvater. I just feel like it's one of those series where you will see more things reading the second time through and I absolutely loved the story and characters too. I miss them!
10. Favorite cover of a book you read in 2016?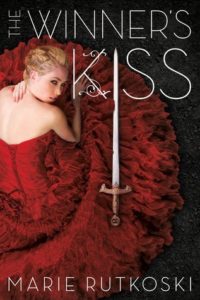 I LOVE the cover of The Winner's Kiss. The red dress! the sword! The braids in her hair! It's gorgeous.
11. Most memorable character of 2016?

Sevro from the Red Rising series — he's so.. eccentric and crazy but also fiercely loyal and passionate. I'd want him for my best friend, no doubt about it.
 12. Most beautifully written book read in 2016?
I told myself I'd exclude rereads from this survey but I HAVE to say this because it's just true. The Scorpio Races by Maggie Stiefvater. The writing is beautiful and amazing and I will never get tired of it. I've already decided I need to reread this every November. <3
13. Most Thought-Provoking/ Life-Changing Book of 2016?
Not exactly life changing but as far as thought provoking goes: Things I Can't Forget by Miranda Kenneally. Mostly because it kind of hit home a lot for me and I related quite a bit to the main character. I thought Miranda did a really great job with talking about religion well.
 14. Book you can't believe you waited UNTIL 2016 to finally read?
I can't believe I waited until now to read The Burning Sky by Sherry Thomas (yes, I still need to finish the last book though!) and also the Winner's curse series and The Raven Cycle! These series are so big in YA and it's like everybody has read them! The latter two I admit I was waiting until the final book to binge but I'm so happy I FINALLY read these!
15. Favorite Passage/Quote From A Book You Read In 2016?
I can't keep track of my favorite quotes! I really need to figure out a system for this. I KNOW I have faves from The Scorpio Races and the Red Rising series.
16.Shortest & Longest Book You Read In 2016?
Longest: A Feast for Crows by George R.R. Martin at 1,061 pages (that book was SO LONG)
Shortest: The Healer by Virginia Boecker at 32 pages (yay novellas!)
How I did this: Went to my read books on Goodreads and sorted by page number and just looked for what I knew I read this year that was the shortest and longest.
 17. Book That Shocked You The Most

(Because of a plot twist, character death, left you hanging with your mouth wide open, etc.)
The Hero of Ages by Brandon Sanderson — literally I could NOT believe all the twists and revelations in this book. Things from the previous books come into play and at the very end I was just in AWE.
18. OTP OF THE YEAR (you will go down with this ship!)

(OTP = one true pairing if you aren't familiar)
NINA AND MATTHIAS. *sets jaw firmly* I love them. They are such opposites but FIT together perfectly. I just… they need waffles and happiness forever, okay.
19. Favorite Non-Romantic Relationship Of The Year
I loved the friendship between Samantha and Annamae in Under A Painted Sky by Stacey Lee and also loved the ultimate bromance between Sevro and Darrow in Red Rising series.
20. Favorite Book You Read in 2016 From An Author You've Read Previously
The Raven Cycle from Maggie Stiefvater and also The Forgetting by Sharon Cameron and Gemina by Amie Kaufman and Jay Kristoff! I'm sorry I couldn't stick to one…
21. Best Book You Read In 2016 That You Read Based SOLELY On A Recommendation From Somebody Else/Peer Pressure:
You know, my obsession with Red Rising and Pierce Brown all started when Rebecca told me to read the series with her as she reread the first two. THANK YOU.
22. Newest fictional crush from a book you read in 2016?
KIARAN from The Falconer series by Elizabeth May. ARIN from The Winner's Curse series by Marie Rutkowski.
23. Best 2016 debut you read?
A Shadow Bright and Burning by Jessica Cluess! I really liked it a lot! Victorian England, magic, sorcerers — all things I love!
24. Best Worldbuilding/Most Vivid Setting You Read This Year?
The Forgetting had a really interesting world! I was constantly surprised and I was sad it's a standalone because I'd love more in that world!
25. Book That Put A Smile On Your Face/Was The Most FUN To Read?
I think I need to read more light/fun books next year…
26. Book That Made You Cry Or Nearly Cry in 2016?
Apparently I cry easy. I cried in The Scorpio Races as always. I cried many, many times in the Red Rising series. I finished Salt to the Sea on audio while sitting on my living room floor, sobbing. But it's GOOD, it means that these authors had me emotionally invested! I'm a masochist, I know…
27. Hidden Gem Of The Year?
I don't have a hidden gem? 🙁
28. Book That Crushed Your Soul?
Salt to the Sea, hands down. Very soul crushing, very good, 100% recommend. Just trust me, read it.
29. Most Unique Book You Read In 2016?
Gemina. I mean, it's just the most unique format! Just like its predecessor, it's a compilation of messages, transmissions, crazy pictures, journal entries, video surveillance — it's just really cool with some awesome artwork to boot!
30. Book That Made You The Most Mad (doesn't necessarily mean you didn't like it)?
Under A Painted Sky made me mad at the racist people. It's so infuriating to read/see and will never cease to make me ragey.
1. New favorite book blog you discovered in 2016?
Here is where I hang my head in shame because I didn't discover new book blogs much this year. The latter half of the year I just got so.. busy. Blogging time took a hit and I was barely even posting toward the end of the year! I'm going to make a conscious effort to get into a routine so I can visit more blogs! 🙂 Leave me a link in the comments to your blog if you want!
2. Favorite review that you wrote in 2016?
This wasn't necessarily a review, it was an open letter to Pierce Brown that I wrote after binging the series and finishing the final book, Morning Star. I wrote it in a fit of emotion and passion and I think reflects really accurately to how I feel toward the series.
3. Best discussion/non-review post you had on your blog?
I really liked this post I had about steps to falling into a book obsession! It's just so ACCURATE haha and I had a lot of fun coming up with the "symptoms" to each step.
4. Best event that you participated in (author signings, festivals, virtual events, memes, etc.)?
I swear, I'm NOT THAT obsessed with Pierce Brown (kinda sorta maybe I am, so what) but I loved meeting him at his event for Morning Star! He was just super funny, charismatic, easy to talk to! (PLEASE COME HERE FOR IRON GOLD THIS YEAR.)
I also got to moderate my first book event this year! It was for the Boldly Bookish Bloomsbury tour for Tara Altebrando, Jennifer Lynn Barnes and Tiffany Schmidt! I was really, really nervous beforehand but it went well and was really fun! The authors were so super nice and made it so easy to chat with them and ask questions!
5. Best moment of bookish/blogging life in 2016?
BEA was the best this year! I loved seeing everyone and having everyone in the same hotel made it even better! I love you people so much. It makes me extra sad BEA won't be happening this year.
6. Most challenging thing about blogging or your reading life this year?
Gosh, life has just been so busy. I haven't had as much time to blog and read much less write reviews! I really want to get back into the swing of things this year, hopefully get into a routine!
7. Most Popular Post This Year On Your Blog (whether it be by comments or views)?
Not sure…
8. Post You Wished Got A Little More Love?
Umm I'm not sure! Okay so I'm feeling kind of lazy and don't want to look it up hahaha.
9. Best bookish discovery (book related sites, book stores, etc.)?
I've been really obsessed with bookish candles so there are many candle stores on etsy I love! Love 'em!
10.  Did you complete any reading challenges or goals that you had set for yourself at the beginning of this year?
I failed my GR goal! So sad. But! I did complete my Flights of Fantasy challenge (31 of 25!) and Reread challenge (20 of 15!) and did a series a month!
1. One Book You Didn't Get To In 2016 But Will Be Your Number 1 Priority in 2017?
Caraval by Stephanie Garber! I actually started reading it in a line at BEA and was really intrigued and excited about it! (I only got like a chapter in.) Then I decided to wait until closer to release date and now… here I am. Haven't read it. EEEP! It's going to be a priority in 2017 for sure! 

2. Book You Are Most Anticipating For 2017 (non-debut)?
Iron Gold by Pierce Brown! Slated for this fall. I can't wait to see what's in store in this spin off!
3. 2017 Debut You Are Most Anticipating?
Song of the Current by Sarah Tolcser I think! There are a LOT of debuts coming out this year that I'm excited for but this fantasy debut jumped to mind! Pirates! Fantasy! I'm excited 🙂
 4. Series Ending/A Sequel You Are Most Anticipating in 2017?
Starfall by Melissa Landers! I've been eagerly awaiting this since I finished Starflight last year!!
5. One Thing You Hope To Accomplish Or Do In Your Reading/Blogging Life In 2017?
Okay, I want to get into more of a blogging routine and blog more regularly. It'll be tough because life is just so busy but I want to make it a priority! I also want to get back into visiting other blogs more because I've missed that! I want to discover new blogs too! Bring it on 2017!
6. A 2017 Release You've Already Read & Recommend To Everyone:
I haven't read any 2017 releases yet!
That's a wrap! I read a lot of great books in 2016 and here's to more fantastic reading in 2017! Did we have any similar answers? How was your year of reading? Any specific goals for 2017?
Related Posts