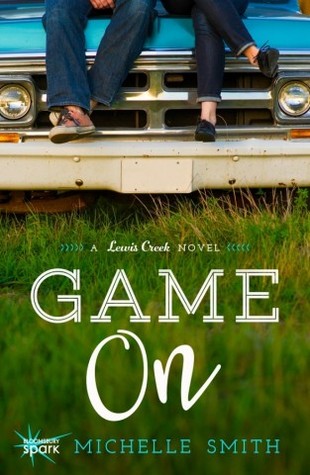 Game On

by Michelle Smith
Series: Lewis Creek #2
Published by Bloomsbury Publishing USA on August 16th 2016
Genres: Young Adult, Love & Romance, Sports & Recreation, Baseball & Softball, Fiction, Romance, New Adult
Pages: 250
Format: eARC
Source: Netgalley
Buy on Amazon
Goodreads


As king of baseball in the small town of Lewis Creek, Eric Perry can have any girl he wants and win every game he plays. But when a fight lands him in jail, he's only got one more strike before his baseball career is over for good. His only chance for redemption? The girl next door, Bri Johnson.
Bri hasn't talked to Eric in months- for starters, she's been too busy dealing with her jerk of an ex-boyfriend, not to mention the fact that Eric's been preoccupied trying to drink every keg in the country dry. But when he needs a way to stay on the team, she proposes a plan: if he helps her out with community service, he can stay on the team. At first it's a nightmare-Eric and Bri stopped being friends years ago, surely that was for a good reason, right? But as volunteering turns to bonding over old memories of first kisses under the stars, they start to have trouble remembering what pushed them apart.
In a town as small as Lewis Creek, nothing stays secret for long and their friendship and romance might mean bad news. But in this final, tumultuous spring before graduation, Eric and Bri are about to realize that nobody's perfect alone, but they might just be perfect together.
I received this book for free in exchange for an honest review. This does not affect my opinion of the book or the content of my review.
Why did I read?
I really loved the first in the Lewis Creek series, Play On! I couldn't wait to read Eric's story!
My thoughts:
As a whole, I really enjoyed this sports romance! I am not a huge fan of baseball in real life but really love baseball in books! I think I just like seeing the love that characters, in this instance, Eric, have for the sport.
Eric has been struggling a bit, especially with his brother gone off to college. After some incidents, he is now stuck with community service — with his next door neighbor and previous friend, Bri. I personally love the friends to more trope so I was all over this. Things have pulled them apart but now they're rediscovering their friendship as they're there for each other for different things. I really loved seeing them together — they were just so perfect.
I did think this one was missing…Something. I just felt it didn't have the same spark as the previous book for some reason. Maybe it was the lack of a presence of close friends of the main characters? I know I loved the secondary characters a lot in the previous. However, all that being said, I still enjoyed it! I would recommend for anyone who loves small town or sporty romances, with a great focus on family too.
In short…
Game On was a sweet sporty romance — even for those who may not like baseball! Eric and Bri are such a treat to see together. I know they'll put a smile on your face!
My Rating: 1/2
Have you read this? What did you think? Are you a fan of baseball romances like I am? Rec me some!
Related Posts