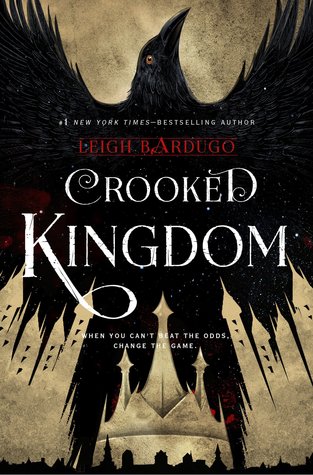 Crooked Kingdom

by Leigh Bardugo
Series: Six of Crows #2
Published by Macmillan on September 27th 2016
Genres: Young Adult Fiction, Fantasy, General, Action & Adventure
Pages: 480
Format: Hardcover
Source: Bought
Buy on Amazon
Goodreads


Crooked Kingdom: the highly anticipated sequel to Leigh Bardugo's thrilling #1 New York Times-bestselling Six of Crows.
Kaz Brekker and his crew have just pulled off a heist so daring even they didn't think they'd survive. But instead of divvying up a fat reward, they're right back to fighting for their lives. Double-crossed and badly weakened, the crew is low on resources, allies, and hope. As powerful forces from around the world descend on Ketterdam to root out the secrets of the dangerous drug known as jurda parem, old rivals and new enemies emerge to challenge Kaz's cunning and test the team's fragile loyalties. A war will be waged on the city's dark and twisting streets—a battle for revenge and redemption that will decide the fate of the Grisha world.
Why Did I Read?
I loved the Grisha trilogy and loved Six of Crows and Leigh is one of my favorite authors! Of course I was going to read it!
My Thoughts:
A few things first:
I absolutely love Leigh's writing. She's one of my favorite fantasy authors because her writing is amazing and draws me in.
Her story telling is also amazing. I love all the schemes in this book and the twists upon twists upon twists that we get the privilege of experiencing.
I love the Grisha world. Seriously. I love the magic system and everything about this world.
I didn't love this book like I thought I would. But! I still liked it a LOT.
Okay so what's up with bullet number four? Two things in particular I think. I kept feeling like new things were being introduced and there wasn't enough time to fully delve into them. Cool, very intriguing things but…This is the final book in a duology. Is there more to come in this world? We don't know and therefore the new things felt too open ended and not only were threads kind of left dangling but new things were introduced in THIS book so…Why? If it's the final book and all. (Note: I am not going to say no to more books in this series obviously but it bugged me to have new things that are left.)
And the other thing? I felt like a certain event was forced and unnecessary. Like if that's going to happen, it made more sense for it to happen another way? This just seemed…Well, forced. And it really detracted from my overall enjoyment, sadly.
Anyway I started this off meaning for it to be a mini review but clearly even after all these months I have a lot of thoughts on this one. Overall though, despite not LOVING it like the rest of the world I still liked it a LOT and still think you should read it if you haven't already. The world, the writing, the absolutely amazing cast of characters I love so much — you need it in your life.
My Rating: 1/2
What did you think about the end to this duology? Did you echo any of my feelings?
Related Posts