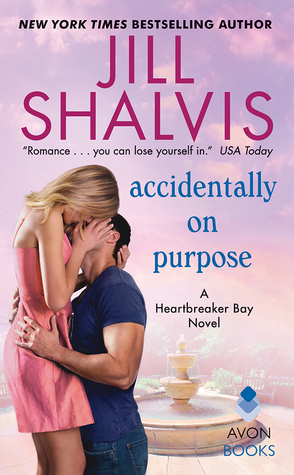 Accidentally on Purpose

by Jill Shalvis
Published by HarperCollins on January 24th 2017
Genres: Fiction, Romance, Contemporary, General
Pages: 384
Format: eARC
Source: Publisher
Buy on Amazon
Goodreads


There's no such thing as a little in love . . .
Elle Wheaton's priorities: friends, career, and kick-ass shoes. Then there's the muscular wall of stubbornness that's security expert Archer Hunt—who comes before everything else. No point in telling Mr. "Feels-Free Zone" that, though. Elle will just see other men until she gets over Archer . . . which should only take a lifetime . . .
There's no such thing as a little in lust . . .
Archer's wanted the best for Elle ever since he sacrificed his law-enforcement career to save her. Their chemistry could start the next San Francisco earthquake and he craves her 24/7, but Archer doesn't want to be responsible for the damage. The alternative? Watch her go out with guys who aren't him . . .
There is such a thing as . . .
As far as Archer's concerned, nobody is good enough for Elle. But when he sets out to prove it by sabotaging her dates, she gets mad—and things get hot as hell. Now Archer has a new mission: prove to Elle that her perfect man has been here all along . . .
I received this book for free in exchange for an honest review. This does not affect my opinion of the book or the content of my review.
My Thoughts:
I always love diving into a Jill Shalvis romance because I know I'm going to love it! Accidentally on Purpose was no different! I was swept up into Elle and Archer's story.
Elle is a very independent woman who knows how to take care of herself and works hard to succeed at her job and school. She knows exactly what she needs to do to build a good life for herself because she certainly hadn't had a great start in life. I very much admired Elle's strength in everything that she does. I was rooting for her all the way! Archer distances himself from everything because he doesn't want feelings to get in the way. I absolutely loved seeing his walls come down. I think one of the best things in this one is the fact that both of them are very strong willed and hard headed so they clash so spectacularly but the sparks of that clash is just charged with chemistry!
Besides loving seeing the two of them fight and clash and then kiss, I loved their group of friends! Firstly, I liked how amazing and supportive Elle's friends were. They're there for her no matter what! And Archer's men are close knit, fun and so loyal. I really enjoyed seeing the group together. I love when secondary characters are as well developed as the main characters. Speaking of, I am so excited the next book will be Spence's — can't wait to see his story!
Besides the friendships in this book, I also liked the emphasis on family. The moments between Elle and Morgan and ones regarding Archer's dad were great and brought another level of emotion to the story.
In Short…
If you're looking for a great romance to escape into, look no further than Jill Shalvis! Accidentally On Purpose is yet another novel from her that I can sit and read and end up with a smile on my face. You will love Elle and Archer!
My Rating: 
Related Posts