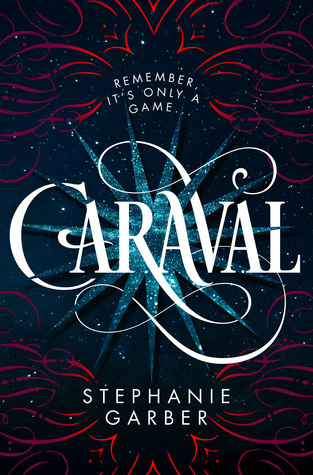 Caraval

by Stephanie Garber
Published by Macmillan on January 31st 2017
Genres: Young Adult Fiction, Family, Siblings, Fantasy, General, Performing Arts, Romance
Pages: 416
Format: ARC
Source: BEA
Buy on Amazon
Goodreads


Whatever you've heard about Caraval, it doesn't compare to the reality. It's more than just a game or a performance. It's the closest you'll ever find to magic in this world . . .
Welcome, welcome to Caraval--Stephanie Garber's sweeping tale of two sisters who escape their ruthless father when they enter the dangerous intrigue of a legendary game.
Scarlett has never left the tiny island where she and her beloved sister, Tella, live with their powerful, and cruel, father. Now Scarlett's father has arranged a marriage for her, and Scarlett thinks her dreams of seeing Caraval, the far-away, once-a-year performance where the audience participates in the show, are over.
But this year, Scarlett's long-dreamt of invitation finally arrives. With the help of a mysterious sailor, Tella whisks Scarlett away to the show. Only, as soon as they arrive, Tella is kidnapped by Caraval's mastermind organizer, Legend. It turns out that this season's Caraval revolves around Tella, and whoever finds her first is the winner.
Scarlett has been told that everything that happens during Caraval is only an elaborate performance. But she nevertheless becomes enmeshed in a game of love, heartbreak, and magic with the other players in the game. And whether Caraval is real or not, she must find Tella before the five nights of the game are over, a dangerous domino effect of consequences is set off, and her sister disappears forever.
I received this book for free in exchange for an honest review. This does not affect my opinion of the book or the content of my review.
Why Did I Read?
It sounds so magical and exciting! It sounded just like something I'd love.
My Thoughts:
Caraval is seriously one of the most hyped books of 2017. It was hyped last year at BEA and the hype only grew as more people read and raved about it. I really meant to get to this way earlier, it was one of my top books from BEA that I wanted! Anyway, I'm kind of conflicted about this one! Don't get me wrong. I REALLY liked quite a few things about this book but there are just these little things nagging at me that give me pause.
Let's start with what I really enjoyed! The writing is beautiful. I loved the imagery so much, it really brought the world of Caraval to life! I felt like I could picture, taste and feel all the magical things found in Caraval! The world is so vivid and it FELT magical. I loved the setting of this magical place where anything could happen and magic left an imprint on everything.
I also enjoyed the concept of the game and I was so riveted and curious to find out more. I couldn't put the book down. The plot is fast paced and I never felt bored. I kept coming up with theories of my own.
However, I felt a huge disconnect from the characters. I think the problem is I felt like I couldn't trust anything or anyone. In this world of Caraval, nothing is real, right? It's just a game. What's truly real and what is part of the game? Is anyone who you think they are? The problem with no rules or rules that keep bending or breaking is that there's no consistency and I couldn't get invested in any character. Along those lines about the characters is the fact that I didn't feel what is supposed to be this huge sisterly love. Yes, Scarlett repeatedly says she wants to take care of Tella no matter what and says she loves her the most but while we hear this, I never saw the why. Like I felt like we didn't SEE a close sister relationship at all. Not to mention, Tella is a manipulative, conniving little twerp! View Spoiler »I mean, honestly, if I were Scarlett, I'd be PISSED at Tella for making me go through all that! « Hide Spoiler
Then, while I liked the twists and reveals at the end… it brought to light other issues. These are all spoilers so obviously don't click the spoiler tag if you haven't read this. View Spoiler »1) if this was all a big game to get the sisters free from their father and it was aimed ONLY at Scarlett, how is this any sort of huge magical game that is legendary? Like, what did the other players even DO? Clearly the clues were just meant for Scarlett and even if by some CRAZY chance, another player found Tella? Then what? no prize? Umm. Given the huge hullabaloo Caraval is, that just seems weird. Also we didn't really meet ANY other players, every single person we had any interaction with in this book was a performer. 2) some of the things just don't make sense. Why did Dante even leave a letter for Julian about his sister going missing and Legend being on to them? Just to further the background of convincing Scarlett that Legend is… scary? I mean, none of that really contributes to what Legend had planned from the beginning so why did the performers even do it? I guess I'm just annoyed that most of the things told "in the game" wasn't real so it's kind of like the… it was all just a dream! trope which I am not a fan of. Also Julian giving her the pocket watch? What did that even matter? Just to make "Legend" kill him in front of her? Why? To cause her unnecessary pain? I mean she's already going to have to watch Tella die. And if not that, then why? Julian is just a performer, he knows that at the end she's going to be able to go wherever, the coordinates in the pocket watch DON'T MATTER. If the game indeed was because Legend was holding Tella against her will and was going to kill her for real, then it DOES make sense but because of the twist of Tella orchestrating all this, what Julian did makes NO sense to me. There are just all these aspects that don't match up at least in my mind. Speaking of Julian, seeing as how I never trusted him ever, thanks to the game telling us not to trust anyone, I couldn't ship it and also didn't believe in the romance at all. I honestly feel like we know nothing about him. « Hide Spoiler Wow, I just ranted a lot in the spoiler tag, hah. I almost feel like I should drop my rating now. Clearly, I had quite a few issues with the plot. I just wish the story was a little different and I cared about the characters a little more. Because the world of Caraval is very cool and magical and I wanted to love this so much. I didn't love it but ultimately still had many parts I truly enjoyed. Sidenote: seeing as how much I liked the carnival/circus feel, I want to read The Night Circus! I never have and I feel like everyone else has? How did I miss that boat?
In Short…
Caraval had some truly mind blowing imagery that I really really loved. I loved the feel of this world and seeing everything come to life in my mind. I liked the subtle magic that we see and the almost fairy tale feel of the story. I ultimately just had some issues with plot details and a disconnect with the characters. However, the sequel sounds like it has a lot of promise and I'm still very interested to read that!
My Rating: 
Have you read this? What are your thoughts? Am I alone with my thoughts about the plot? Have you also read the Night Circus and would you rec that for me?
Related Posts