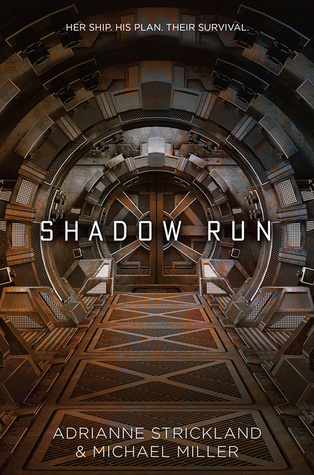 Shadow Run

by Michael MillerAdriAnne Strickland
Published by Random House Children's Books on March 21st 2017
Genres: JUVENILE FICTION, Action & Adventure, General, Family, Alternative Family, Science Fiction, Young Adult Fiction
Pages: 400
Format: eARC
Source: Netgalley
Buy on Amazon
Goodreads


Firefly meets Dune in this action-packed sci-fi adventure about a close-knit, found family of a crew navigating a galaxy of political intrigue and resource-driven power games. Nev has just joined the crew of the starship Kaitan Heritage as the cargo loader. His captain, Qole, is the youngest-ever person to command her own ship, but she brooks no argument from her crew of orphans, fugitives, and con men. Nev can't resist her, even if her ship is an antique. As for Nev, he's a prince, in hiding on the ship. He believes Qole holds the key to changing galactic civilization, and when her cooperation proves difficult to obtain, Nev resolves to get her to his home planet by any means necessary. But before they know it, a rival royal family is after Qole too, and they're more interested in stealing her abilities than in keeping her alive. Nev's mission to manipulate Qole becomes one to save her, and to survive, she'll have to trust her would-be kidnapper. He may be royalty, but Qole is discovering a deep reservoir of power--and stars have mercy on whoever tries to hurt her ship or her crew. "An explosive debut! Shadow Run is a high-octane space tale that brings back everything there is to love about classic science fiction--I can't wait to see what these two come up with next!"--Lindsay Cummings, NYT bestseller of ZENITH
I received this book for free in exchange for an honest review. This does not affect my opinion of the book or the content of my review.
Why Did I Read?
Let's just say I was looking forward to this book since I first heard it announced and marketed as Firefly meets Dune! I was so on board!
My Thoughts:
This was a really action packed and thrilling sci-fi ride! I can definitely see the parallels to Firefly and Dune. Our spaceship in question is the Kaitan and our main cast the crew of the Kaitan. I absolutely loved each member on board the Kaitan and all the crew relationships. Everyone is close and they are each other's family — the loyalty runs deep. They have each other's backs which is definitely important when you're in the business of catching Shadow — a mysterious substance that can act as fuel but can also cause you to go crazy if exposed for too long. It also has some other aspects that I'm sure we'll learn even more about in future books!
Nev is the outsider to this close-knit group but oh precious Nev. He is this good hearted, genuine, idealistic person that you can't help but love even if his naivety makes you go NEV sometimes. Okay but I really loved Nev and he's just such a good person and also super badass (absolutely loved all the action scenes — I was riveted!) Despite being "new" he gradually gets incorporated into their group (after some…adventures).
I really liked the build up of Nev and Qole's relationship. She's a strong, independent Captain and has been taking care of herself and her crew for a long time. Nev sort of upends everything she knows and in the craziness that ensues, they manage to find common ground and form something that I want to root for!
The action in this book is (excuse the pun) out of this world. I really think it would make such a great movie because I could totally visualize everything in my head! The scenes had me holding my breath and I was glued to the pages! Things get really intense and seeing it on a big screen would be so cool.
My only complaint for this book is that some parts seemed info-dumpy — long winded chapters with big explanations, mostly on the politics involved. It felt a little lengthy and dry to me. Yes, the politics involved are a big aspect but incorporating it into the story more seamlessly would've made it feel less like an info dump I think.
In Short…
This was a fantastic beginning to a fun sci-fi series! I highly recommend to anyone who enjoys great character development, edge of your seat action and a fascinating sci-fi world! I can't wait to see what else is next in store for the Kaitan and her crew!
My Rating: 1/2
Are you a sci-fi fan? Check it out even if you don't think you are – it's a lot of action and fun! If you've read it already, what did you think? Heads up that the authors have an amazing pre-order celebration going on: preorder before release date and you get some cool swag!! I did it and you should too!
Related Posts