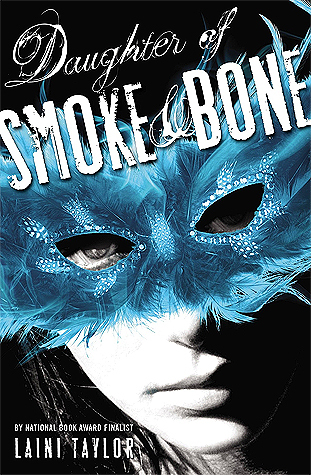 Daughter of Smoke & Bone

by Laini Taylor
on September 27th 2011
Genres: Young Adult Fiction, Fantasy, General, Romance, Action & Adventure, Paranormal, Occult & Supernatural, Girls & Women, Monsters, People & Places, Europe
Pages: 432
Format: Paperback
Length: 12 hours and 32 minutes
Source: Bought
Buy on Amazon
Goodreads


Around the world, black handprints are appearing on doorways, scorched there by winged strangers who have crept through a slit in the sky.
In a dark and dusty shop, a devil's supply of human teeth grown dangerously low.
And in the tangled lanes of Prague, a young art student is about to be caught up in a brutal otherwordly war.
Meet Karou. She fills her sketchbooks with monsters that may or may not be real; she's prone to disappearing on mysterious "errands"; she speaks many languages--not all of them human; and her bright blue hair actually grows out of her head that color. Who is she? That is the question that haunts her, and she's about to find out.
When one of the strangers--beautiful, haunted Akiva--fixes his fire-colored eyes on her in an alley in Marrakesh, the result is blood and starlight, secrets unveiled, and a star-crossed love whose roots drink deep of a violent past. But will Karou live to regret learning the truth about herself?
There comes a time in every reader's life when a story grabs you so hard that you become consumed by it. It's all you want to live and breathe and it encompasses your life! It can be rare but when it happens, you know that you've discovered something special and that something special is a book and story that will stay with you for a long time, a story that carves out a little spot in your heart to stay forever.
This was the case with me and Daughter of Smoke and Bone! I honestly don't know why I've put off reading it for so long! Okay, actually I do. The books are huuuuge and were a little intimidating and while I knew people who loved it, I also knew people who didn't. Anyway, thankfully, Laini Taylor was coming here for her Strange the Dreamer tour and I decided to delve into the series. Best decision of my life!
I started Daughter of Smoke and Bone on audio (the narrator is fabulous, she does a tremendous job with all the characters and I highly recommend the audios!) but I finished it physically because I needed to consume the book faster! Laini's writing is this beautiful, wondrous thing that is just so PERFECT I want to live in her words forever. Could we please have more bookish merch with quotes from this series?? See step six in my steps to book obsession. I need it. Not only did I fall in love with the writing but this unique world she creates in this series is so cool. There's our human world but a portal to elsewhere as well — Eretz, a world with angels and chimaera and magic. It's really not a typical "angels and demons" book (although maybe I'm not sure what a typical one is, I haven't read many angel books but this felt unique and original and I was in love).
And the characters! Okay, maybe, yeah, I can see why Karou and Akiva's love can seem a bit instalovey but I don't even care because it's like those fairy tale love stories where you're just so swept up in it that it's real and you love their love. Not to mention Karou's friend Zuzana is probably one of my all time favorite characters. She is this tiny, fierce person that is headstrong and hilarious and I kind of want to be just like her. Thank goodness for her and Mik because this series gets dark, and depressing, and pretty soon you're rolling around on the couch/floor yelling about your dead Roomba as an outlet for your book feels/pain and the only reprieve you get is Zusana and Mik in a sweet, funny scene. (Roomba story is a true story, it got caught on something and died and I ignored it because IT CAN'T BE HELPED ANYMORE EVERYTHING IS AWFUL. Seriously though, no one freaking warned me how emotionally drained I was going to be from these books!)
Anyway, the story is really emotionally draining because there's war and Laini does an incredible job fleshing out both sides and the black and white and gray. It honestly has a lot to say about human nature and good and bad and the inbetween.
I am also amazed at how Laini brought all these unique plot threads together through the series. I absolutely loved it and also feel like there can be SO many more stories told in this world. I am so there for it.
Anyway, I'm late to this party but so so glad I have found the party because this series is now one of my absolute favorites. Laini Taylor has become a favorite author and if by some reason you haven't read her books or this series, please do! Absolute GORGEOUS writing, wonderful storytelling and riveting characters!
Have you read the Daughter of Smoke and Bone series yet? Did you love it like I did? Have you read any of her other books?
Related Posts