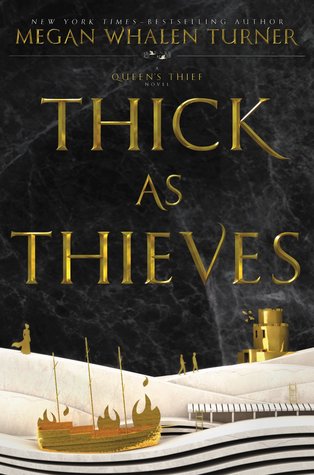 Thick as Thieves

by Megan Whalen Turner
Published by HarperCollins on May 16th 2017
Genres: Young Adult Fiction, Fantasy, General, Action & Adventure, Romance
Pages: 352
Format: Audiobook
Narrator: Steve West
Length: 8 hrs and 37 minutes
Source: Publisher
Buy on Amazon
Goodreads


Discover the world of the Queen's Thief

Thick as Thieves is the eagerly anticipated new stand-alone novel set in the world of the Queen's Thief. New York Times-bestselling author Megan Whalen Turner's entrancing and award-winning Queen's Thief novels bring to life the world of the epics and feature one of the most charismatic and incorrigible characters of fiction, Eugenides the thief. Megan Whalen Turner's Queen's Thief novels are rich with political machinations and intrigue, battles lost and won, dangerous journeys, divine intervention, power, passion, revenge, and deception. Perfect for fans of Leigh Bardugo, Marie Lu, Patrick Rothfuss, and George R. R. Martin.

Kamet, a secretary and slave to his Mede master, has the ambition and the means to become one of the most powerful people in the Empire. But with a whispered warning the future he envisioned is wrenched away, and he is forced onto a very different path. Set in the world of the Queen's Thief, this epic adventure sees an ordinary hero take on an extraordinary mission.
I received this book for free in exchange for an honest review. This does not affect my opinion of the book or the content of my review.
My Thoughts:
Wrapping up my audiobook binge of the Queen's Thief series so far! For some of my other thoughts of the previous books, check them out here! Steve West once again blows things away with his narration — I honestly don't think I'd have enjoyed these books nearly as much without his narration! It definitely added depth and emotion to the story for me.
I enjoyed Thick as Thieves slightly more than some of the previous books, but still not nearly as much as I liked The Thief. I do find it interesting that each book is featuring a different POV but it all still ties together with Eugenides at the center. I really liked being in Kamut's POV for this one because he's just such a great character. His budding friendship with "the Attolian" was one of my favorite things in this book especially because it's definitely something Kamut did not expect to happen. I really enjoyed Kamut's journey — both physically as he travels with "the Attolian" and also as he figures out who he is behind the identity of "a slave".
However, I couldn't help feeling like I just wanted a bit more from the plot in this book. I just wanted another layer or another plot line and that's been a running theme for me and this series. I like everything just fine but I think I would love it if there were more to the plot. But that's just my opinion — many people adore this series!
In Short…
Really enjoyed Kamut as the main character and seeing him develop and his part in the grand scheme of things! It should definitely be interesting to see what else comes next for everyone in the next book to come!
My Rating: 1/2
Related Posts