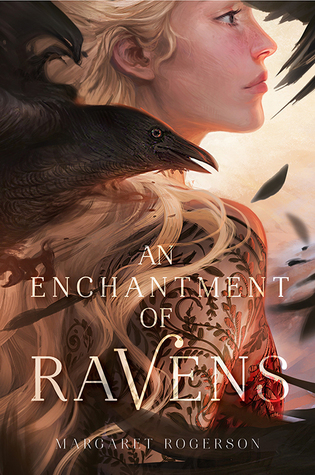 An Enchantment of Ravens

by Margaret Rogerson
Published by Simon and Schuster on September 26th 2017
Genres: Young Adult Fiction, Fantasy, Dark Fantasy, Romance, Paranormal, Art
Pages: 304
Format: ARC
Source: Borrowed
Buy on Amazon
Goodreads


A skilled painter must stand up to the ancient power of the faerie courts—even as she falls in love with a faerie prince—in this gorgeous debut novel.

Isobel is a prodigy portrait artist with a dangerous set of clients: the sinister fair folk, immortal creatures who cannot bake bread, weave cloth, or put a pen to paper without crumbling to dust. They crave human Craft with a terrible thirst, and Isobel's paintings are highly prized. But when she receives her first royal patron—Rook, the autumn prince—she makes a terrible mistake. She paints mortal sorrow in his eyes—a weakness that could cost him his life.

Furious and devastated, Rook spirits her away to the autumnlands to stand trial for her crime. Waylaid by the Wild Hunt's ghostly hounds, the tainted influence of the Alder King, and hideous monsters risen from barrow mounds, Isobel and Rook depend on one another for survival. Their alliance blossoms into trust, then love—and that love violates the fair folks' ruthless laws. Now both of their lives are forfeit, unless Isobel can use her skill as an artist to fight the fairy courts. Because secretly, her Craft represents a threat the fair folk have never faced in all the millennia of their unchanging lives: for the first time, her portraits have the power to make them feel.
Why Did I Read?
I was really excited for this! It sounded like such a unique fantasy and the cover is beautiful!
My Thoughts:
Well, you can't deny that this book has been highly hyped. There are glowing reviews for it from fellow bloggers and this just heightened my excitement. I'm sad to say I was disappointed and that just kills me.
An Enchantment of Ravens had some really beautiful writing and a gorgeous world! I really enjoyed the descriptions and the setting. I liked the town of Whimsy and wouldn't have minded seeing more of different Crafts or other people in Whimsy. I liked Isobel enough as the main character — she was an independent character who was trying her best to keep her family safe.
However, the plot itself really fell short. I felt like the plot was very thin and when we really get into the nitty gritty details, what really happened in the majority of the book? I kept expecting MORE and kept expecting a greater plot arc (tell me more about the Great Hunt! the four courts! The Alder King!). There are so so many more things that I thought was going to come up or happen but none of it really mattered. The only focus was on the romance and guess what? I didn't believe in the romance at all. There wasn't really any build up to the romance in my opinion. View Spoiler »Rook sits for a portrait for a few weeks – with minimal interaction and almost no talking to Isobel and this makes her fall in love with him? No, I don't buy it. And then he falls in love with her as he drags her around the fae world? I just don't see it. « Hide Spoiler And since the romance was the core of the plot, and I didn't buy it at all, there wasn't much for me to be invested in. It's just such a shame because it was a really unique premise, I really liked the idea of Craft, especially Isobel's Craft of painting but there just wasn't enough substance to make this story great.
I'm a little of a black sheep on this because if you take a look on Goodreads almost everyone has glowing reviews of it. So keep in mind you may love this much more than I did! As for me, I'm still on the hunt for a fantasy that will blow me away.
In Short…
A unique premise, great writing and a beautiful world that just lacked depth of plot in my opinion. I was not a fan of the romance as it didn't seem very believable or real. I felt like this one had the potential to be much better than it was but I also know many people who loved it!
My Rating: 
What did you think about this one? Did you struggle like I did? Do you have any fantasy recs for me?
Related Posts