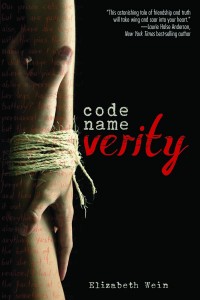 Code Name Verity

by Elizabeth E. Wein
Published by Disney Electronic Content on May 15th 2012
Genres: Young Adult, Action & Adventure, General, Historical, Holocaust, Social Themes, Friendship
Pages: 304
Format: Audiobook
Length: 10 hours and 7 minutes
Source: Library
Buy on Amazon
Goodreads


Oct. 11th, 1943—A British spy plane crashes in Nazi-occupied France. Its pilot and passenger are best friends. One of the girls has a chance at survival. The other has lost the game before it's barely begun. When "Verity" is arrested by the Gestapo, she's sure she doesn't stand a chance. As a secret agent captured in enemy territory, she's living a spy's worst nightmare. Her Nazi interrogators give her a simple choice: reveal her mission or face a grisly execution. As she intricately weaves her confession, Verity uncovers her past, how she became friends with the pilot Maddie, and why she left Maddie in the wrecked fuselage of their plane. On each new scrap of paper, Verity battles for her life, confronting her views on courage, failure and her desperate hope to make it home. But will trading her secrets be enough to save her from the enemy? A Michael L. Printz Award Honor book that was called "a fiendishly-plotted mind game of a novel" in The New York Times, Code Name Verity is a visceral read of danger, resolve, and survival that shows just how far true friends will go to save each other.
I used to do these reread reviews a few years ago when I was doing a reread challenge and decided I missed doing them! I reread a lot more now and thought it'd be fun to quickly talk about them!
When I First Read: About four years ago! I can't believe it was so long ago!
What I Remember: I remember loving the friendship and I remember it being heartbreaking and sobbing. 🙁
Why I Wanted to Reread: Well, I loved it the first time and I do enjoy rereading favorites! Also, I wanted to finally read Rose Under Fire so thought I'd reread Code Name Verity. I reread on audio and it was so good! I highly recommend the audio!
How I Felt After Rereading: Emotionally spent. I think that it was more emotional the second time through because even though I didn't remember details about the story (I read it soo long ago) it was like my subconscious brain still knew. The first time the words "kiss me hardy" were uttered, I basically just teared up inadvertently. It was like a switch being flipped and bam! tears. I definitely cried quite a few times during this reread.
Would You Read Again? Yes! I'm such a masochist. I loved Maddie and Verity's friendship so very much and their incredible story. I'd go through that pain again every time.
Have you read this? What did you think? I highly recommend this historical fiction if you haven't read it – it is just such a powerful, emotional story!
Related Posts