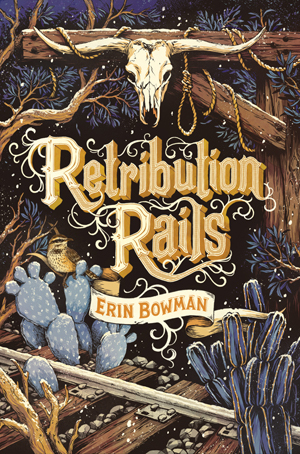 Retribution Rails

by Erin Bowman
Published by Houghton Mifflin Harcourt on November 7th 2017
Genres: Young Adult Fiction, Westerns, Action & Adventure, General, Romance, Historical, United States, 19th Century, Law & Crime
Pages: 384
Format: ARC
Source: Publisher
Buy on Amazon
Goodreads


REDEMPTION IS NEVER FREE When Reece Murphy is forcibly dragged into the Rose Riders gang because of a mysterious gold coin in his possession, he vows to find the man who gave him the piece and turn him over to the gang in exchange for freedom. Never does he expect a lead to come from an aspiring female journalist. But when Reece's path crosses with Charlotte Vaughn after a botched train robbery and she mentions a promising rumor about a gunslinger from Prescott, it becomes apparent that she will be his ticket to freedom—or a noose. As the two manipulate each other for their own ends, past secrets are unearthed, reviving a decade-old quest for revenge that may be impossible to settle.

In this thrilling companion to Vengeance Road, dangerous alliances are formed, old friends meet new enemies, and the West is wilder than ever.
I received this book for free in exchange for an honest review. This does not affect my opinion of the book or the content of my review.
Why Did I Read?
I loved Vengeance Road so much and love westerns in general so you can imagine how excited I was to hear about a companion novel coming out!
My Thoughts:
Retribution Rails is set about 10 years after the events of Vengeance Road following new characters Reece and Charlotte. I did feel like this one started off a bit slow and it took me longer than I expected to get into it (maybe this is just because I went into it straight after finishing a reread of Vengeance Road and that one definitely starts off with a bang). However, I became wrapped up in it soon enough!
I really loved Charlotte because she was so strong willed and determined. I definitely admired her gumption. Reece was a complex character and I liked seeing him and Charlotte clash together and then learn to figure each other out. Both of their character arcs were so well done, loved following their journey!
There are multiple villains in this story and it's interesting to see that some aren't necessarily just the gangs that come through and rob or shoot up trains. Some villains are related to you, some are the everyday people that turn the other way when something bad happens. You really get to see that in Retribution Rails.
I have to say that one of my favorite parts of this one was a look at our characters from Vengeance Road. I think just because I love them so much and it's just fascinating to see where things are now ten years later, not just in their lives, but in what's happening in the Wild West. It's crazy the advancements that are made into the western frontier in ten years and I think it's cool how that's shown from Vengeance Road to Retribution Rails.
I personally love historical fiction and love Westerns and the Wild West (I have almost all the seasons of Rawhide on DVD – young Clint Eastwood? You gotta love it) and these books have such a fantastic action packed Western feel. Very gritty with characters I'm invested in! I can't recommend it enough!
In Short…
Retribution Rails is a fantastic companion to Vengeance Road and I loved it! If you're looking for a gritty Western with really solid, fantastic characters to root for, this is for you! The plot is really intense and you will be on the edge of your seat with this exciting companion!
My Rating: 1/2
Related Posts