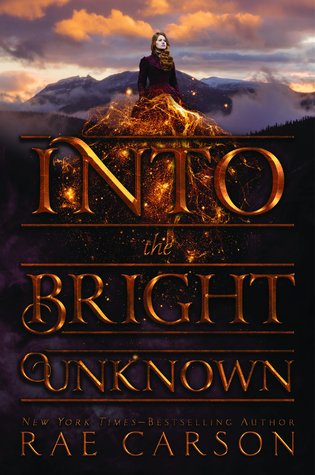 Into the Bright Unknown

by Rae Carson
Published by HarperCollins on October 10th 2017
Genres: Young Adult Fiction, Fantasy, Historical, Action & Adventure, General, Romance
Pages: 368
Format: Audiobook
Length: 8 hours and 59 minutes
Source: Publisher
Buy on Amazon
Goodreads


The stunning conclusion to Rae Carson's New York Times–bestselling Gold Seer trilogy.

Leah Westfall's journey has been one of ever-present peril, hidden magic, harsh realities, loss, life, determination, and love. She has searched for a place to belong and a place—and people—to call home, people who can accept a girl with magical powers that prove to be both blessing and curse.

Rae Carson has been lauded as one of YA's best writers of fantasy, and fans of Leigh Bardugo, Sarah J. Maas, and Westworld will be riveted by the conclusion of this remarkable historical fantasy trilogy.

Leah is poised to have everything she ever dreamed of on the long, dangerous journey to California's gold fields—wealth, love, the truest friends, and a home. Thanks to her magical ability to sense precious gold, Leah, her fiancé Jefferson, and her friends have claimed rich land in California Territory. But their fortune makes them a target, and when a dangerous billionaire sets out to destroy them, Leah and her friends must fight back with all their power and talents.

Leah's magic is continuing to strengthen and grow, but someone is on to her—someone who might have a bit of magic herself. The stakes are higher than ever as Lee and her friends hatch a daring scheme that could alter California's history forever.

With a distinctive heroine and a unique interpretation of American history, Into the Bright Unknown strikes a rich vein of romance, magic, and adventure.
I received this book for free in exchange for an honest review. This does not affect my opinion of the book or the content of my review.
Why Did I Read?
I love this series by Rae Carson! I was eager to see what was going to happen in the conclusion to this trilogy!
The Sound:
The narrator Erin Mallon was brilliant! The voices were spot on and really put the whole historical fiction story into vivid detail.
My Thoughts:
Firstly, I have to say that I absolutely love the characters in this series. I love Leah and her strength, independence and loyalty to her friends. I particularly love her and Jefferson together! They know each other so well and yet still continuously grow and push each other and I really loved that we got to see more of them together in this one.
Besides Leah and Jefferson, the entire cast of characters is one of my favorites. Becky Joyner, her kids, the bachelors — they've all been through so much and you just want them to have their happily ever after. I love the friendships between all of them and what they would do for each other. They're more than friends – they're family now.
Speaking of the characters, they are what made me really enjoy this book because otherwise, I probably wouldn't have liked it as much. The reason for that being this book didn't seem particularly necessary. In my opinion, the series could have been a great duology, especially because things really seemed to wrap up in Like A River Glorious. The plot of this one didn't really need to happen at all BUT. I love these characters so much, I still greatly enjoyed seeing what they were up to in this next chapter.
In Short…
I highly recommend this historical fiction series with a touch of fantasy! Rae Carson has brilliant storytelling abilities that will make you invested in each and every one of her characters. I hope that you'll enjoy their adventures during the gold rush as much as I did!
My Rating: 
Related Posts