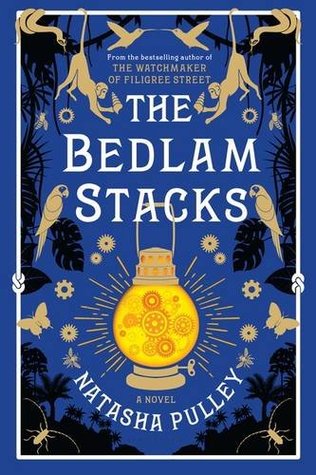 The Bedlam Stacks

by Natasha Pulley
Published by Bloomsbury Publishing USA on August 1st 2017
Genres: Fiction, Fantasy, Historical, Action & Adventure, General
Pages: 352
Format: eARC
Source: Netgalley
Buy on Amazon
Goodreads


Now in paperback, Natasha Pulley's "witty, entrancing novel . . . burnishes her reputation as a gifted storyteller" (Publishers Weekly, starred review).In 1859, ex–East India Company smuggler Merrick Tremayne is trapped at home in Cornwall with an injury that almost cost him his leg. When the India Office recruits him for an expedition to fetch quinine--essential for the treatment of malaria--from deep within Peru, he knows it's a terrible idea; nearly every able-bodied expeditionary who's made the attempt has died, and he can barely walk. But Merrick is eager to escape the strange events plaguing his family's crumbling estate, so he sets off, against his better judgment, for the edge of the Amazon.

There he meets Raphael, a priest around whom the villagers spin unsettling stories of impossible disappearances, cursed woods, and living stone. Merrick must separate truth from fairy tale, and gradually he realizes that Raphael is the key to a legacy left by generations of Tremayne explorers before him, one which will prove more valuable than quinine, and far more dangerous.
I received this book for free in exchange for an honest review. This does not affect my opinion of the book or the content of my review.
My Thoughts:
The Bedlam Stacks is something I thought I'd really enjoy! I had seen good reviews and it sounded like a really beautiful fantasy story. Unfortunately this one missed the mark for me. The writing is good, I will say that. The descriptions are beautiful and the world is unique.
However, I felt zero connection to the main character and as a result, honestly didn't care about his journey or mission. In fact, I quickly got bored and really had to push myself to finish this one. I started to wonder what the point to this all was because the pacing felt very slow and I kept expecting MORE but really not getting anything. I do think this is a case of it's not you it's me though so I would still recommend if you are a fan of fantasy!
My Rating: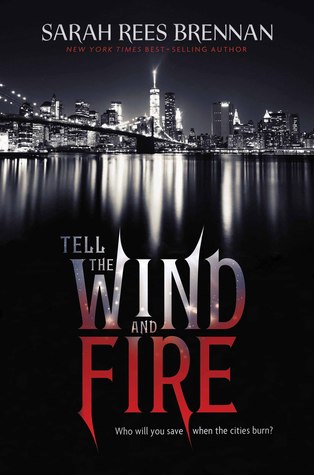 Tell the Wind and Fire

by Sarah Rees Brennan
Published by Houghton Mifflin Harcourt on April 5th 2016
Genres: Young Adult Fiction, Fantasy, General, Social Themes, Prejudice & Racism, Girls & Women, Romance, Classics
Pages: 368
Format: eARC
Source: Netgalley
Buy on Amazon
Goodreads


"Sarah Rees Brennan writes with fine control and wit, and I suspect that word of this magical thriller will pass through the populace with the energy of wind, of fire." —Gregory Maguire, author of Wicked and Egg and Spoon

In a city divided between opulent luxury in the Light and fierce privations in the Dark, a determined young woman survives by guarding her secrets.

Lucie Manette was born in the Dark half of the city, but careful manipulations won her a home in the Light, celebrity status, and a rich, loving boyfriend. Now she just wants to keep her head down, but her boyfriend has a dark secret of his own—one involving an apparent stranger who is destitute and despised. Lucie alone knows the young men's deadly connection, and even as the knowledge leads her to make a grave mistake, she can trust no one with the truth.

Blood and secrets alike spill out when revolution erupts. With both halves of the city burning, and mercy nowhere to be found, can Lucie save either boy—or herself?

Celebrated author Sarah Rees Brennan weaves a magical tale of romance and revolution, love and loss.
I received this book for free in exchange for an honest review. This does not affect my opinion of the book or the content of my review.
My Thoughts:
This one was surprising because the majority of my friends didn't like it, yet I was pleasantly surprised. While I didn't love it, I still enjoyed the story. It is a tale of two cities retelling and I thought the way the parallels worked out was very interesting! I liked seeing the similar plot points appearing in this fantasy world where there is light and dark and magic.
The middle dragged a bit though. I mean, it's not long before the action picks up again but there is a definite lag in pace. I also ended up not being the biggest fan of Lucy, who is one of our main characters, but the other characters made up for it. I really liked the ending though and thought it was so fitting. I would recommend if you are at all a fan of A Tale of Two Cities because I thought the way it was retold was unique and original!
My Rating: 
Related Posts