Is January really over?! How can that be! It seems like just yesterday we were talking resolutions for the new year! But seriously, the month flew by! Here's what happened on the blog this month and other January happenings!
Favorite Things in January:
My BFF and book soul sister Rebecca came to visit me in January!! We have been planning this for MONTHS – we planned it around Pierce Brown's Iron Gold tour because we are both hardcore Howlers and it was just the perfect weekend for her to come visit me and then go to his event together! We did a bunch of touristy things in Seattle- walked by the water (it was really cold)and Pike Place Market (macaroons at a French cafe, mac n cheese at Beecher's, mini donuts!) – can you tell we are food oriented?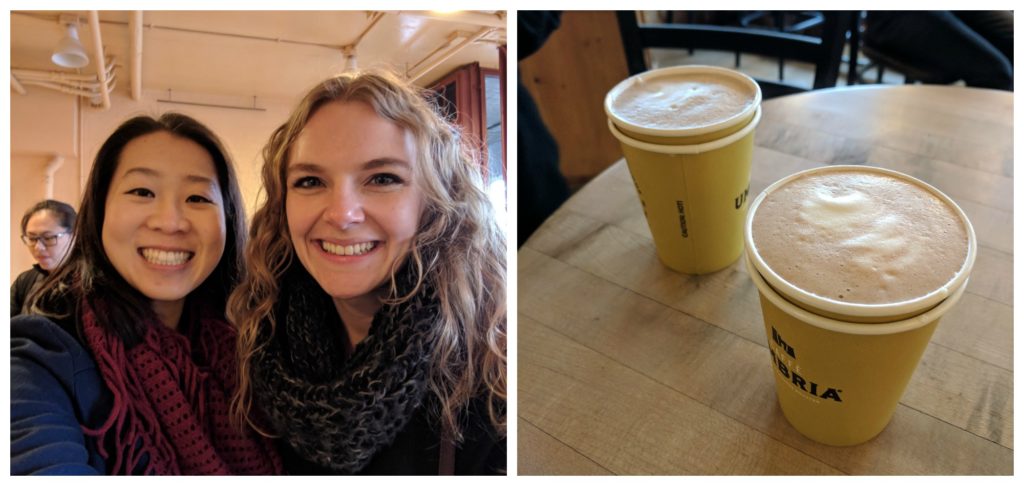 (There are no pictures of said macaroons or donuts or mac n cheese because we devoured them…) Anyway, then we headed to the U-district where we wandered Amazon books briefly before heading to University Bookstore to get our sigils drawn!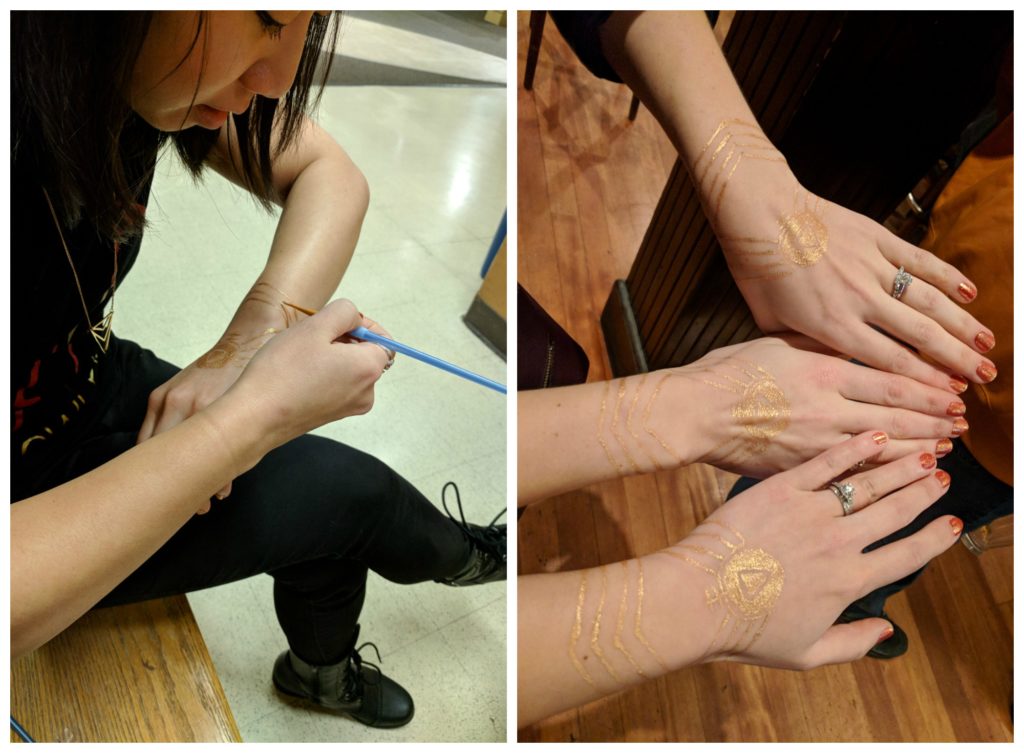 This took significantly more time than we thought it would! But aren't they so pretty!
We met up with some other Howlers that are part of the Hic Sunt Leones (a Red Rising fan group) for drinks and dinner before the signing and it was a lot of fun meeting everyone! For some reason we did not manage to get a group picture! Maybe next time!
The event itself was fantastic! Firstly, if you haven't already, you need to read this series! It's one of my FAVORITE sci fi series. Pierce Brown was in conversation with Terry Brooks- loved hearing Pierce Brown talk about his process, the Red Rising saga, what else there is to come and everything in between. We waited until the end so we wouldn't feel rushed but as it turns out, he spent lots of time with each person! He's honestly such a nice, charismatic, fun person (can we be bffs?) and it was great chatting with him! I did NOT embarrass myself (much?) and Becca and I nearly maybe passed out when he drew some fun figures on our hands when we showed him our sigils.
We both had a ton of stuff for him to sign and also lots of gifts. K cups: it's a long story but will sum it up by saying, Howler legion is a very crazy, strange and amazing fandom. A unicorn eraser "so when you kill off a character we love you can go back and erase it!" He said he writes in pen and doesn't make mistakes to which I said the eraser is magical. He then held the eraser and closed his eyes for a few seconds before declaring he didn't feel the magic. He's hilarious.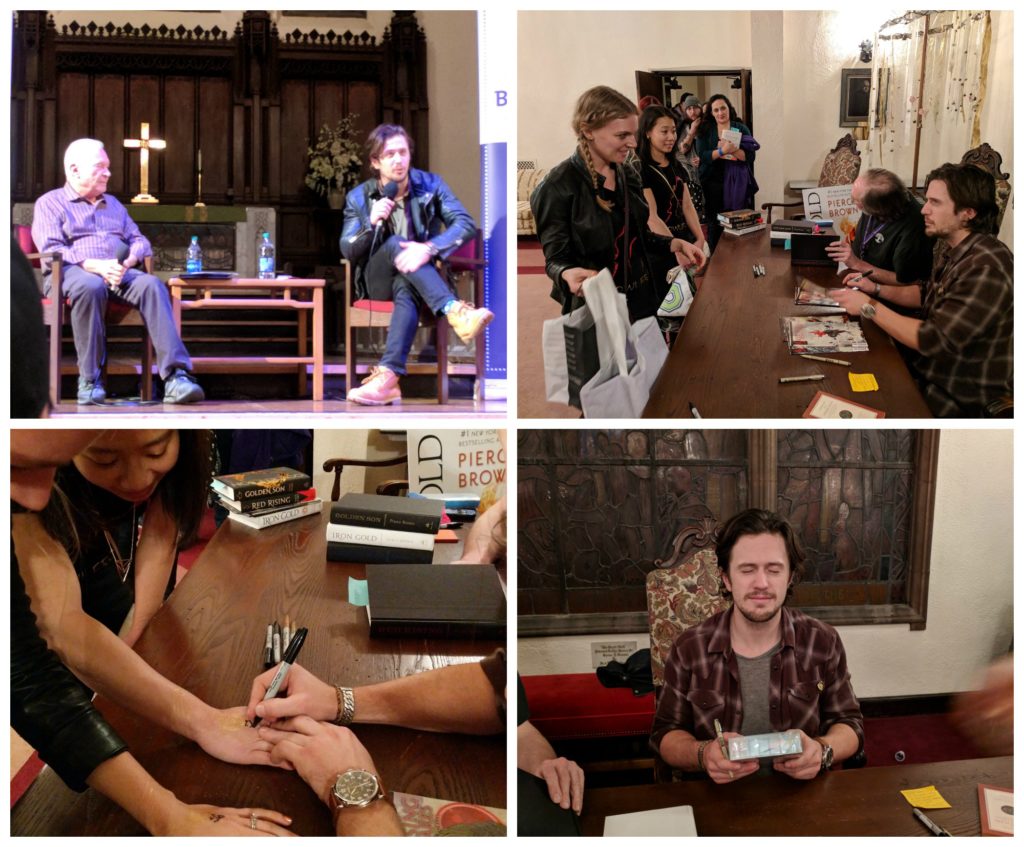 We HAD gotten these gorgeous amazing cookies from Lindsay who is a cookie goddess but they didn't arrive in time – however, we showed him the picture and he thought they were great! By this time, he's probably thinking "yeesh, am I still signing stuff?" HAHA but of course I had to have him bookend my author signature tote bag (he was the first!). In reading some of the previous authors above him, he said he had just been with Laini Taylor in Oregon to which Rebecca tells me I said (I think I blacked out, I was too overwhelmed by it all hahah) "oh I love Laini! …not as much as I love you though!" I think he was distracted and didn't hear me so that's good. 😀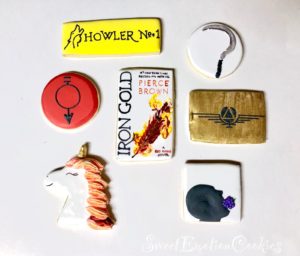 All in all, it was a magical event and way too much fun meeting Howler #1 again. I'm ready for Dark Age! Bring it. Actually, don't. There's enough emotional torture without him TRYING to bring anything.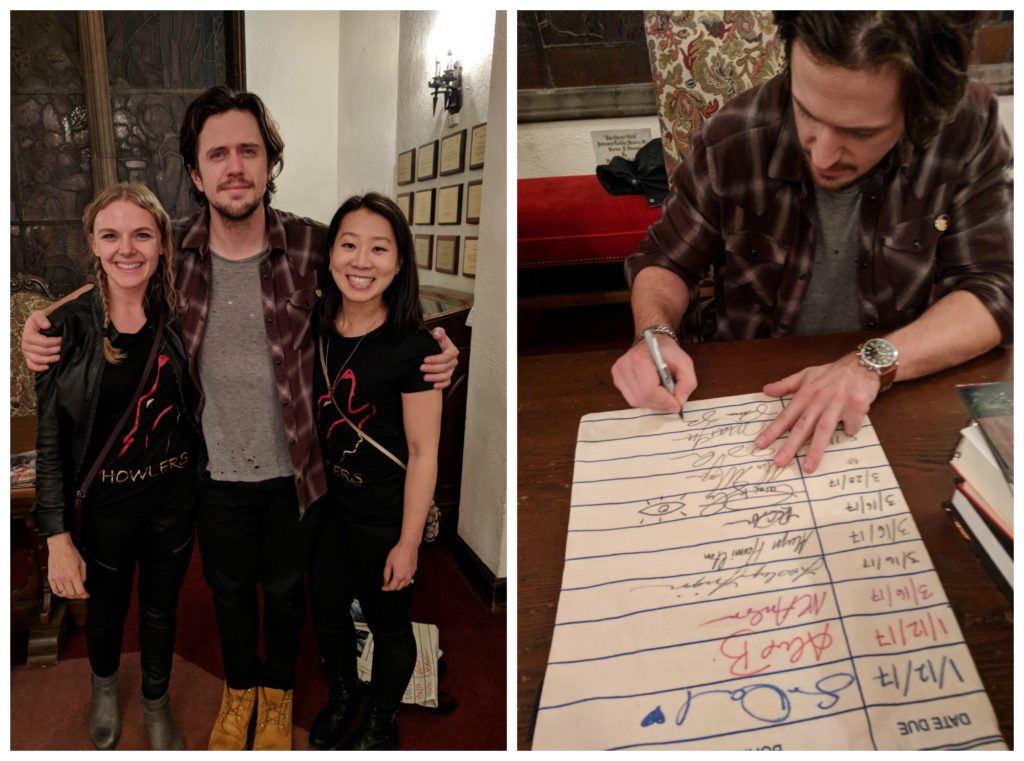 Rebecca and I spent the remainder of the weekend doing other fun things: rock climbing, more food, board games and finishing reading Iron Gold while sitting next to each other – can we read all books like this?
So that EPIC weekend really made January, obviously, haha. The rest of it has been preparing for vacation! WOO! I sat down and rewatched the entire Lord of the Rings trilogy (extended edition – the non extended do not exist to me) and it was the best thing ever. I haven't rewatched for so many years and it made me so, so happy. I may do a Lord of the Rings post later — we shall see, depends on if I end up having time before we leave for our trip! In SIX days!
Month in Review:
Books Read In January: 6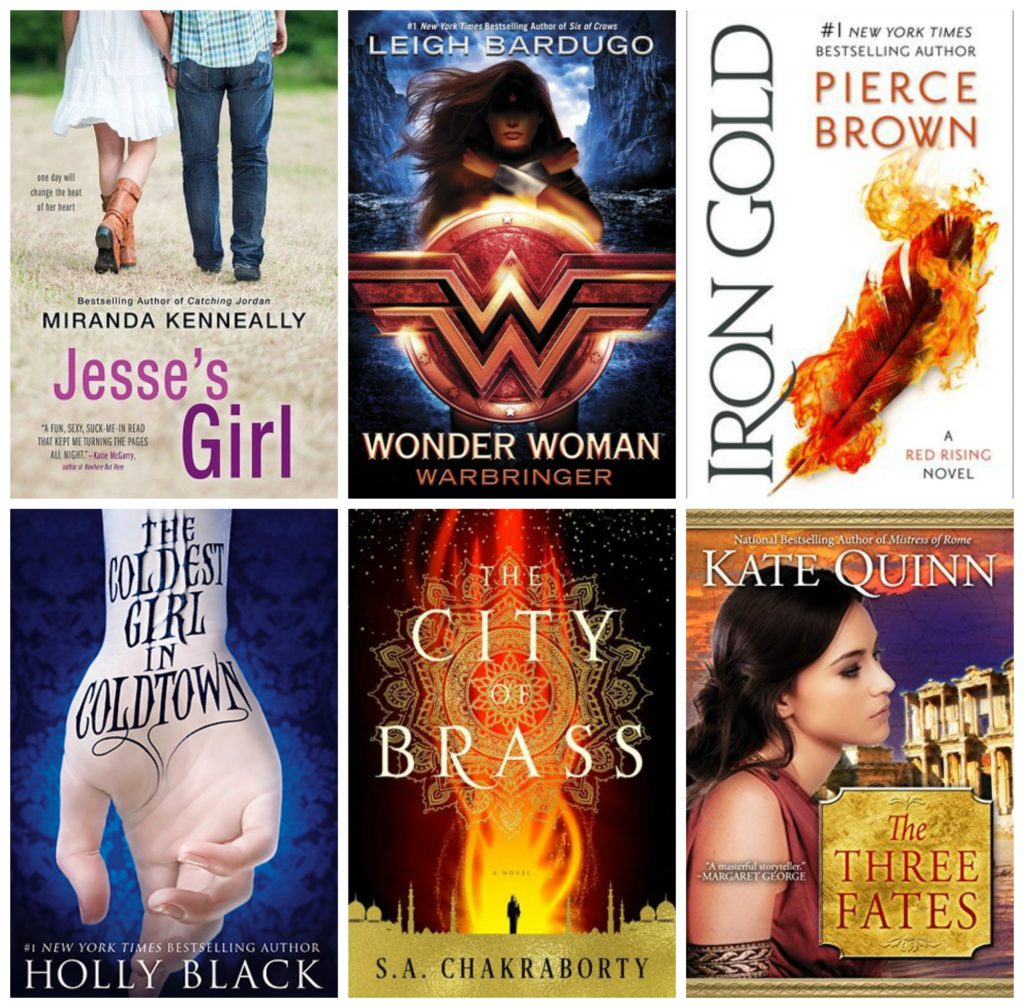 Audiobooks Listened to in January: 4
Favorite read of the month: Wonder Woman and Iron Gold were so good and I've been loving the Mistress of Rome books too!
2018 Challenges Progress: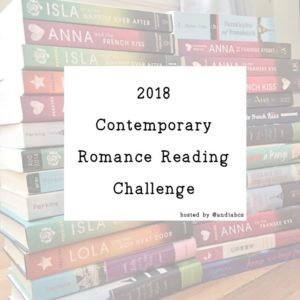 Goal: "Grand Slam" 21+
This month: 1
Progress so far: 1/21 – Jesse's Girl by Miranda Kenneally!
As you can see, I've had a very eventful January! Tell me how yours was! What did you read? What did you do? How did 2018 start off for you?
Related Posts