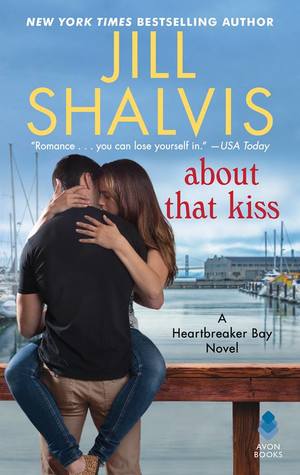 About That Kiss

by Jill Shalvis
Published by HarperCollins on January 23rd 2018
Genres: Fiction, Romance, Contemporary, Romantic Comedy, General
Pages: 384
Format: eARC
Source: Publisher
Buy on Amazon
Goodreads


When love drives you crazy . . .

When sexy Joe Malone never calls after their explosive kiss, Kylie shoves him out of her mind. Until she needs a favor, and it's a doozy. Something precious to her has been stolen and there's only one person with unique finder-and-fixer skills that can help—Joe. It means swallowing her pride and somehow trying to avoid the temptation to throttle him—or seduce him.

the best thing to do . . .

No, Joe didn't call after the kiss. He's the fun time guy, not the forever guy. And Kylie, after all she's been through, deserves a good man who will stay. But everything about Kylie makes it damned hard to focus, and though his brain knows what he has to do, his heart isn't getting the memo.

… is enjoy the ride.

As Kylie and Joe go on the scavenger hunt of their lives, they discover surprising things about each other. Now, the best way for them to get over "that kiss" might just be to replace it with a hundred more.
I received this book for free in exchange for an honest review. This does not affect my opinion of the book or the content of my review.
My Thoughts:
I love the Heartbreaker series! I was so happy to dive into Kylie and Joe's story! We have seen the two in the previous books and now we get to learn more about their individual back stories.
Kylie is this old soul, who was raised by her grandfather, and is an amazing wood worker! I loved her- she's independent and sassy and doesn't take crap from anyone. She's someone that Joe can't get out of his head but he's a stubborn, lone wolf and tells himself he's emotionally unavailable. Joe has had a tough childhood, followed by a tough but good for him stint in the military and now using those skills with Archer's investigations team. All of that makes for a pretty impenetrable facade but Kylie manages to break through.
I really loved Kylie and Joe's chemistry! They have a magnetic connection and it will just make you smile because you can see how perfectly they fit together! All their friends can see it too which brings me to another favorite part of this book.
The friend crew! As the series has gone on we've gotten to get to know so many of them and I love seeing them involved in each other's lives, the talk of girl nights, the time spent in the pub. It gives the series a very cozy, coming home feel to me. I like seeing the glimpses of what they're up to now and also just love the close friendship they all have.
I also loved the plot here too and how it tied in with both Kylie and Joe's pasts. It also had me on the edge of my seat at times.
In short…
Another fantastic addition to the Heartbreaker bay series! I love Jill Shalvis and if you are a fan, you'll love this latest book! If not, this is the perfect time to pick it up! Great contemporary romance with a focus on friends, family and laughter.
My Rating: 1/2
About the Author:
New York Times
 bestselling author 
Jill Shalvis
 lives in a small town in the Sierras full of quirky characters. Any resemblance to the quirky characters in her books is, um, mostly coincidental. Look for Jill's bestselling, award-winning books wherever romances are sold and visit her website, 
www.jillshalvis.com
, for a complete book list and daily blog detailing her city-girl-living-in-the-mountains adventures.
Have you read any Jill Shalvis? If so, what's your favorite series of hers? If not, Heartbreaker Bay is a great place to start!
Related Posts