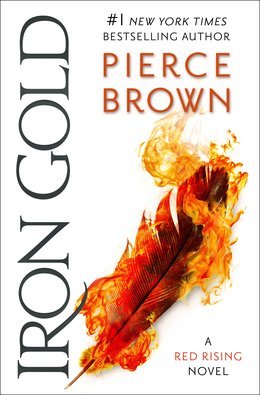 Iron Gold

by Pierce Brown
Published by Random House Publishing Group on January 16th 2018
Genres: Fiction, Science Fiction, Action & Adventure, Dystopian
Pages: 624
Format: Hardcover
Source: Bought
Buy on Amazon
Goodreads


NEW YORK TIMES BESTSELLER • In the epic next chapter of the Red Rising Saga, the #1 bestselling author of Morning Star pushes the boundaries of one of the boldest series in fiction.

They call him father, liberator, warlord, Slave King, Reaper. But he feels a boy as he falls toward the war-torn planet, his armor red, his army vast, his heart heavy. It is the tenth year of war and the thirty-third of his life. A decade ago Darrow was the hero of the revolution he believed would break the chains of the Society. But the Rising has shattered everything: Instead of peace and freedom, it has brought endless war. Now he must risk all he has fought for on one last desperate mission. Darrow still believes he can save everyone, but can he save himself? And throughout the worlds, other destinies entwine with Darrow's to change his fate forever: A young Red girl flees tragedy in her refugee camp, and achieves for herself a new life she could never have imagined. An ex-soldier broken by grief is forced to steal the most valuable thing in the galaxy—or pay with his life. And Lysander au Lune, the heir in exile to the Sovereign, wanders the stars with his mentor, Cassius, haunted by the loss of the world that Darrow transformed, and dreaming of what will rise from its ashes. Red Rising was the story of the end of one universe. Iron Gold is the story of the creation of a new one. Witness the beginning of a stunning new saga of tragedy and triumph from masterly New York Times bestselling author Pierce Brown.
**NO spoilers for Iron Gold but possible spoilers if you haven't read the Red Rising trilogy yet!
Why Did I Read?
The Red Rising series, now known as the Red Rising Saga, is one of my absolute favorite sci fi series. I've been waiting for Iron Gold akin to waiting for the next Harry Potter book!
My Thoughts:
Oh I have so very many thoughts! Firstly, I have to say, that after I finished it late last night, I have since had a night's sleep and an hour and a half run which was great for mulling over this book. I was initially upset and frustrated after finishing but I have been in a complete book hangover this entire day, just talking about these characters, the plot and the world with other fans THE WHOLE DAY. It is a powerful book that makes you contemplate and want to chat about it so much.
Iron Gold takes place 10 years after the events of Morning Star and is about what happens AFTER. What happens after you've completely uprooted and overthrown Society as you know it? There's a lot of turmoil, things don't just end happily ever after. It's a very realistic look at the effects of war — and things aren't over yet. There are four different POVs in this one so we are able to see events unfurling throughout this entire massive world, across the solar system. Pierce has written this fantastic, detailed world that is so amazing. It's steeped in history and is just simply, so cool. He has talked about how he's written pages and pages of world building that doesn't go into the final product and I'd actually LOVE to read that. That's how amazing this world is. Sci-fi at its best.
Mustang is the Sovereign and she's trying to give more voice to the people, putting together a Senate that has all Colors represented in an effort to create a balanced society. Every single thing Mustang does in this book is just another reason why I love her so much. She's so brilliant and has such a good heart. But things can't just be ideal because you want it to be. Reds have been freed from the mines but into what world? What life? One of the POVs is from a Red girl who's been "liberated" and what she thinks of her new "life". Another POV is Lysander — what is Octavia and Lorn's grandson like after a life of growing up with Cassius au Bellona, one of the best, most honorable men among golds? Ephraim is the third POV, a Gray, and Trigg's ex-fiance who is very.. disenchanted with the Republic and still struggling to put Trigg's death behind him. The fourth is of course, Darrow.
Which brings me to the crux of the matter. Darrow. Darrow, who I loved in the first three books. Darrow did nothing but make awful decisions throughout this whole book and it KILLED me. I was so upset with him because it seemed like a lot of his character progress in Morning Star was lost. Mustang spent the entirety of MS testing Darrow to see if he could build, not just break and he proved he could. And he reminds himself that he's doing this so that he can bring a better world for his children, for the next generation to live in that book. But what is he fighting for now? He is just breaking and breaking. He's so fixated on war and rage and fighting and somewhere along those 10 years of fighting, he's lost his way. Initially, I was so frustrated with this character development that I felt like it was done just to give Darrow another arc through this next trilogy. However, after mulling it over seriously all day and especially on my long run, I can see how he could've lost himself. But the question is, is he going to get his shit sorted? Someone please knock some sense into Darrow so I can have the character I love back.
Pierce Brown is a wizard at creating realistic, three dimensional characters that incite very extreme emotions. You love them, you hate them and sometimes both. Because there's no strict black or white and I can think of so many characters that I don't LIKE but are truly fascinating. I have some new favorites and have nothing but more love for Sevro – that little goblin who kept me going in this book.
Pierce's writing has also only gotten better! He's truly a master with words and one of those authors that really put me through the ringer. I was stressed out the entire book and am definitely emotionally drained. Hello, book hangover! I have a lot of questions and a lot of worries and am now putting my heart in his hands. I imagine Dark Age will be no less emotional and can only place my trust in Pierce that he will do right by his characters.
In Short…
Iron Gold continues a truly epic sci-fi saga, introducing new characters and revisiting the old. The world expands, the politics continue, the war rages and Pierce Brown will enthrall you with his beautiful world, amazing characters and devastatingly emotional plot. Thank goodness we don't have long to wait for the next installment!
Tell me if you've read this because I'd love to talk!
Related Posts