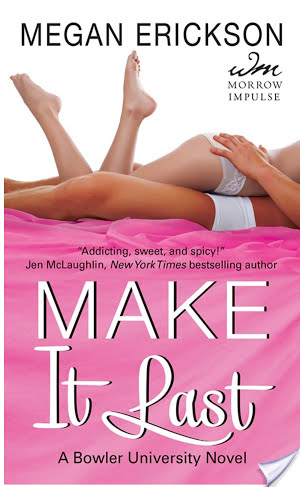 Make It Last

by Megan Erickson
Published by Harper Collins on January 6th 2015
Genres: Coming of Age, Contemporary, Fiction, New Adult, Romance
Pages: 384
Format: eARC
Source: Edelweiss
Goodreads


After graduating from Bowler University, the last place Cam Ruiz ever expected to find himself is his hometown. A bad job as a bouncer and worry over his mom's health make living in Paradise anything but. There's only one thing that can make his return any harder—running into the only girl he's ever loved.Tate Ellison made a mistake when she was eighteen, one that cost her the best thing she's ever had. She always hoped the pain of losing Cam would fade over time. Too bad it's only grown. She took comfort in the fact that she'd never have to face him again, so his presence in Paradise throws her for a loop.The pull between them is instant, and when the truth of what happened years ago tumbles out, they share a mind-blowing kiss … which leads to more. But the past has a way of repeating itself. When all the cards are on the table, Cam and Tate must decide what they are willing to do to make it last.
I received this book for free in exchange for an honest review. This does not affect my opinion of the book or the content of my review.
My Thoughts:
I have really enjoyed the first two books in the Bowler University series, so I was excited to get to Cam's story! We don't hear as much about him in Alec and Max's stories so I was very curious about his back story.
Anyway, it's the summer after college graduation and Cam is right back where he never thought he'd be back — in his small hometown of Paradise. His mom's health isn't the best and he decides to move back to help her out. He still has a great job lined up in New York in the fall to take depending on how the summer goes… and the summer is full of surprises when he runs into Tate, his old girlfriend.
There's a lot of history between the two of them and I really enjoyed seeing their friendship at the core of their relationship. They care about each other so deeply. In particular, I loved seeing their interactions in their simulation video game because it was just so cute and fun to see and so unique to the two of them.
What I really liked about this book is the themes involving family, friendship and love. Both Tate and Cam show a lot of love, dedication and support to their families and I loved that. I really liked those story lines. I also enjoyed the discussion of the ever-scary "future". Cam has a bachelor's degree in hand but there are still so many decisions left. It's nice to see a new adult book tackle the after college scenario. Just because you finished college doesn't mean you have everything figured out and I like how Make it Last definitely showed that.
The push and pull between Tate and Cam did get a little too much for me at one point. But maybe it was necessary for them both to realize what they had to do to get to their happily ever after. My only peeve is that there is one aspect of the end that seemed a little too wrapped up with a bow, a little too convenient? But it's a minor complaint.
In short… I really enjoyed this series! I think they tackle great issues and showcase so many great relationships. I've come to love all these characters! I loved seeing Alec, Kat, Max and Lea pop up in this one and one scene in particular just made me so happy. 🙂 If you're a fan of the previous books, this is a MUST read and if you're new — check these out! I love these characters and the stories feel so real to life.
My Rating: 
Megan Erickson grew up in a family that averages 5'5" on a good day and started writing to create characters who could reach the top kitchen shelf.
She's got a couple of tattoos, has a thing for gladiators and has been called a crazy cat lady. After working as a journalist for years, she decided she liked creating her own endings better and switched back to fiction.
She lives in Pennsylvania with her husband, two kids and two cats. And no, she still can't reach the stupid top shelf.
_____________________________________________________________
Related Posts