It's that time of year everyone! It's time for the love-a-thon! This year it's hosted by Alexa from Alexa Loves Books, Cee from The Novel Hermit, Kristin from Super Space Chick & Mel from The Daily Prophecy I love participating in this every year because it's so fun to meet new bloggers and join in some great challenges! I also love the twitter chats that happen and am really looking forward to popping into some of them! To kick things off, here is a getting to know me questionnaire! If you are also joining in the love-a-thon this weekend, link me to your blog/post so I can stop by! 
An Introduction to You and Your Blog
What's your name? Where in the world are you blogging from?
Hii! I'm Wendy and I'm blogging from the amazing Pacific Northwest! (Go Seahawks!)
Tell us your history with reading. Were you always a reader? Were you a reluctant reader? Was there a book that convinced you to become a reader?
I was a bookworm from a very young age! I checked out ALL the books from the library, lived for those scholastic book fairs and sneakily read under my covers late into the night! There was a few years in my undergrad time where I didn't read much at all due to classes and general college busyness but a few years ago I got back into reading and discovered YA! Woo!
How did you get involved in the online book community?
Totally by accident. I bought Wait for You by Jennifer Armentrout because it was on sale for kindle and from there binge read her entire Covenant and Lux series. When I went to research when the next books would be out, I stumbled onto these book blogs and I was like what is this amazing thing?! I jumped in and couldn't be happier that I have found this amazing book community! Seriously. I have found some of my best friends in this community and I couldn't imagine NOT having those girls in my life.
How did you choose your primary platform (blog, Instagram, YouTube, etc)? How did you come up with your blog name?
When I discovered book blogs, that's all I knew! I only VERY recently started doing bookstagram (as in, this month — I'm @book_scents on IG!) I came up with Book Scents because I love smelling books, haha.
What's your favorite thing about the online book community?
I love the excitement that everyone has for books and how we GET each other. We understand the book boyfriends and obsessions! You all are MY PEOPLE.
What sort of posts can readers expect from you?
Reviews, some discussions, some football thrown in here and there amongst all the book talk!
What book genres do you talk about most?
Fantasy is my absolute favorite genre! Ever since I was a kid. But I do read a wide range of genres – contemporary, paranormal, romance, historical fiction. I have a lot of loves!
Favorites
Favorite food? Beverage?
I love so much food, HAHA. I love Mexican food, all desserts, truffle fries, like seriously I could go on and on. Coffee is my beverage of choice! <3
Favorite color? 
Blue!
Favorite things to do apart from reading?
I love rock climbing! I do something called bouldering — there's no top rope and no harness and you climb and problem solve routes. There's padding in case you fall. It's a lot of fun! It looks something like this: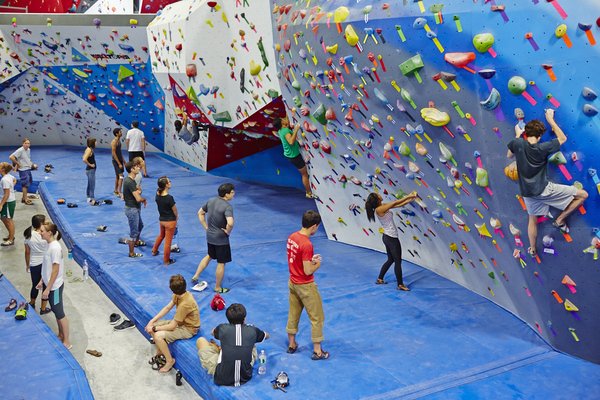 I also love Netflix and watching movies!
Favorite tv shows?
As far as older TV shows go, I LOVED Alias. One of the best shows in my opinion. I've rewatched it like three times. And I STILL want to rewatch it again. I also love Supernatural! I'm not caught up on a lot of current shows though, I always fall behind! Netflix makes it easy to binge.
Favorite movies?
Of all time? Oh gosh, this is tough. Lord of the Rings, extended editions! ALL THE MARVEL — faves are Iron Man, Guardians of the Galaxy, Captain America. 13 going on 30. Stardust. These are just a few of my favorites that come to mind! I just know I'm forgetting a fave.
Favorite musical artists?
I'm not sure? I'll be honest, I rarely listen to music anymore — I'm usually listening to an audiobook in the car during my commutes! I do listen to music when I run though — that playlist is full of high energy songs like One Direction (okay I love them, forever sad they broke up!), Ke$ha, some old school Avril Lavigne!
Favorite places to shop?
Besides a bookstore? Haha. I love Etsy for fun bookish things and as far as not online goes, I guess… Target! Yes, Target is an evil trap. You go in there for one thing and come back out with ALL the things.
Book Talk
Favorite childhood books?
I really loved Lloyd Alexander's Book of Three fantasy series as a kid! I LOVED Ella Enchanted and still do. I read ALL the Nancy Drew as a kid and scoured my house for secret passages. Also was a fan of the Boxcar Children and the Babysitter's Club!
Favorite books read in the last five years?
The Lumatere series by Melina Marchetta, The Girl of Fire and Thorns series by Rae Carson, The Falconer series by Elizabeth May, The Grisha Trilogy by Leigh Bardugo, The Red Rising series by Pierce Brown. (Yes, I cheated and listed five series instead…)
Favorite genres?
Fantasy! But I read pretty much everything.
Underrated book, series or author you love?
I always struggle with underrated books questions because I'm not sure what is considered "underrated"!
A book you want to see made into a film or tv show?
I think the Red Rising series would look amazing as a movie and I believe things are in motion for that to happen? I THINK. The battles would be epic!
Book boyfriend/girlfriend? Book BFF? Book family?
Book Family: the Garrett family from My Life Next Door by Huntley Fitzpatrick.
Book boyfriend: honestly, too many to count, but HECTORR lord commander of my heart is near the top of that list!
Book BFF: Hmmm. I want to be friends with Blue and her raven boys! I'd love to be a part of their group.
Books you want to read in 2017?
I'll point you to my GR shelves for that but a few off the top of my head: The Fallen Kingdom by Elizabeth May, Shadow Run by Adrianne Strickland and Michael Miller, All the Crooked Saints by Maggie Stiefvater.
Do we have anything in common? Link me to your questionnaire!
Related Posts