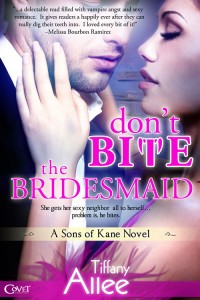 Don't Bite the Bridesmaid (Entangled Covet)

by Tiffany Allee
Published by Macmillan on May 27th 2013
Genres: Fiction, General, Paranormal, Romance
Pages: 209
Format: eARC
Goodreads


In Don't Bite the Bridesmaid by Tiffany Allee, Alice Shepard needs one thing: a date for her sister's wedding. And not just any date. A hunk who will make her fiancé rue the day he left her for her best friend. Her drop-dead gorgeous neighbor fits the bill—even if he is a bit quirky and never comes out during the day—and Alice has downed just enough appletinis to ask him. But she makes it quite clear that there will be no funny business. Spending a week on a cruise ship full of humans while sleeping close to his sexy next-door neighbor sounds like a helluva bad idea to vampire Noah Thorpe. But his friends need time to get him out of a shotgun wedding—a vampire bonding that will tie his fate to a female vampire he's never met. And Alice's offer comes at just the right time. What could possibly go wrong?
I received this book for free in exchange for an honest review. This does not affect my opinion of the book or the content of my review.
You all should know that I can be very picky when it comes to vampire romance stories. Sometimes it can just be so cliche and overdone. (Note: I am not a Twilight fan. Sorry to those who are!) However, Don't Bite the Bridesmaid was a hilarious, fun, angst-free read! I really enjoyed it!
Alice and Noah are next door neighbors and Alice convinces him to be her date to her sister's wedding since her former fiance (who cheated on her with her best friend) will be there. This former fiance guy, Brent, is a real jerk and I kept wishing that someone would push him off the cruise ship. Anyway, Noah grudgingly agrees and off they go on a week-long cruise for Alice's sister's wedding.
This vampire romance was refreshing. It's not "just another vampire story". It has some unique aspects and while providing some vampire backstory, it isn't bogged down by vampiric histories or practices or anything. It's simply a fun story.
I really loved Noah. He's this tall, dark and handsome vampire who is who-knows-how-old, has virtually no personal items in his house and probably perfects his brooding glares in his spare time. He appears stern and unfeeling and yet… obsesses over Alice's fruit scented shampoo and bright sunny smile. It practically melted my heart.
"Her smile filled the dark corners of his heart in a way he'd never experienced, not once in his very long life. And if you couldn't take a chance on someone like that, what the hell could you take a chance on?"
I really enjoyed Alice's character as well because while she was hurt and messed up after Brent, she deals with it. She's a strong and reasonable heroine which is great. And the effect Noah has on her? I love it! These two are just so great together!
I was sad when the ending rolled around. I wanted more! Judging by the cover that says "A Sons of Kane novel" and goodreads, I'm guessing  that there will be more in this series so, yay! Noah's brothers Alex and Charles were introduced in this one and it should be fun to read about their stories!
To sum it up… hot vampire? Check. Fun locale? Check. Hilarious secondary characters? Check. Steamy romance? Check. This was a quick, fun read and perfect for a relaxing, summer day! Go pick this up and prepare for a fun ride!
My Rating: 
What are you guys' thoughts on vampire romances? Drop me a comment and let me know!
Related Posts