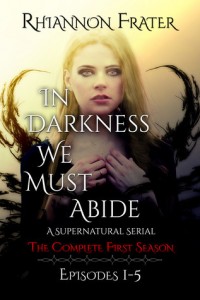 In Darkness We Must Abide: The Complete Second Season

by Rhiannon Frater
Published by Rhiannon Frater on April 10th 2014
Genres: Fiction, Gothic, Horror, Occult & Supernatural, Paranormal, Romance
Pages: 360
Format: eARC
Goodreads


In Darkness We Must Abide is the epic saga of one young woman caught in the dangerous world of the creatures of the night.  Vanora is haunted by the night her faith in those she loved was shattered. After fleeing Houston, she takes refuge in Austin and creates a normal life with her roommate Rhonda. Despite her newfound happiness, Vanora is tormented by dreams and visions of an enigmatic and dangerous albino vampire.   When her world starts to fall apart and Armando comes back into her life to warn her that her brother is in danger, Vanora realizes that she can't escape her destiny. Evil threatens her family, and she must venture into the darkness to save everyone she cares about.  As she seeks to uncover the truth about the terrifying albino vampire and her purpose in his schemes, Vanora starts to realize that the man she loves most may be her greatest enemy. Rhiannon Frater delivers a chilling adventure once again with this multi-part epic serial with a dynamic cast, old school vampires, bloody action, a smoldering forbidden love, and a terrifying villain set against the backdrop of a modern day vampire war.  This book includes all five episodes of the second season of the serial.
I received this book for free in exchange for an honest review. This does not affect my opinion of the book or the content of my review.
I haven't really read any serials before so this was kind of a new experience for me, reading these episodes. At the beginning of each episode is a snippet of a scene that is happening after the events in these five episodes. The scene unfolds with each episode and ties them together. As this was told in episodes, I'm going to format my review as reactions to each episode. This will be spoiler free, so my discussions may become less as the episodes progress in order to keep it that way. =)
Episode 1: Death Comes Home 
In this first episode we're introduced to a little girl, Vanora who is an albino and lives with her two loving siblings: her sister Alisha and brother Roman. Their family is Romanian and the story opens with the arrival of some dead ancestors that they are burying in their mausoleum, one of which has a chained coffin (uh oh). I started reading this right before bed and let me just tell you, it creeped me out. It has a very Bram Stoker's Dracula feel to it. (I absolutely loved Bram Stoker's Dracula!) The descriptions were so well written! I loved the scary/creepy atmosphere. The main characters are well put together and Rhiannon really starts developing them. Roman is the protective, older half brother and Alisha and Vanora seem to each possess some aspect of their deceased mother's "ability". Intriguing already, right? While this episode did have me peering anxiously at the scary tree outside my window that night, I thoroughly enjoyed it.
Episode 2: Death in the Shadows 
I really liked this one! I feel like Rhiannon captures the fear and essence of vampires really well. Set with this Gothic feel, she writes them as scary, powerful, complicated creatures. I like this more "classic" vampire approach — it gives it that horror factor I guess you can say. Anyway, in this episode, the story progresses as the Soccoli family is changed and I thought it was great how Rhiannon walked you through all the FEELINGS that went on. The Soccolis are a very tight knit family. Some very well written crazy emotions and inner battles going on and I felt like I was there. At this point, I'm pretty invested.
Episode 3: The Arrival of Armando DeLeon
Oh hey there Armando. Enter swoony, dangerous, mysterious vampire. Soo, since this guy is Spanish, it'd make sense if I pictured him in my head as, well, Spanish, but no. I somehow keep popping up with an image of David Boreanaz as Angel here. Well, hey they've both got swoony, dangerous and mysterious in common!
Anyway. This new vampire enters the picture and there's something going on that he's not telling. Is he good? Is he bad? Can we trust him? Who is this "Master"?? Lots of questions pop up in this one and it really keeps you reading. In the meantime, Vanora is growing up and we see hints of this "ability" that she has. Even more to add to the curiosity. But the important thing here is Armando. I STILL don't know for sure where he really stands but umm, I like him. You will too.
Episode 4: The Gift 
So the pace in this one kind of slowed and especially toward the middle and end of this episode, I started really wanting the story to speed up. It kind of felt like a set up type episode. This is my one complaint of this serial because it just kind of lost my attention a bit here.
Episode 5: The Vampires
But hey! Good thing I kept reading because this last episode was so good! Here, the pace picks up, there's lots of action, character developments going on all over and my eyes were glued to my Kindle. I can't really say much because you should read it and experience it for yourself and I don't want to spoil anything.
But, I have to say, the way Rhiannon has let these characters grow over the course of years is great. The relationships seem very real, their thoughts, feelings, actions and reactions are all things that I feel like I would do or experience. I like this paranormal aspect of this sixth sense or power or whatever it is that Vanora has. Definitely intriguing. Overall, very enjoyable serial and after the ending of season 1, I can't wait for the next! 

Last week I participated in the BOOK BLITZ for In Darkness We Must Abide run by Xpresso Book Tours, so feel free to head on over that post and check out a Q&A with the author and also a GIVEAWAY! We all like giveaways, right? Check it out here!
My Rating: 
Have you read this one? What did you think?? Talk to me & we must discuss! If you haven't read this, do you read serials?
Related Posts