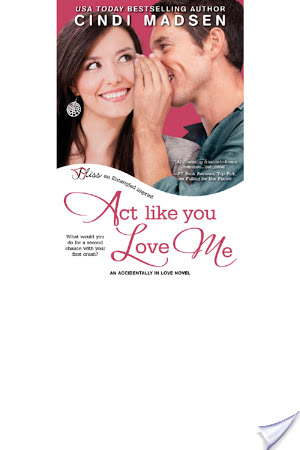 Act Like You Love Me (Entangled Bliss)

by Cindi Madsen
Published by Macmillan on June 10th 2013
Genres: Contemporary, Fiction, General, Romance
Pages: 242
Format: eARC
Goodreads


Act Like You Love Me by Cindi MadsenWhat would you do for a second chance at your first crush?Brynn McAdams isn't the awkward geek she was in high school—she's grown up and confident, or at least she tries to be. But when her old crush, the impossibly handsome and impossibly unattainable Sawyer Raines, comes back to town to direct her community play, Brynn finds herself determined to be the glamorous girl she knows he'd want, not the shy girl he doesn't even recognize. Good thing she's an excellent actress. After his bad breakup in NYC, the last thing Sawyer wants is to get involved with another actress. But the poised and beautiful Brynn draws him in, even though as her director, he knows she's off-limits. The few glimpses he gets of the goofy, carefree Brynn just makes her feel…familiar. Like home. As Brynn's lies start to snowball, she struggles to stop acting and come clean. But what if Sawyer is already falling for the fake Brynn, not the Brynn she truly is?
I received this book for free in exchange for an honest review. This does not affect my opinion of the book or the content of my review.
Brynn McAdams is different than the geeky girl she was in high school – a time that she hates to think about since it was so horrible for her. Sawyer Raines was the guy she crushed on back then and it's shocking for her to see him again after all this time. However, he doesn't recognize her or remember her and she doesn't want to remind him. But they start hanging out more and her white lies are going to catch up to her sometime, right?
First of all, I absolutely, completely loved Brynn. She is super quirky and simply hilarious. She has a passion for theater, classic literature and acting — it's so strong you can see it in everything she does. She is the definition of a hopeless romantic and I loved the way she gushed about the perfect romance and the fact that she collects kissing figurines. I feel like I would love to be her friend in real life and I think we'd really get along! One of the first things that happened that made me think, yes, this character is awesome is when she reenacts a fish love story with rubber fishing lures when she's bored at work. Because how hilarious and awesome is that. AND, she has pet birds named Lancelot and Guinevere.
"It was harder to convince herself she wasn't still an awkward nerd when she was talking to her birds. Birds named for one of her favorite couples — hey, if they couldn't be together in the stories, at least they could be together in her living room in feathered form, right?" – pg. 19
Yeah, we totally could have been BFFs because I had a fish I named Darnay back in the day because I loved Tale of Two Cities that much.
Anyway, high school was pretty awful for her. She was a drama geek, nerdy and made fun of. Not to mention her crush, Sawyer Raines, crushed her heart. As a result, she thinks she needs to tone down who she is when she sees Sawyer again. She doesn't want to scare him by quoting plays or Shakespeare or being too excited about romantic things. (Which, by the way, her bubbliness about those things and little things in life made me feel excited too! Seriously I love this girl).
So, yes, Sawyer Raines, comes back into town. Living in NYC as a screenwriter, he comes back to town to help fix up the lake house for his mom. Gosh, Sawyer. He is a perfect combination of handsome jock but with a sensitive side; brooding but also funny and fun. I loved him. (Brynn's crush is totally justified). He's had some hard things happen in his past and it makes him wary of staying. Despite his wariness, he comes to really enjoy being with Brynn. And he meshes with her so well! Their interactions were perfect! He also had a few adorable quirks. I mean, who really likes grape soda?
Anyway, I really enjoyed their story. Yes, it's a little typical and you pretty much know what will happen but I still loved reading it because of the characters! Read this if you want a cute love story with incredible characters!
My Rating: 
Did you guys ever name any pets after characters? Tell me I'm not alone!
Related Posts