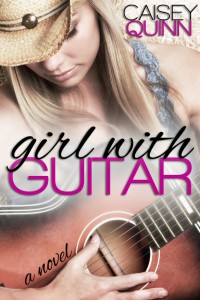 Girl with Guitar

by Caisey Quinn
Published by Createspace Independent Pub on March 5th 2014
Genres: Fiction, General
Pages: 232
Format: eBook
Goodreads


*This is a New Adult Romance and contains MA 17+ Content. After Kylie's dad dies in a freak accident, he leaves her with nothing other than her crazy stepmother, Darla, and the ability to play guitar. When Darla kicks Kylie out and she loses her job all in the same day, she hops a bus to Nashville determined to make her late father's dreams come true. Waitressing and saving her pennies to record a demo, her big break comes when she's asked to join a tour going down the tubes with once platinum album-selling country music superstar Trace Corbin. But touring with Trace is hardly a dream come true since he's pretty much drinking his career down the drain. If Kylie can't pull Trace out of his rut, he'll pull her and her dreams down with him. "A refreshing heroine and a great story you'll hate to put down " - Diane Alberts, Bestselling author of the Take A Chance series "Kylie Ryans has the perfect mix of talent, strength, vulnerability, and chutzpah. An unputdownable read." -E.M. Tippetts, bestselling author of the Someone Else's Fairytale series "Girl With Guitar gave me everything I could possibly want. A misunderstood hero. A feisty heroine. Amazing chemistry. Fun moments mixed with the steamy...Great lyrics provided the soundtrack to this country love story that made me laugh out loud, swoon, and even tear up. Can't ask for more than that " -Rachel Harris, author of My Super Sweet Sixteenth Century
I thought this one sounded cute when I initially saw it. It was sitting on my Kindle when Jessica convinced a whole slew of people to get it for a read along. (She is way too good at enabling us!) I jumped in, of course, because these girls are awesome! (Jessica, Sheri, Trish, Danielle, Cece, Chelsea) Unfortunately my weekend was so busy, and I was in the middle of Siege and Storm so I didn't finish it until yesterday, oops! BUT. I enjoyed this one!!
Kylie Ryans is a girl with a dream and a passion for writing, playing and singing music. After her dad dies, she gets kicked out of the house by her evil stepmother, and she takes what little money she has and goes to Nashville. Through a series of events, she ends up meeting Trace Corbin, a country music hot shot who is a complete ass. Anyway, she ends up with an opening spot for the last few stops on his tour.
Now, firstly, let's talk about Kylie. This girl is all kinds of passionate. She runs after her dream with such belief and intensity that it made ME wish I had that. She is incredibly spunky and fiery and she doesn't take any crap from anyone. She runs on her emotions (which can be both good and bad) and she can fire things back at Mr. Trace Corbin, no problem. She tells him off. And it's great. I just wanted to give her a high five because Trace is suuch a jerk in the beginning. Kylie deals with it though; this is her dream and she's going after it with all that she's got. I loved her!
So, how did Trace go from a complete ass to the person I liked? The pivotal moment for me was when we see him with his sisters at home and you see him for who he is, underneath the drinking and self destructive behaviors. And the moment at his little recording studio? Yes, THAT'S when my opinion of him changed. After seeing him, really seeing him, I can understand his actions and decisions. I think Caisey did such a great job developing Trace. He's so multi dimensional and I think he still has a ways to go too. (Definitely interested in seeing what he's like in the sequel!)
Another thing I enjoyed is that Trace and Kylie and what they had was believable. I felt like things developed at a good pace. And my absolute favorite part? All the country music going on. I LOVED it. I worked at a horse camp one summer and I was in boots and plaid more hours than I could count. Best summer ever. That was the summer I fell in love with country music, mostly because that was ALL we had playing at the stables. =) Anyway, I loved the song writing that was involved, and I wanted to hear their songs!
I really enjoyed Girl With Guitar! It's a very fun read, but also with an emotional aspect. I just loved the country setting, too! I've always had a soft spot for tight pants and boots… Maybe in the sequel we'll get to see Trace in chaps?
My Rating: 
Related Posts