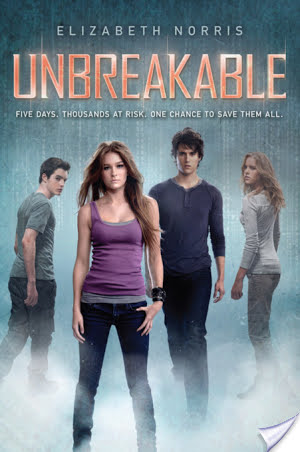 Unbreakable

by Elizabeth Norris
Series: Unraveling #2
Published by Harper Collins on April 23rd 2013
Genres: Young Adult, Fantasy & Magic, Love & Romance, Law & Crime
Pages: 496
Format: Hardcover
Source: Library
Buy on Amazon
Goodreads

I Am Number Four meets the TV show Fringe in this thrilling, high-stakes sequel to Unraveling.
Four months after Ben returned to his home universe, Janelle believes she'll never see him again. Her world is still devastated, but civilization is slowly rebuilding, and life is resuming some kind of normalcy—until Interverse agent Taylor Barclay shows up, asking for Janelle's help. Somebody from an alternate universe is kidnapping people and selling them on different Earths. And Ben is the prime suspect. When Janelle learns that someone she cares about—someone from her own world—is one of the missing, she knows that she has to help Barclay, regardless of the danger.
Now Janelle has five days to track down the real culprit, locate the missing people before they're lost forever, and reunite with the boy who stole her heart. But as the clues add up, Janelle realizes that she may not know Ben as well as she thought. Can she uncover the truth before everyone she cares about is killed?
In this heart-pounding sequel to Unraveling, author Elizabeth Norris explores the sacrifices we make to save the people we love and the worlds we'll travel to find them.
Unbreakable was like… a season of 24. Fast paced, action packed, crazy twists, lots of wtf moments and SO addicting. Once again, as in Unraveling, there is a countdown and that was also a bit reminiscent of 24 to me. That's one of my favorite shows so it's no wonder I loved this book too.
Unbreakable is the sequel to Unraveling, so if you have not read Unraveling, do not read this because there will be spoilers to Unraveling!!
Unbreakable picks up a few months after the events of Unraveling — the earth as Janelle knows it is in bad shape. I mean, after all the stuff that went down during the near miss in Wave Function Collapse? Yeah, it's pretty messed up. Marshall law was invoked and people are just… lost. Whole towns are flattened. There's a shortage of water and food and hope. Janelle helps her friend Cecily run essentially a shelter for people to stay at, where they distribute food, and supplies and give people a place to stay (in the stadium). All the while, Janelle wonders what has become of Ben. Until who else but Barclay comes barging into her world, tells her Ben is the prime suspect in a multi-universe human trafficking ring (sweet Ben? yeah right) and off they go through portals — to save Ben, his family, and put a stop to the people behind it. So much easier said than done.
I felt so sad when I started reading Unbreakable! The world is in shambles. Just.. how do you even recover from that? And from everything Janelle went through?? She sounds hollow and empty — she's much more different than the Janelle we saw in Unraveling. In the beginning, she's more muted, quiet, serious and just barely getting by. Cecily, in contrast, seems so peppy — she brings out the hope in people and tries to hold everyone together. Her peppiness alllmost seems like it'd get REALLY annoying, but she's so sweet and genuine that I couldn't even get annoyed! Loved her.
But who stole the book for me? The one who I loved irrevocably? Janelle? Ben? No, not even Ben.
Barclay.
Yeah, I see your jaws dropping. I know what you're thinking. "Barclay, the arrogant jerk face who cared about nothing but himself?" "Barclay, the annoying one that you just wanted to punch?" Yes. Him. Taylor Barclay, IA agent.
This is a testament to Elizabeth Norris and how well she builds her characters because I absolutely hated this jerk in Unraveling and now I am on the opposite side of the spectrum! In Unbreakable, you actually get to know him. You see who he is as a person, defined by his actions. You see that what makes him come off as an arrogant, ambitious asshole (helloo alliteration) is really just his passion in his beliefs and yearning to do good and make an impact. Also, did I mention he's amazing at his job? He is really damn good at what he does and really a complete badass. Think… Dean Winchester.
Snarky, arrogant but oh so passionate about what he does. You read this and then try to tell me you don't love this guy.
Oh but yeah, he'll still have those moments when you just want to hit him — and Janelle does. I really admired Janelle for stepping up. I mean, seriously, can the universe throw any more crap at her? But she takes it, she summons her strength inside herself, steels herself and marches on. She knows what she has to do and she goes for it. She is absolutely awesome — I could NOT have done it.
Anyway, the pacing is fast in this one. It's just boom, boom, boom. The short chapters and sentences are concise, to the point and I think seem to accentuate the fast pace and also kind of the desperation present. There's quite a few flashbacks to scenes in Unraveling and they were perfectly placed! Added a lot more emotion into the story.
The world building is fantastic — I really liked the background of the different universes and how the portals worked. Different/parallel universes have always kind of fascinated me. There was more background about New Prima and the Interverse Agency which made things make a lot more sense. Did anyone kind of think of The 5th Element when they were in New Prima? I kind of pictured that for some reason.
Anyway, you absolutely need to read this. The action will have you on the edge of your seat and the twists… oh don't even get me started. Just check out some of my goodreads status updates, ha! These books would make such an awesome movie!!
Oh and I just now read the extra content that can be found here. Check it out after you've read Unbreakable — I really really loved it! And it makes me want to cry which is unfortunate because I'm at school. But SO good.
My Rating: 
What did you guys think about this one? Did it pull your emotions on a wild roller coaster ride like it did mine??
Related Posts