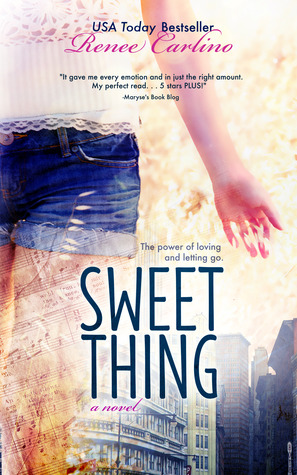 Sweet Thing

by Renee Carlino
Published by Simon and Schuster on January 7th 2014
Genres: Fiction, General, Fiction, Romance, Contemporary, New Adult, Contemporary Women
Pages: 320
Format: eBook
Source: Bought
Buy on Amazon
Goodreads


A USA TODAY bestselling contemporary romance about the complexities of love and self-discovery in the early post-college years.
Mia Kelly thinks she has it all figured out. She's an Ivy League graduate, a classically trained pianist, and the beloved daughter of a sensible mother and offbeat father. Yet Mia has been stalling since graduation, torn between putting her business degree to use and exploring music, her true love.
When her father unexpectedly dies, she decides to pick up the threads of his life while she figures out her own. Uprooting herself from Ann Arbor to New York City, Mia takes over her father's café, a treasured neighbor­hood institution that plays host to undiscovered musicians and artists. She's denied herself the thrilling and unpredictable life of a musician, but a chance encounter with Will, a sweet, gorgeous, and charming guitar­ist, offers her a glimpse of what could be. When Will becomes her friend and then her roommate, she does everything in her power to suppress her passions—for him, for music—but her father's legacy slowly opens her heart to the possibility of something more.
The reason why I first got this was because the old cover had a pretty coffee cup on the cover (much like the one in my header). I am very much a coffee shop girl — yeah, I fit into that Seattle-ite stereotype and 3 years living in Vegas isn't gonna change that. =) I love coffee shops. I like the smell of espresso, drinking from an actual mug, and sitting among other people reading, working, chatting, etc. It's comforting and relaxing and I love frequenting small coffee shops that are VERY much like the cafe Mia inherits from her father. Since I first got the book, the cover has changed but that's okay. =)
Anyway. Sweet Thing truly was a beautiful story about discovering who you are, what you want with your life, realizing what your dreams are and figuring out and experiencing love. 

Mia's father has passed away, leaving behind his cafe — a place where people don't get coffee to-go but to sit and chat and enjoy themselves. It is full of music because her dad was very much the musician. Mia grew up appreciating the carefree musical life her dad led but she wanted structure, something more palpable to pursue. In college, she pursues business instead of music. After her dad's death, she moves into her dad's old apartment to help take care of his belongings and help run the cafe. She figures this is a good time for her to figure out what she wants to do with her life.
"It's those few years right before the real world gives you a swift kick in the ass." — pg 2
Mia meets Will on the plane over to New York and I loved him from the beginning. He is a musician and super freaked out about flying (it's really cute). Mia talks to him to distract him during the flight. Will is… amazing. He has such a passion for his music, his writing, his dreams, his life! He embraces everything and everyone. He's one of those super charismatic people, not to mention he plays and writes his music straight from the soul. I. Loved. Him!
But. Mia is pretty hell bent on staying just friends with him because she doesn't want someone with a rock and roll lifestyle. She wants someone successful, put together, with a high paying job — like a cookie cutter businessman. She has this idea that it's the "right path", the "stable path".
Don't get me wrong. I completely understand her thinking. It's smart. It makes sense. It fits most people. But it isn't the life for her; she just hasn't realized it yet. She has a brilliant musical side of her that she seems to hide most of the time because she's trying to pursue this other "image" of a life she thinks she wants to pursue. I don't think she even consciously notices she does this. Anyway, all of this results in her putting Will on the "friend" list even if they become close, become BFFs and anyone else and their pet monkey can see they should be together! Because when they're together, it's beautiful. They connect. They write. They play music. They become alive. They heal each other.
There were quite a few times I just wanted to hit Mia in the face. For the ideals she kept holding on to, for not learning, for being an idiot about Will. Yeah, this is all necessary in her journey to finding herself but umm, totally made me angry at times!
The riveting factor of this book is truly the music. It shows the heart of this story, the feelings that are present and just the raw emotion that feels like can only be expressed properly in a song. It was incredible!
The way the book starts out is great too. There's a prologue in a different perspective. It hooks you in and I love the way it ties into the story. I like that it gives you a look at what Mia is like when the story first starts out.
Everything ties together so wonderfully in this book! It deals with healing, of moving on, of discovering how to love, how to live, how to BE who you are and most importantly, how to dream. Amidst all of that is the romance and let me just tell you, Will Ryan is one incredibly amazing man! The music that Will and Mia share not only ties them together but becomes an expression of themselves.
I usually don't pick songs for books but this book was so musically oriented and also, this song jumped to mind.
Song Pick:
"I Won't Give Up" — Jason Mraz
Great Quotes:
"The big questions… what do you want to do with the rest of your life? Who will you marry if you marry at all? What career will you choose? Do you want children? It seemed like everything I knew at twenty-five morphed into everything I didn't know by twenty-six, when I was suddenly hit with the realization that many of the decisions we make in our twenties… are permanent." — pg. 3

"To love is brave, and Will was the bravest person I knew."
My Rating: 
What did you guys think about Sweet Thing? Could you relate to the image of Mia at the very beginning? Just how awesome was Will?? =)
Related Posts