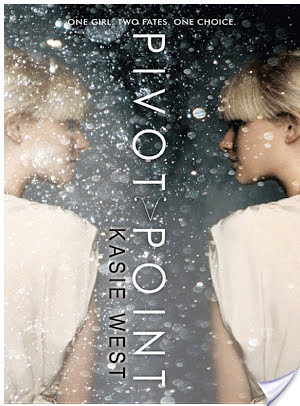 Pivot Point

by Kasie West
Series: Pivot Point #1
Published by Harper Collins on February 12th 2013
Genres: Young Adult, Science Fiction, Girls & Women, Love & Romance
Pages: 352
Format: eBook
Source: Bought
Buy on Amazon
Goodreads


Perfect for fans of Sliding Doors, Kasie West's riveting novel Pivot Point follows a girl with the power to see her potential futures.
Addison Coleman's life is one big "What if?" As a Searcher, a special type of clairvoyant, whenever Addie is faced with a choice, she is able to look into the future and see both outcomes. So when her parents tell her they are getting a divorce and she has to pick who she wants to live with, a Search has never been more important.
In one future Addie is living with her mom in the life she's always known and is being pursued by the most popular guy in school. In the other she is the new girl in school, where she falls for a cute, quiet artist. Then Addie finds herself drawn into a murder investigation, and her fate takes a darker turn. With so much to lose in either future, Addie must decide which reality she's willing to live through . . . and who she's willing to live without.
Pivot Point was our Girls With Books weekend read along book last weekend! Check my sidebar to take a look at what the other girls thought of Pivot Point!
I freaking LOVED this book. I got so wrapped up in it and I could not put it down!
In the world in Pivot Point, there are people who have special abilities. There are ones who are telekinetic or telepathic, ones who can persuade, detect lies, erase memories, or in Addie's case, Search. When presented with a choice, she has the ability to Search the two paths and essentially live out each choice. It can take the span of a few minutes, but the experience will FEEL real, just like a memory. When her parents decide to get a divorce she's faced with a huge decision — stay with her mom in the Compound where everyone with abilities live or go with her dad into the outside world with normal, non-talented people. Her best friend Laila convinces her to Search it.
Did you guys ever read those Choose Your Own Adventures books? I thought of those when reading this because I always used to cheat and glance down both paths of a choice before I chose in case one would lead to my demise or something. Essentially, this is what Searching is — knowing what will happen in each decision.  (I realize my way of reading those books defeats the whole purpose but did anyone NOT cheat with those? That's what I thought.)
In one path, Addie goes with her dad, starts to learn the ways of the "Norms" and meets Trevor who is so sweet and funny and in the other, she stays and becomes the object of star quarterback Duke's affections.
Each chapter alternates paths and one of the biggest things I enjoyed about the book is how there were parallels and crossovers in the two futures. It just kind of makes you go "ohh!" when something happens in a previous chapter and now, something else makes sense because of what you know from the other path. If that makes any sense at all. I'm trying and failing to explain just how awesome I thought the entwined plot lines were.
The characters were amazingly well done. I was literally flipping back and forth which guy I liked better after each chapter. It started causing me some slight anxiety because I couldn't decide! Then, at a particular point, I made up my mind. And I'm not gonna tell you who. =D But I stuck with him for the rest. <3!!
Addie was such an awesome girl. She's witty, funny and holds her own. And did I mention that she loves books? Even the classics such as Tale of Two Cities. (Yes, that's my fave, so yes, Addie and I are like BFFs). Addie is easy going and honestly did remind me a little of myself — minus the fact that she doesn't like football. (And I pretend I make witty comments.)
Besides the story of Addie living her life in these separate paths is the plot line of a case her dad is working on, involving a scary dude named Poison. This plot line weaves into both paths really well and since we see both alternatives, we see the little reveals as things fall into place. I honestly didn't expect this book to be so suspenseful but it most definitely was and my eyes were GLUED to my kindle.
This book has romance that made my heart melt, action and suspense that kept me riveted, all wrapped up with elements of paranormal. And I honestly can't get over how awesome it is, the way the paths entwined together and everything. It blows my mind! The characters are also fantastic and will grip your heart. I kept thinking about the book the whole day afterward — it was that memorable to me. Go read this!! You will not regret it! (PLUS it's on sale for only $1.99 in ebook!!)
The second book, Split Second, doesn't come out until next Feb. =( In the meantime, I definitely want to check out her new contemporary, The Distance Between Us because I just loved this one so much!
My Rating: 
Do you think you'd like Addie's ability to Search? What were your thoughts on the book?
Related Posts