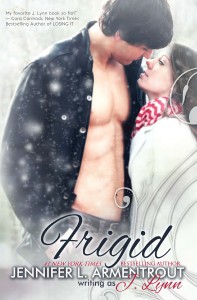 Frigid

by J. Lynn
Series: Frigid #1
Published by Spencer Hill Press on 2013
Genres: Fiction, Romance, Contemporary, Suspense, Coming of Age
Pages: 260
Format: eBook
Source: Bought
Buy on Amazon
Goodreads


Jennifer L. Armentrout (also known as J. Lynn), New York Times bestselling author of the Wait for You series, presents Frigid.
For twenty-one-year-old Sydney, being in love with Kyler isn't anything new. They'd been best friends ever since he pushed her down on the playground and she made him eat a mud pie. Somewhere over the years, she fell for him and fell hard. The big problem with that? Kyler puts the 'man' in man-whore. He's never stayed with a girl longer than a few nights, and with it being their last year in college, Syd doesn't want to risk their friendship by declaring her love. Kyler has always put Syd on a pedestal that was too high for him to reach. To him, she's perfect and she's everything. But the feelings he has for her, he's always hidden away or focused on any other female. After all, Kyler will always be the poor boy from the wrong side of tracks, and Syd will always be the one girl he can never have. But when they're stranded together at a posh ski resort due to a massive Nor'easter, there's nothing stopping their red-hot feelings for each other from coming to the surface. Can their friendship survive the attraction? Better yet, can they survive at all? Because as the snow falls, someone is stalking them, and this ski trip may be a life-changer in more ways than one.
I have been looking forward to Frigid for forever and was SO excited that it got released 2 weeks early! As soon as I got home that day, I sat myself down and read.
*sigh* *swoon*
I LOVE KYLER.
End of review.
Just kidding, I'll give you guys a little more than that. But seriously, J. Lynn writes the most swoon worthy men! I don't know what it is, but I fall hard for every single one of them.
Kyler and Sydney have been best friends ever since they can remember. Sydney is the cautious, quiet one. Kyler is a playboy. Despite their differences, they are still best friends. And because of that, even though Sydney is in love with him, she hides her feelings because their friendship is too important.
"Kyler [was] completely off-limits due to the fact that we'd been inseparable since the day he pushed me off the merry-go-round and told me I had cooties for trying to hold his hand."
As unlikely a pair as they are, they're still best friends, now in college. Every year they head to a ski lodge with friends before going home for Christmas but this year, a blizzard rolls in and traps them alone in the cabin.
Raise your hand if you wouldn't mind being trapped with Kyler aka Mr. Washboard Abs Man. You should ALL be raising your hands.
Sure, he's a playboy but Kyler's honestly the sweetest guy ever. He cares for Sydney more than anything and protectively watches out for her. But he always thought of her as just too good for him.
"I still was the same white trash boy from the trailer park who couldn't believe the pretty little girl in class wanted to be friends."
I loved their friendship. I loved how they knew each other so well, inside and out and yet they couldn't see what was so obvious to everyone else. At least now they're stuck together and are forced to hit the issue head on. Except not really head on. There's so much tension and back and forth that I just wanted to be like no guys, agh! Sit. Kiss. Love each other and be happy! Ha, good thing I don't write books because I can imagine they would be short and too happy.
On top of Kyler and Sydney figuring out what is going on between them, there is some  stalker that's targeting them while they're stuck in the cabin. I liked this aspect because it gave kind of a creepy, goosebumps-on-your-arms feel to it. It's a little predictable, but it definitely provided an interesting facet to the story and I think was a good side story to Sydney and Kyler's relationship.
Frigid is written in both Kyler and Sydney's POVs and this worked out beautifully. I loved seeing what was going on in Kyler's head and it makes you love him all the more, especially as you see how he's always loved Sydney.
Gahh it's amazing. Go buy and read! You know you want to meet Kyler. Oh, did I mention he also plays guitar?
My Rating: 
Related Posts