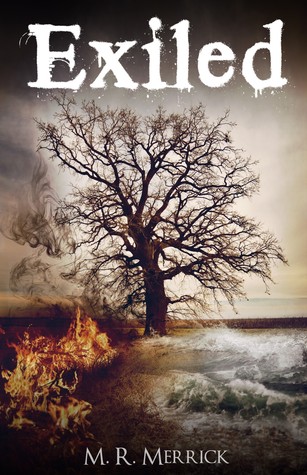 Exiled

by M. R. Merrick
Published by M.R. Merrick on April 1st 2012
Genres: Fiction, Fantasy, Contemporary
Pages: 264
Format: eBook
Buy on Amazon
Goodreads


Chase Williams is a demon hunter in the Circle, or at least he was supposed to be. On his fifteenth birthday, Chase stepped up to the altar to claim his elemental power, but it never came. Elemental magic is passed down to a hunter through the bloodline, but on Chase's birthday, the bloodline stopped. Exiled without the Circle's protection, Chase has spent two years trying to survive a world riddled with half-demons and magic. When he has a run in with a frightened and seemingly innocent demon, he learns the Circle's agenda has changed: the Circle plans to unlock a portal and unleash pure-blood demons into the world. Vowing to stop them, and knowing he can't do it alone, Chase forms a reluctant alliance with Rayna - a sexy witch with an attitude and a secret. In their attempt to stop them, Chase and Rayna find themselves in the middle of the Circle's plan, leaving one of them to decide what their friendship is worth, and the other's life depending on it.
So, I was too busy at the end of last semester to catch up on my reviews and then I was doing so much stuff over break that I was still too busy! Anyway, I decided to do these as mini reviews so you get 3 reviews of 3 different genres today! YA fantasy, NA contemp and YA contemp. Something for everyone!
So this started out pretty interesting to me. I was curious about the Circle and what was going on with Chase and the demons. But for awhile, not very much happened and I started to get antsy.
Then… there was a lot of action going on but for some reason I could not get into the story. The writing was good, the idea was interesting but… I just wasn't into it. I think the reason why is because the MC Chase just didn't stand out much for me. He wasn't a very riveting character for me so maybe that's why I couldn't get invested.
The other characters were okay, but I never got too attached. There's plenty of secondary characters that come and go and at one point, it almost felt like too much. The world building was good but it was almost like there were too many different aspects that it felt a little disjointed at times.
Honestly, I don't have any major complaints but this one just didn't blow me away. The writing and plot were solid, so give it a try! You may like it more than I did!
My Rating: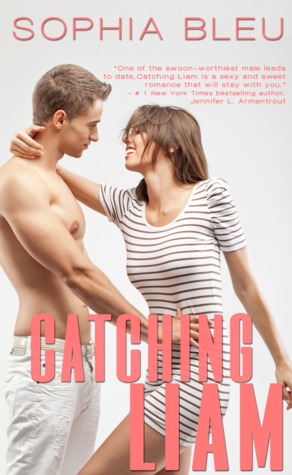 Catching Liam

by Sophia Bleu
Published by Sophia Bleu on June 27th 2013
Genres: New Adult, Contemporary
Pages: 378
Format: eBook
Buy on Amazon
Goodreads


Twenty-one year-old Jillian Nichols only has one rule when it comes to boys: catch and release. Boy-catching isn't just a game for Jillian and her friends, it's a lifestyle. After all, boys might be good for a dance or a drink and certainly a little under-cover action of the scandalous variety, but expect much else and you're bound for heart ache.

So when her best friends and fellow boy catchers start dropping like flies junior year, Jillian is determined to keep boys in her bedroom and out of her heart. Until she meets Liam McAvoy, the kind of guy that sticks around to make waffles and who can't—or perhaps won't—take a hint.

Study abroad student Liam doesn't want to be another notch on Jillian's bedpost. Actually he has much more interesting ideas for Jillian and her bedposts, but his student visa's set expiration date means he can't promise her forever. That doesn't mean he's going to walk away from the challenge of discovering why Jillian is hell-bent at keeping people at a distance.

Before long, neither is sure who is catching who—or if they're playing for keeps. Jillian knows one thing though: falling in love will not only break the only rule of boy-catching, it could also break her heart.
When I saw that this book involved a hot Scottish man, I immediately 1-clicked. I've been a fan of Scottish boys ever since I read the Outlander books. And apparently, this one makes waffles!
I read this one because I wanted to read a light, fluffy romance. Except this is definitely not light and fluffy! I loved it anyway! NA can sometimes be hit or miss with me because it can get formulaic. However, this one was definitely different and I liked that I hadn't seen these plot points before.
The thing that really makes this book is Liam. Holy hot Scottish man. Liam is this funny, amazing guy who knows his way around a kitchen. Read this and tell me you don't want waffles afterward. Preferably served to you by a Scottish man. I did! In fact, I made my roomie go out to breakfast with me the next day! (No Scottish waiters there, in case you were wondering.) Anyway, Liam is fantastic and is there for Jillian. No matter what.
Jillian's story broke my heart a little. But she's awesome and so strong for what she has to deal with. Especially her mother! I wanted to drop kick that woman. She made me so mad! But between her best friend and roommate Jess and Liam, she can make it through.
Read Catching Liam for a fantastic NA romance with a swoony, accented, waffle-making Scottishman! Oh and to find out why Scottish men wear kilts. Because you know you want to know.
My Rating: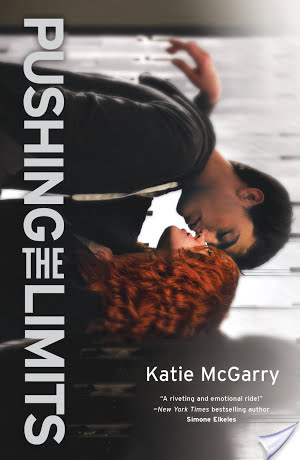 Pushing the Limits

by Katie McGarry
Series: Pushing the Limits #1
Published by Harlequin on May 1st 2013
Genres: Young Adult, Love & Romance, Social Issues, Runaways
Pages: 416
Format: Paperback
Source: Bought
Buy on Amazon
Goodreads


Book 1 in Katie McGarry's award winning Pushing The Limits series
So wrong for each other…and yet so right.
No one knows what happened the night Echo Emerson went from popular girl with jock boyfriend to gossiped-about outsider with "freaky" scars on her arms. Even Echo can't remember the whole truth.
But when Noah Hutchins, the smoking-hot, girl-using loner in the black leather jacket, explodes into her life with his surprising understanding, Echo's world shifts in ways she could never have imagined. They should have nothing in common.
Yet the crazy attraction between them refuses to go away. And Echo has to ask herself just how far they can PUSH THE LIMITS and what she'll risk for the one guy who might teach her HOW TO LOVE AGAIN.
I am in love with Noah Hutchins. I found myself grinning every time he did something that just made my heart drop. He isn't the kind of guy Echo would have found herself with before, when she was popular. But now, he is the one that will actually listen without judging and he reaches her like no one else does.
Echo's past is tragic and made me so sad. Aires? My heart ached. Echo isn't the only one with the tragic past though. Noah isn't without his own share of problems. Noah's devotion to his brothers and his determination and desperation to be and have a family was so touching.
Katie McGarry sure knows how to write amazing characters and to make her readers feel! Pushing the Limits is NOT light. It's intensely emotional and I almost teared up reading it on the plane. This story is very multi-faceted and it takes a really good look at family, what it is and all the nuances that go with it. Echo struggles with her family situation and Noah struggles to be a family for his brothers. Each of them just want a "normal". I think they find that they can create their own "normal" — with each other.
I loved this one SO much. Read it if you haven't already!
My Rating: 
Related Posts