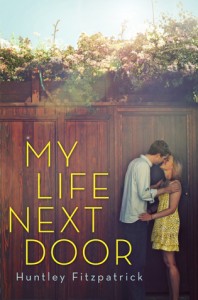 My Life Next Door

by Huntley Fitzpatrick
Published by Penguin on June 14th 2012
Genres: Young Adult, Love & Romance, Family, General, Social Issues, Dating & Sex
Pages: 432
Format: Paperback
Source: Bought
Buy on Amazon
Goodreads

A gorgeous debut about family, friendship, first romance, and how to be true to one person you love without betraying another
"One thing my mother never knew, and would disapprove of most of all, was that I watched the Garretts. All the time."
The Garretts are everything the Reeds are not. Loud, numerous, messy, affectionate. And every day from her balcony perch, seventeen-year-old Samantha Reed wishes she was one of them . . . until one summer evening, Jase Garrett climbs her terrace and changes everything. As the two fall fiercely in love, Jase's family makes Samantha one of their own. Then in an instant, the bottom drops out of her world and she is suddenly faced with an impossible decision. Which perfect family will save her? Or is it time she saved herself?
A dreamy summer read, full of characters who stay with you long after the story is over.
Before reading this, I had heard so much about this swoon worthy guy, Jase Garrett. I was so excited to read about what sounded like a fluffy, summer-y contemporary. I honestly didn't realize it delves into some heavy duty stuff too! But I thought it was all so well written and I loved reading about these Garretts!
So, Sam has spent most of her life watching her next door neighbors, the Garretts. They have eight kids and their house and yard is in constant chaos. Toys strewn in the yard. Bike left out. They aren't a cookie cutter, neat, white picket fence type family and for that reason, Sam's mother hates them with a passion. Sam's mom is a neat freak to the extreme, keeping their house spotless and trying to keep their images the same as well. When we meet Sam, she is 17 years old and her mother is now running for state senator, which simply ups the image obsession even more. Sam is left on her own devices a lot, in her empty, perfect house and it is that summer that she meets Jase Garrett.
Jase is the perfect boy next door. He is the bar that ALL boys will have to be measured against. He practically defines the term "nice guy". But when you look at him, the phrase "nice guys finish last" really just becomes an empty saying because he is the nice guy of all nice guys and yet will put ALL bad boys to shame. Forever. Because he is perfect. He sees Sam for who she is, accepts her and befriends her. He is such a great son and brother. And he does not have a mean or selfish bone in his body, I swear. Anyway, he and Sam are just so cute together and I loved how this was portrayed very realistically, like a high school relationship would be and there was no overblown angst.
Now the thing I really absolutely loved with all my heart was the Garrett family. Yes, there's eight kids but Huntley Fitzpatrick manages to characterize each one so well! When I was younger, I wished that I had a huge family, with lots of brothers and sisters — essentially I wanted a Garrett family. They may not be rich (I can only imagine how much money it takes to raise eight kids) but they are rich in everything that matters. George was my favorite, with his crazy, hilarious questions and interesting worries (kids. where do they come up with this stuff? ha). I wanted to just hug all of them.
Anyway. for the majority of the book, it's sweet and wonderful and then all of a sudden you get hit with a lot of craziness! It was sudden and unexpected and hit me like a punch to the gut. This is where the book delves into more serious matters but I loved how things were dealt with. A story of growing up and finding your way that was really well written.
Such a wonderful book with the most amazing characters ever. The only bone I have to pick is the fact that I felt like the ending was too open ended. It just felt like so many things weren't resolved. I guess life doesn't resolve itself nicely but I kind of wish there had just been a liiiittle bit more.
My Rating: 
Related Posts