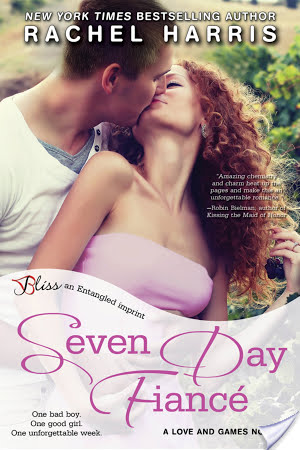 Seven Day Fiance (Entangled Bliss)

by Rachel Harris
Series: Love and Games #2
Published by Entangled Bliss on October 14th 2013
Genres: Fiction, Romance, Contemporary, General
Pages: 211
Format: eBook
Source: Bought
Buy on Amazon
Goodreads


Seven Day Fiance by Rachel Harris
One bad boy. One good girl. One unforgettable week.
Angelle Prejean is in a pickle. Her family is expecting her to come home with a fiancé--a fiancé who doesn't exist. Well, he exists, but he definitely has no idea Angelle told her mama they were engaged. Tattooed, muscled, and hotter than sin, Cane can reduce Angelle to a hot mess with one look--and leave her heart a mess if she falls for him. But when she ends up winning him at a charity bachelor auction, she knows just how to solve her fiancé problem.
Cane Robicheaux is no one's prince. He doesn't do relationships and he doesn't fall in love. When sweet, sultry-voiced Angelle propositions him, he hopes their little fiancé game can finally get her out of his head. He doesn't expect her to break through all his barriers. But even as Angelle burrows deeper into his heart, he knows once their seven days are up, so is their ruse.
I seriously love Rachel Harris' writing! She writes such amazing imagery and just makes me feel right there in that setting. She has a way with words and every time I start one of her books it just makes me smile!
In Seven Day Fiance, Angelle Prejean is in need of a fake fiance for a week to present to her family. When Angelle left her town and her family, she did it to start over, to have a clean slate and figure out who she really was. She wants to be able to show her family that she has things figured out and in a desperate move to further that image, made up a fake fiance. When she "wins" Cane in a bachelor auction, the solution is perfect — bring Cane for a week back to see her family and relegate him to being her fiance.
Cane is probably the best fake fiance anyone could ever ask for. He likes to relish in his bad boy image and he pulls it off quite well, leather jacket, tattoos and all but he's really a closet nerd who loves math. (Closet nerd factor exponentially increases the hotness, trust me.) Anyway, due to certain misgivings he has about love and relationships, he's not a fan but fake he can pull — especially with Angelle.
The interactions between him and everyone he meets in Angelle's hometown is really sweet. You get to see the real Cane! And holy crap muffins, you can't help but love him. He's smart, business minded and ultra protective of the people he loves. You can see why this fake relationship is just more fodder to add to the fire of Angelle's attraction.
My only problem was the timeline. Their feelings escalated so quickly. I understand they've known each other and worked together for months but they have only just found out enough about each other to reach close friend status during this fake fiance week. The jump from that to something more was definitely feasible but seemed so quick, especially given Cane's previous reservations about relationships in general.
Other than that, Seven Day Fiance is a sweet romance that I really enjoyed! Rachel Harris paints this great picture of Cajun country and Cajun food and has me wanting to eat everything mentioned in the book! She has a knack for making you feel like you're right there in the book and when that involves yummy food and an even yummier Cane, I am so on board.
My Rating: 
Related Posts