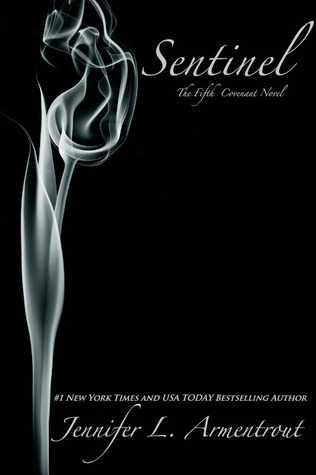 Sentinel

by Jennifer L. Armentrout
Published by Hodder & Stoughton General Division on December 11th 2014
Genres: Paranormal
Pages: 352
Format: eBook
Source: Bought
Buy on Amazon
Goodreads


It's a beautiful day for a war.

As the mortal world slowly slips into chaos of the godly kind, Alexandria Andros must overcome a stunning defeat that has left her shaken and in doubt of their ability to end this war once and for all.

And with all the obstacles between Alex and her happily-ever-after with the swoonworthy Aiden St. Delphi, they must now trust a deadly foe as they travel deep into the Underworld to release one of the most dangerous gods of all time.

In the stunning, action-packed climax to the bestselling Covenant series, Alex must face a terrible choice: the destruction of everything and everyone she holds dear… or the end of herself.
I honestly don't know how to write this review and how to put into words how perfect the conclusion to the Covenant series was. Because it was utterly, fantastically, completely perfect.
This review will have spoilers to the previous books in the series but no spoilers for Sentinel. =) For those that haven't read the series, scroll down to the last paragraph! 
We pick up where we left off in Apollyon — the world is basically ending and the plan is to get to Seth, make Alex the God Killer and kill Ares (yes, mother freaking Ares, god of war, and yes, the same one that about destroyed Alex in the previous book). Well, crap. That is one tall order.
I was so nervous because things are just going to crap and I loved everyone and I just wanted no one to die! I tried to read slow because I just didn't want the series to end. I epically failed at that – I basically read like a pack of daimons were after me. But that's what Jennifer does – she writes amazing stories and this one was action packed, had me holding my breath one minute, laughing out loud the next and crying in another. It is filled with AMAZING swoontastic scenes. JLA knows how to lead you through this wide gamut of emotions with ease!!
The swoon… holy daimon butt. There are so many amazing swoony scenes in here. I can't even describe how much I LOVE Aiden St. Delphi. I loved him from day 1. He is such an awesome badass fighter, protector, brother and friend. He is so amazing, swinging Covenant daggers with fine precision and wielding fire with skill… all in his black Sentinel gear, looking sexy as hell… but also so gentle, loving, happy and joking on those rare occasions he lets his guard down with Alex. Alex, whom he loves so fiercely, my heart could just break. Those scenes of them… I just love. I can't express how much. Just… SO MUCH.
Seth. Oh Seth. The one who always bugged me from the start, just mostly because I loved Aiden and he was in the way. Well. There is redemption for him and (I can't even believe I'm saying this because I hated him for a good chunk in Deity and Apollyon), I love him. He is definitely an amazing, multi dimensional character and I really enjoyed seeing that in this one. His series is going to be so good!!
Another thing I love about this series is that ALL the secondary characters are fantastic and I love them ALL! Deacon is hilarious and one of my favorites. His comedic relief is much needed amongst all the serious crap that hits the fan. Apollo is my favorite god, even if he DOES need a freaking bell… and Marcus, Olivia, Solos, everyone… they all hold a special place in my heart.
The action will glue you to your seat. You will hold your breath. You will cry. You will laugh. You will clutch it to your chest and breathe deep breaths afterward because you love it so much. (Yes, that was me at 1 am).
I am just in pure amazement at how Jennifer worked everything in because I had no idea what was going to happen! And it was perfect, a masterpiece, with characters I will never forget. In fact, I'm in a bit of a book hangover, because I already miss them and I don't want to say goodbye. Now, THAT is a sign of an amazing book. At least this world will still be there in Seth's Titan series!
For those that have not read the Covenant series….
READ THIS NOW! Jennifer writes swoony boys, we know this as fact. And she does it without fail in this one! Seriously. Sexy, sexy boys. JLA works in the Greek mythology so well and it was fascinating and SO fun. Add in action, great friendships, humor and one kick butt, snarky heroine and you've got one of my favorite series of all time. Get your butts in gear and go read this! I hope this review has done it justice because I seriously love it you guys. LOVE.
 My Rating: 
Related Posts