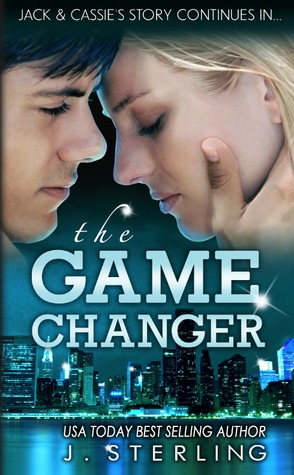 The Game Changer

by J. Sterling
Published by Amazon Publishing on June 25th 2013
Genres: Fiction, Romance, Contemporary, Contemporary Women
Pages: 306
Format: eBook
Source: Bought
Buy on Amazon
Goodreads


After a tumultuous year, Jack and Cassie are finally where they were always meant to be... together. But being with Jack isn't all it's cracked up to be. He knows it's his last chance to prove it to Cassie, but can he do it? Thrust into the spotlight, Cassie must learn how to navigate the waters of this sometimes unforgiving and cruel world. It's a lifestyle that makes you question your happiness and sanity as the past is never truly far behind. How do you stay together when the world s trying to tear you apart"
After reading the first book in the series, The Perfect Game, I was needless to say, kinda pissed at Jack Carter and peeved at Cassie. Now, that doesn't normally bode well when you're mad at the two main characters. I ALMOST didn't read the sequel. I did because Betty raved about it, so thank you Betty — I'm so glad I read it!
Also, I've tried to keep this review spoiler free for the first book!
The Game Changer starts off with Jack Carter showing up at Cassie's door — after 6 months! What does she do? What happens with them??
Firstly, I really like how REAL this is. Not everything is sunshine and rainbows because that's not real life. One of my main problems with the first book was how it seemed like Cassie was just forgiveness. This book shows us that is not the case. She actually does have her head screwed on right. I like how it portrayed the trust issues because I think that's a very real issue in relationships where you don't see the other for the majority of the time. Obviously, it's a sensitive topic in Jack and Cassie's case and I like how the author walks us through those nuances. Very true to life. It's not easy and Jack and Cassie has to work at it! I love that it wasn't just all "oh look, everything's fine now!"
I feel like sometimes New Adult gets a bad rep of just being cliche, overdone and over dramatized and oversexed. I think the Game Changer shows what NA means to be. A story of a relationship in that "new adult" age group, of a couple dealing with real issues and how they work through it.
No relationships are easy and Cassie and Jack have obviously been to hell and back. Twice. If you're looking for a quick fix, happily ever after book, then this probably isn't for you. Relationships aren't just magic! You're a team player. You trust. You talk. You are two halves that both need to work to be a whole. There aren't any cliche plot devices in this NA and I so enjoyed reading about Cassie and Jack!
Another aspect of this NA that I very much loved is the focus on Cassie's career. I love that she wants/needs her career. I love that she's not going to drop everything she loves for a man.
I so admired Cassie not giving up her career and wanting to pursue her dreams as well as work to be with Jack too. I also adored the secondary characters! Melissa was the BEST friend a friend could be and omg, Dean. Can we please get a book just for him? I'm in love with Dean. He is the best. I know Jack is Jack effing Carter and all but seriously, Dean. <3! Gram and Gramps? I wanted to hug them! They are amazing.
I very much enjoyed this story – realistic, heartfelt and what I feel like an NA needs to be! Plus, I loved the incorporation of baseball. I am all for sporty romances! I highly recommend you all to read The Perfect Game if you haven't and then this right after! While the Perfect Game may be a little more drama and a little more cliche NA, push through it! And uh, you may hate Jack briefly there, but Game Changer will make it worth it! Really! I loved it.
My Rating: 
Related Posts