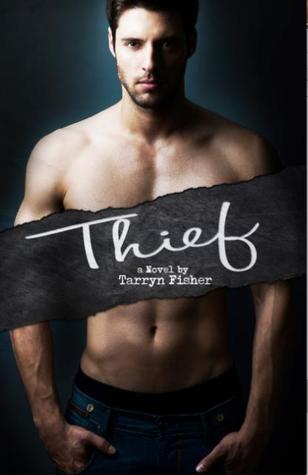 Thief

by Tarryn Fisher
Series: Love Me With Lies #3
Published by CreateSpace Independent Publishing Platform on July 21st 2013
Pages: 294
Format: eBook
Source: Bought
Buy on Amazon
Goodreads


Caleb Drake never got over his first love. Not when he got married. Not when she got married. When life suddenly comes full circle Caleb must decide how how far he is willing to go to get the aloof and alluring Olivia Kaspen back. But for every action in life there is a consequence, and soon Caleb finds out that sometimes love comes at an unbearably high price.
Oh this series. Love Me With Lies is a series that is filled with lies (duh), manipulations, drama, hidden agendas, terrible people who will do anything to get what they want and who they want. It is crazy and intense and is not your typical story. Olivia Kaspen and Caleb Drake's love is an epic love and so not the kind you THINK you're going to read when you start reading this. When I first read The Opportunist, the first book in the series, I almost gave it two stars. I think I mostly wasn't prepared for these characters and their story. Because now? I freaking love this series!
After The Opportunist, the story continued with Leah's side of the story in Dirty Red and the end of it left me open mouthed and dying to find out more. Thief explains everything. And it was so amazing!!
(This review contains NO spoilers to the rest of the series)
In Thief, we finally get Caleb's POV which I have been dying for. I wanted — no, NEEDED — to see what was going on inside his head. Thief takes you forward in the story while at the same time, giving you flashbacks to events from both The Opportunist  and Dirty Red. I absolutely loved the way that was pieced together because I was constantly going "OHH!" as pieces of the puzzle dropped into place. It was awesome how everything comes together. My only complaint was that I had a bit of trouble keeping up with the timeline of when the events in those flashbacks occurred related to other events. It probably would've been better if I had read them back to back. But, seriously, as if the story couldn't get crazier, revelations come to light that will make you gasp!
What I really loved about Thief and the series in general is that while there is a lot of craziness going on, it's the kind of messy life stuff that DOES happen. The choices that these characters make, the measures that they take, it's all plausible. It's nuts and I love it. I especially love how multi faceted these characters are. They have all done horrible things and I think it really shows what people will do to be happy or to be loved or… just simply to get revenge. And sometimes, these characters TRY to do the right thing. Amidst all the bad Olivia and Caleb have done in the name of love, they have also tried to aim for the good, for what's "right". All of Tarryn's characters are just so complex and amazing and the way she weaved everything together in Thief… AHH, can everyone just go read this series right now.
Thief was truly an amazing end to the series. You get to see more of everyone's motivations and feelings, underneath the layer (and another and another) of lies. It's incredible. If you haven't started the series… why not?? Do it!
 My Rating: 
Related Posts