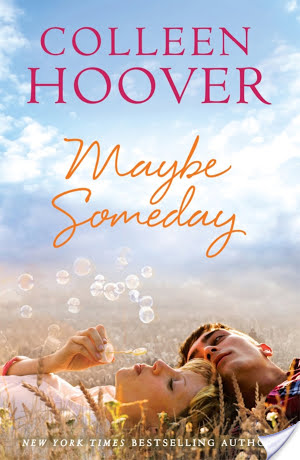 Maybe Someday

by Colleen Hoover
Published by Simon and Schuster on March 18th 2014
Genres: Fiction, Romance, General
Pages: 400
Format: Paperback
Source: Bought
Buy on Amazon
Goodreads


Featuring songs from Griffin Peterson! Sydney is living in an idyllic bubble - she's a dedicated student with a steady job on the side. She lives with her best friend, has a great boyfriend, and the music coming from the balcony opposite hers is fast becoming the soundtrack to her life. But when Sydney finds out her boyfriend is cheating on her, the bubble bursts. The mysterious and attractive man behind the music, Ridge, gives Sydney hope that she can move on and they begin to write songs together. But moving on is harder than she expects, Sydney can only hope…. Maybe someday… Colleen Hoover draws you in to this passionate tale of music, love and betrayal…Praise for Colleen Hoover:'Brilliant and entertaining' - Jamie McGuire, New York Times bestselling author of Beautiful Disaster'This book will consume you - rip out your heart and piece it back together. I absolutely loved it!' - Paige Toon, author of One Perfect Summer'Unique, unlike anything out there... Go out and read it already!' - Tamara Webber, New York Times bestselling author of Easy
Sometimes I don't get a chance to review all the books I read, so I thought doing something like review bites could highlight the books I've read but haven't reviewed. Sort of like brownie bites, review bites are a bite sized review! 🙂
Maybe Someday was my first Colleen Hoover book! (I know, I know — I'm working on it!) I picked it up at the store, on a whim, and read it in one sitting!
Maybe Someday is especially unique in that Colleen collaborated with Griffin Peterson to form a playlist just for this book and this story. The best part is, you can listen to all these songs as you encounter them when you read! Totally cool. Not to mention, Griffin is super talented and I loved all these songs. Listening to it as you read also emotionally connects you to the story and it's pretty amazing.
Maybe Someday is emotional and Colleen writes about a sensitive topic (cheating) very well. I know people may be turned off by this topic but I was surprised by how it's done. Reserve judgement until you read it!! The story showcases real people in real situations and shows that not everything is painted black and white. This is more of a character focused book instead of plot focused but I loved that. It's hard for me to formulate words to describe how much I loved this story. It's HONEST, and touching and you basically need to read it right now.
My Rating: 
Related Posts