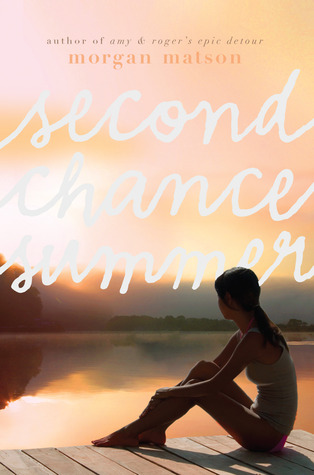 Second Chance Summer

by Morgan Matson
Published by Simon and Schuster on May 7th 2013
Genres: Young Adult, Family, Parents, Social Issues, Emotions & Feelings, Friendship
Pages: 480
Format: eBook
Source: Bought
Buy on Amazon
Goodreads


A powerful novel about hope and heartbreak, "as much about loss as it is about first love and friendship" (Publishers Weekly, starred review).
Sandwiched between two exceptional siblings, Taylor Edwards never felt like she stood out—except for her history of running away when things get too complicated. Then her dad receives unexpected, terrible news, and the family makes the last-minute decision to spend the summer together in the cramped quarters at their old lake house.
Taylor hasn't been to the summer house since she was twelve, and she definitely never planned on going back. Up at the lake she is confronted with people she thought she left behind, like her former best friend, Lucy, and Henry Crosby, her first crush, who's all grown up…and a lot cuter. Suddenly Taylor is surrounded by memories she'd rather leave in the past—but she can't run away this time.
As the days lying on the beach pass into nights gazing at the stars, Taylor realizes she has a second chance—with friends, with family, maybe even with love. But she knows that once the summer ends, there is no way to recapture what she stands to lose. From Morgan Matson, the PW Flying Start author of Amy & Roger's Epic Detour, this is a remarkable novel about hope in the face of heartbreaking grief.
After I finished reading Since You've Been Gone, I loved it so much that I knew I had to read Morgan Matson's other books ASAP. I owned Second Chance Summer already and ended up reading it along with Rebecca from the Library Canary!
Firstly, I've heard a lot about this one, all great things and also warnings about reading with tissues. Everything I heard was true. I already knew this was going to be a tough, emotional read just given the content. Taylor is spending the summer with her family at their vacation lake house — one last summer together because their dad has just gotten diagnosed with stage four pancreatic cancer. His doctors have given him a few months to live. I mean, what do you even do given that information? So the members of the Edwards family, Taylor, her younger sister, her older brother and her mom drop whatever they had planned for the summer and they all go to their lake house that they used to spend every summer at.
The beginning made me tear up in the first 10%. Morgan Matson just has this skill to reach into your soul with words and draw out your emotions. It probably didn't help that I kept relating to the subject matter. My dad was diagnosed with lung cancer quite a few years ago and I could identify with Taylor's initial feelings. Thankfully, in my case, it was found extremely early and after surgery and treatment, he is doing okay now. But I felt like I could just feel what Taylor was feeling and the need to run away and also the disinclination to talk about it with anyone.
Another aspect of Morgan's writing that I love is her character development. Taylor shies away from conflict and has a history of running away from things. It's the reason she hasn't returned to the lake since she was 12. When she left it that summer, she left things in a mess that ended two of her most treasured relationships. This was one aspect that made me so curious, like, WHAT happened that summer?? Anyway, as the story progresses, Taylor learns to confront her fears and weaknesses and attempt to change and seize the second chances to do things right.
The family dynamic is amazing. I loved seeing their interactions, especially the quiet ones between Taylor and her dad. I adored her dad and that made it all the harder to handle! I really enjoyed all the relationships portrayed with Taylor and her siblings and her parents, and seeing them come together more that summer and learn to treasure the time together and enjoy the little moments. I loved seeing Taylor salvage her friendship with Lucy and seeing that develop — I swear, Morgan is the queen of all things friendships. She is a master at writing them!! Anyway, the one aspect that I wasn't really a fan of was the romance. I mean, sure, I really liked Henry and he was really adorable. But every time Taylor interacted with him, I'd just get annoyed at Taylor. I understand that it was a pivotal example of her character progression but it just wasn't my favorite.
This was just such a beautifully written story with an amazing family component. I was thoroughly attached to all the characters and each relationship is just so well formed. I teared up while reading but the last 10% of the book or so? I left the room I was reading in to hide in my room by myself so I could sob in peace while I read. It's heart breaking and you will cry but it's such a great book! If you haven't read it yet…please do!
My Rating: 
Related Posts