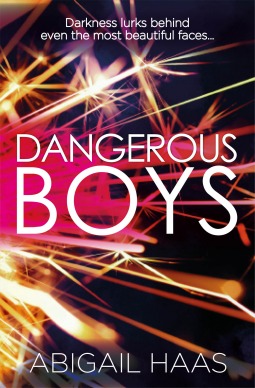 Dangerous Boys

by Abigail Haas
Published by Simon and Schuster on August 14th 2014
Genres: Young Adult, General
Pages: 320
Format: eARC
Source: Author
Buy on Amazon
Goodreads


It all comes down to this.Oliver, Ethan, and I.Three teens venture into an abandoned lake house one night. Hours later, only two emerge from the burning wreckage.Chloe drags one Reznick brother to safety, unconscious and bleeding. The other is left to burn, dead in the fire. But which brother survives? And is his death a tragic accident?Desperate self-defense?Or murder . . .?Chloe is the only one with the answers. As the fire rages, and police and parents demand the truth, she struggles to piece the story together - a story of jealousy, twisted passion and the darkness that lurks behind even the most beautiful faces . . .
I received this book for free in exchange for an honest review. This does not affect my opinion of the book or the content of my review.
So as many of you know, I LOVED Dangerous Girls. (My review here.) It was crazy, intense and everything I ever wanted in a thriller and I pushed that book like none other. When I heard that there was going to be a Dangerous Boys, I freaked out and maybe jumped around a little. Needless to say, I had huge expectations out of this one because of just how much I loved Dangerous Girls. While it wasn't as suspenseful as Dangerous Girls was, it was darker and more twisted to me. (FYI: this is not a sequel or a companion novel, it is a stand alone, just like Dangerous Girls.)
Similar to the style of Dangerous Girls, Dangerous Boys is told in three different timelines – a "now", "then" and "the end". The book starts off at "the end". Two boys, Ethan and Oliver, brothers, fighting and Chloe, desperate to make them stop. One brother survives the incident but the other is a body left behind. As the story flips between these three timelines, we slowly see what transpired and what led up to "the end".
This one wasn't as much of a whodunnit type scenario as a look into how scary and twisted the psyche of a killer can be. Because it's not any one thing that suddenly turns you into a killer. It's little things, normal things, things everyone can find existing in themselves and THAT is the creepy part of this book to me. Afterward, I sat and seriously thought to myself I am not a killer. It could be me. It could be you. It could be anyone! Yeah, I know, I sound paranoid now, but apparently Abigail Haas does that to me! While Dangerous Girls felt more fueled by events, Dangerous Boys felt more focused on characterization, of showing what are the things humans are capable of?
Chloe is freshly graduated from high school, eager to get out of her small town and escape. She has big dreams and big plans but it's all put to a halt. Her mom isn't doing so well after her dad up and left them for a new woman so she stays to take care of her. This little, calm town where everyone knows everyone else… horrible things can't happen here right? I thought the small town setting made it seem even more real, like…this is something that could totally happen. In your town. In any town. I think the creepiness factor was exponentiated by the fact that it brings the idea of killers from the news, movies or radio to your front door.
This one had me thinking quite a bit afterward, of MANY THINGS, so if you have read it, please talk to me! Psychology was a favorite of mine in undergrad, and I've just got many thoughts swirling around my head. A note about my rating. Originally upon finishing I gave it four stars based on the reasoning that it wasn't as heart pounding and adrenaline fueled as Dangerous Girls. But I've been thinking about this book SO much and I realized it's unfair of me to judge it against Dangerous Girls. It's been on my brain, I've talked about it to many people and it needed to be bumped up. It's not the same type of read as its predecessor – it's a quieter type of twisted and creepy but amazing all the same.
Abigail Haas writes amazing psychological thrillers. I desperately hope she continues to write more! (I'm not sure what it says about my psyche, that I desperately want more twisted thrillers to read.) But YOU ALL MUST READ THIS. Deliciously dark and will keep you up late, flipping the pages.
And if you haven't read Dangerous Girls yet? Get on that!! Read it now! Buy it now! (Here I'll even make it easy for you: just click
.)
My Rating: 
Have you guys read Dangerous Girls? If so, what do you think? TALK TO ME. Are you on your way to buy Dangerous Boys? Because you should. And then talk to me after that, too.
Related Posts