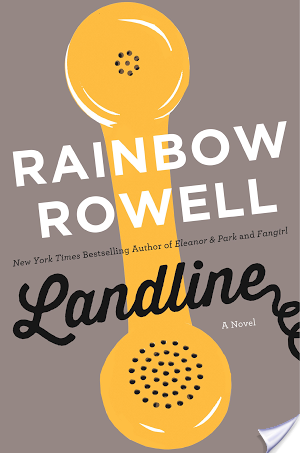 Landline

by Rainbow Rowell
Published by St. Martin's Press on July 8th 2014
Genres: Fiction, Contemporary Women, Family Life
Pages: 320
Format: Hardcover
Source: Bought
Buy on Amazon
Goodreads


A New York Times Best Seller! Goodreads Choice Award Winner for Best Fiction of 2014! An Indie Next Pick!
From New York Times bestselling author of Eleanor & Park and Fangirl, Rainbow Rowell, comes a hilarious, heart-wrenching take on love, marriage, and magic phones.
Georgie McCool knows her marriage is in trouble. That it's been in trouble for a long time. She still loves her husband, Neal, and Neal still loves her, deeply-but that almost seems beside the point now.Maybe that was always beside the point.
Two days before they're supposed to visit Neal's family in Omaha for Christmas, Georgie tells Neal that she can't go. She's a TV writer, and something's come up on her show; she has to stay in Los Angeles. She knows that Neal will be upset with her-Neal is always a little upset with Georgie-but she doesn't expect to him to pack up the kids and go without her.
When her husband and the kids leave for the airport, Georgie wonders if she's finally done it. If she's ruined everything.
That night, Georgie discovers a way to communicate with Neal in the past. It's not time travel, not exactly, but she feels like she's been given an opportunity to fix her marriage before it starts. . . .
Is that what she's supposed to do?
Or would Georgie and Neal be better off if their marriage never happened?
Sort of like brownie bites, review bites are a bite sized review!
This time I'll be talking about two of Rainbow Rowell's adult books: Landline and Attachments!
In Landline, MC Georgie McCool needs to make a decision. Go with her husband Neal and kids to visit his family for Christmas? Or stay because she could have a huge opportunity as a writer for her TV show. She decides she needs to stay for work and Neal takes the kids and goes anyway. Then, magically, when Georgie tries to call Neal with her mother's old rotary landline phone, she's talking to the Neal from 15 years ago.
This was my first Rainbow Rowell book actually and I really loved it. I loved how she explored the nuances of marriage, of being with someone for so long and taking things for granted. Of priorities and choices and maybe trying to be better. Neal and Georgie are so different. Georgie is very career driven as a TV writer and Neal is a perfect stay at home dad. He honestly is just the sweetest. He is quiet and is described by someone in the book unfavorably as a "hobbit". Well, I ask you, what is wrong with being hobbity? I loved his quiet passion. As Georgie talks to the Neal of 15 years ago via magic phone, she's thinks back on how they met, how they got together and I just really loved how Rainbow Rowell explores relationships and messy real life situations. I loved the message in this book. I loved the family aspect as Georgie stays with her mom and sister during the few days apart from Neal. I think all married people should read this book because it speaks so much about marriage and choices you make. Even if you aren't married, this is still an amazing story.
The only thing? I wanted more at the end. Just a little bit. And if you're getting married soon? You can expect this from me as a gift. 🙂
My Rating: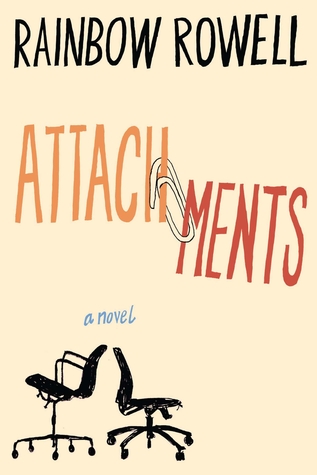 Attachments by Rainbow Rowell
Published by Penguin on April 14th 2011
Genres: Fiction, Romance, Contemporary
Pages: 336
Format: eBook
Source: Bought
Buy on Amazon
Goodreads


"Hi, I'm the guy who reads your e-mail, and also, I love you . . . "
From the award-winning author of Eleanor & Park, Fangirl, and Landline comes a hilarious and heartfelt novel about love in the workplace.
Beth Fremont and Jennifer Scribner-Snyder know that somebody is monitoring their work e-mail. (Everybody in the newsroom knows. It's company policy.) But they can't quite bring themselves to take it seriously. They go on sending each other endless and endlessly hilarious e-mails, discussing every aspect of their personal lives.
Meanwhile, Lincoln O'Neill can't believe this is his job now- reading other people's e-mail. When he applied to be "internet security officer," he pictured himself building firewalls and crushing hackers- not writing up a report every time a sports reporter forwards a dirty joke.
When Lincoln comes across Beth's and Jennifer's messages, he knows he should turn them in. But he can't help being entertained-and captivated-by their stories.
By the time Lincoln realizes he's falling for Beth, it's way too late to introduce himself.
What would he say . . . ?
Attachments ended up being my second Rainbow Rowell book and I just so happened to read it a week later. Basically Lincoln is hired to screen emails to make sure employees are only talking about work appropriate things. (Sidenote: love that this took place before Y2K and people thought everything was going to explode. I remember this! I was young, but I remember stocking up on food haha.) Beth and Jennifer know about the company email policy but it doesn't stop them from chatting via email anyway.
Beth and Jennifer. They are what sucked me in. I just LOVED their emails. They are freaking hilarious. They have such a close friendship and they know how to be there for each other during tough times but also know when to just crack a joke. Their back and forth emails totally reminded me of texts I send to one of my friends. It's very REAL and I was immediately pulled into their lives just reading these emails. Lincoln realizes at one point he needs to stop because he starts to really like Beth but he just can't stop reading. Like me, he gets sucked in and he can't let go. Lincoln is a super interesting character and one I just adored. He's a quiet, kind of nerdy sort of guy, but very sweet and genuine.
Attachments is witty, hilariously funny, and just the type of cute romantic comedy type read I was in the mood for. Despite the light, funny side, it also speaks a lot about family, relationships and friendships. While I really liked Landline, I think it was Attachments that made me go "okay, Rainbow Rowell, you have a new fan!" She has a beautiful way of writing! Everyone needs to go read Attachments now! As for me, I need to go devour her YA books now!
My Rating: 
Have you guys read Rainbow Rowell's books? Have you read these two? What did you think? Also — Attachments is really cheap on Amazon right now; if you haven't read, GO GET IT!
Related Posts